When it comes to the best hydrating serums in the beauty business, there's one that's typically considered the crème de la crème amongst beauty editors and A-listers alike: Dr. Barbara Sturm's Hyaluronic Serum, £250, Space NK.
Yes, boasting a seriously enormous three-figure price tag, it's certainly a skincare investment, but with a celebrity following including the likes of Rosie Huntington-Whiteley, Kourtney Kardashian and Bella Hadid, it would seem that the hype is truly deserved. After all, these women have amazing skin. But what exactly is it about this hydrating serum that makes it far superior to others on the market?
What's so good about the Dr. Barbara Sturm Hyaluronic Acid Serum?
Let's start with the ingredients – like many other hydrating serums, hyaluronic acid is the star ingredient of this product. Renowned for its ability to retain water and boost skin hydration, HA is a versatile ingredient that basically all skin types will benefit from in their skincare routines. It helps to both nourish the skin barrier while maintaining your skin's natural moisture levels for a plump, cushiony complexion.
However, not all hyaluronic acid is created equal and Dr. Barbara Sturm's bestselling serum makes use of both low and high-weighted hyaluronic molecules. Essentially, the high-weight molecules provide instant hydration to the outer layers of your skin while the low-weight ones work beneath the surface for more long-term results.
Plus, formula aside, you're of course paying for a taste of Dr. Sturm's expertise in the comfort of your own home. After all, while her renowned facials are easily accessible to the Biebers and Ratajkowskis of the world, just one in-clinic treatment can set you back anywhere between £200 and £400. So, in a way, splurging on a £250 serum ends up being a surprisingly cost-effective way to enjoy a little of Dr. Sturm's magic touch.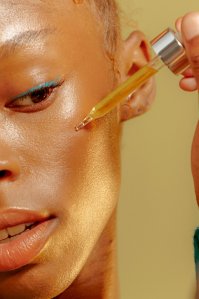 Now, unless you're looking to really indulge – or you're totally rolling in it – dropping that much on one skincare product really isn't achievable, regardless of how good the reviews are. And, luckily, there are plenty of other incredible hydrating serums out there that deliver just as impressive results.
The best budget-friendly hydrating serums to try instead
From The Inkey List to BYOMA, I've rounded up six of the best hydrating serum formulas on the market that genuinely hold their own against Dr. Barbara Sturm's cult classic.
The Inkey List Hyaluronic Acid Serum, £7.99
Truly challenging my perception of what a drugstore serum can offer, The Inkey List's budget hyaluronic acid has a seriously impressive ingredients list. It contains a pure 2% concentration of HA, which is incredibly high-grade. In fact, it boasts not just two different molecular weights of hyaluronic acid (like Dr. Barabara Sturm's), but three.
Yes, a mix of high, medium and low HA molecules mean that this £8 serum truly hydrates skin at every level so you'll enjoy an immediate moisture boost while radiance, plumpness and the appearance of fine lines will improve over time. What a game-changer.
Medik8 Hydr8 B5 Serum, £45
Parched complexions will adore this silky serum that takes a no-holds-barred approach to hydration. Its secret? Alongside another multi-weight hyaluronic acid (for multi-layer moisturising goodness) it has been fortified with vitamin B5, which helps to really supercharge the serum's moisture-retaining benefits for deeply hydrated, soft skin.
Effectively, if you want a product that's really going to focus on nourishing your skin from within, then this is one of the best hydrating serums at your disposal. And it's around a fifth of the price of the Dr. Barbara Sturm serum.
L'Oreal Paris Revitalift Filler 1.5% Pure Hyaluronic Acid Serum, £24.99
In my opinion, L'Oreal Paris always deliver when it comes to brilliant, affordable skincare and this is one of the best hydrating serums that I've tried. With 1.5% pure hyaluronic acid at its core, it uses macro and micro molecules to intensely hydrate alongside glycerin to retain moisture.
Although it's marketed as an 'anti-wrinkle serum'—a term I'm always sceptical of—I'd really urge you to look past the ageing rhetoric as it's a beautifully lightweight, fast-absorbing formula that really leaves skin looking toned, bouncy and healthy.
BYOMA Hydrating Serum, £12.99
Disclaimer: while all of the other dupes on this list are abundant in hyaluronic acid – the key ingredient in Dr. Sturm's formulation – the best hydrating serums don't all have to rely on HA to be truly effective. This new offering from BYOMA is a brilliant new launch that harnesses the moisturising powers of squalane, glycerin and the brand's unique tri-ceramide complex to deliver the same dewy results, but without the enormous price tag.
Like a comfort blanket for your skin, the mix of ceramides, cholesterol and fatty acids really targets the health of your complexion to leave it looking deeply renewed. Plus, the packaging is super cute.
Victoria Health Garden Of Wisdom Hyaluronic Acid Serum, £11.50
Garden Of Wisdom is a little-known brand that beauty editors swear by for affordable skincare products – and it truly deserves more buzz. Its lightweight serum contains 1% hyaluronic acid in a consciously chosen low molecular weight. That means the focus here is about long-term absorption and long-term skin hydration.
Basically, if you're on the hunt for a product that's going to act as a quick fix to dryness and dehydration then maybe give this one a miss, but if you're willing to apply a few drops of this daily, then your skin will be left glowier and re-energised within weeks.
NIOD Multi-Molecular Hyaluronic Complex, £30
Possibly the most complex hydrating serum of the line-up – and undeniably one of the best – NIOD's offering features 12 forms of hyaluronic compounds at different molecular weights. Essentially, this is like an intensive drink of water for your skin in one rather unassuming bottle.
Short-term, it prevents moisture loss and boosts skin elasticity while long-term it actually stimulates your body's own production of hyaluronic acid and collagen for hydration that lasts and lasts. Plus, it works as an antioxidant so your skin will be protected from environmental damage for improved skin health overall. Talk about efficiency.