If you're into makeup in any way, chances are MAC was probably your gateway brand into the endless world of colour cosmetics. It was certainly mine. I can remember the exact products I saved up for and bought as my first foray into 'professional' makeup: the MAC Fix+ Spray, Mineralize Skinfinish Highlighter and obviously, its iconic Velvet Teddy Matte Lipstick.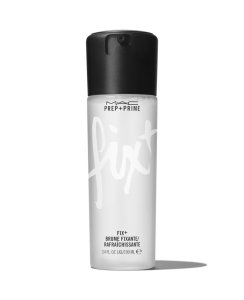 Although that was maaaany years ago, the makeup brand still remains one of the most popular when it comes to premium quality makeup and has stood the high street's unforgiving test of time.
I've tried a lot of products from the brand over the years, from sell-out collaborations like its Cruella range to classics such as the Studio Fix line. And with a range as expansive as MAC's, it can be overwhelming to know where to start.
MAC's products aren't cheap, but there's a lot from the brand that is worth the investment for the quality. To help you narrow down that decision, if there are six products you have to try from the brand, it's these ones…
The best MAC products
From face, base and beyond, these are the best MAC products I've tried and think you should too.
MAC Studio Face and Body Radiant Sheer Foundation, £32
This was the first 'grown up' foundation I used and one that, after trying possibly hundreds of other formulations over the years, still remains one of my favourites.
The consistency is super lightweight and feels like you're wearing nothing (I compare it to the Glossier Skin Tint), however it definitely has more coverage while still maintaining that 'natural' healthy skin look.
For me, it's the ultimate daily wear foundation and to be honest, I think it paved the way for a lot of 'glowy, natural finish' foundations that have become so popular today. For that alone, it deserves a spot in my 6 of the best.
MAC Powder Kiss Liquid Lip Colour, £22
Obviously, it wouldn't be a MAC 6otb without including one of its iconic lip products. While the brand is most famous for the original Matte Lipsticks, which do come in an incredible shade range, my heart was stolen by the Powder Kiss formulation.
I'm obsessed with the Parisian blotted-lip look and this lipstick is the crème de la crème for achieving that with no fuss. I find the formula more hydrating than other lip products from MAC, with a feel that's more mousse than matte, and you can now get my favourite red lipstick shade, Ruby Woo, in the Powder Kiss version (Ruby Boo, adorable right).
MAC Fix +, £26
If I had to recommend a product from MAC that I think everyone should have in their makeup arsenal, it's MAC's Fix +. Ever since I first bought it at 17, I've never been without a trusty bottle of it. Plus, you can get a mini bottle for around £14 and it will last you forever.
Much more than just a setting spray, Fix+ can be sprayed onto a blending brush before swiping into an eyeshadow to intensify the pigment (your metallics and glitters will accelerate to a whole new level), or my favourite trick for an ultra-laminated brow look is to spray it onto a spoolie, before swirling into a Pears soap and brushing through your eyebrows. No product has ever been able to hold my brows down as well.
MAC Mineralize Skinfinish Natural Powder, £30
Another face product, the MAC Mineralize Skinfinish had to have a mention. I'm not normally a powder gal, but the number of makeup artists that have recommended this to me meant I had to give it a try, and well… here it is.
If you've got an event where you're going to be in a lot of photos and want a complexion that looks flawless and softly-lit without falling flat, this is the product that's going to achieve that. Wear it alone or use it to touch up certain oil-prone spots throughout the day.
MAC MACStack Mascara, £26
Viral mascaras might have become a bit of a controversial subject of late, but this one seriously lives up to the surrounding hype (no false lashes here). As you might have guessed from its name, this mascara has been designed to 'stack' on top of itself, with every coat enhancing the lashes through another layer of volume without clumping.
I've got long lashes that aren't very dense and so on hearing about a volumising mascara that promised not to go all spidery on me, I had to try.
The formula and brush are quite different to any other mascara I've used but once you get used to it and figure out your own method of application (an eyelash curler is a non-negotiable), the results have me floored each time. It gives a dense, full-lash look at the roots while staying separated and defined. Lush lashes for days.
MAC Lip Pencil, £18.50
You didn't think I was going to write a 'best of' and not include the MAC Lip Pencil now, did you? This has been the product responsible for more famous lip looks than you can count, from Jennifer Anniston wearing 'Spice' in Friends to Jenna Ortega's viral Wednesday lip, which used the shade 'Nightmoth.'
With a soft pencil texture and huge array of shades and undertones to match your needs (whether it be an everyday nude or a statement red), it's a universally great lip liner. It doesn't glide as smoothly as a gel formula, granted, but I do find it stays put longer than a product of that calibre.
Oh, and this lip pencil lasts so long, I don't think I've finished one to this day.