One of the most special times of my life was when I lived in Liverpool for University. There is a warmth from scousers that is unlike any other, and even something as small as getting a sausage roll from Greggs would become a cosy chat that would make my day.
While I was in Liverpool, I inherited a second family in the form of the girls at Peaches and Cream. What was then a stand-alone salon where girls would come to have their makeup done, Peaches (now a global makeup brand) is where I learned to do makeup. Their family-run team taught me everything from scratch, and unlocked a world to me that is truly like a northern Narnia.  
You see, there's a northern comradery among clients, makeup artists and brands, and it's like a glamorous gang that everyone is welcome to join. One of the trademarks is finishing every makeup look with a touch of Peaches pigment. Truly, I believe these pigments are the very best on the market. Start your journey with the iridescent blue Mermaze, champagne coloured Gatsby or light reflecting Pearl to highlight. Now you're on your way down the rabbit hole…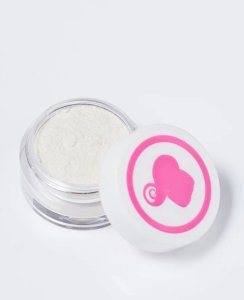 One day when I was working as a beauty personal shopper, the then-regional trainer for Stila came over to say hello. Dani had a big blow dry, immaculate tan, perfect liner, huge eyelashes and was incredibly warm and kind. We became great friends there and then, and she told me that she and her best mate Sam were thinking of creating their own eyelashes because none of the ones on the high street were full enough for their taste.
That was many years ago, and they've now created the empire that is Doll Beauty. Whether you've seen them on TikTok, in the captions of makeup artists using them on celebrities, or even found Danni herself doing a tipsy "get ready with me" on holiday, their pipe dream is now a lucrative and hugely respected entity.
With these two having such a special place in my heart, I loved seeing what makeup artists and clients were doing with their products. Whenever I looked on Instagram, I realised that Peaches pigments and Doll Beauty lashes also came hand in hand with other things, each a northern rite of passage to have in your makeup bag…
There's the P Louise eye base. A multi-use cream, this comes in an array of shades and can be used either to prep your eyelids for eyeshadow or as your eyeshadow colour itself. Plouise is multi-faceted; a makeup brand and makeup academy, all with a distinct style that is now instantly recognisable to me. The brand's eyeshadow looks are like miniature works of art, incredibly sculpted and – for the client – wearing one is a total power play.
And then, of course, there's the Mmmitchell Blursh. Mitchell, to me, is fascinating. Here we have a normal guy, making a name for himself as a makeup artist, and the next thing he's in LA getting Jeffree Star glammed in the absolute hay day of his YouTube era.
When TikTok came into our lives, his synonymous makeup range was catapulted to household status because of his mystery boxes and cult Blursh. This multi-use cream is one of the most widely adored products on my FYP. Though I'm yet to meet Mitchell, fellow Eliza bestie Laura Capon tells me he is a total sweetheart. She loves him.
I have so much love and time for the brands from the north. There's just something different that they seem to inspire in their clients; a desire for real more-is-more, full glam and total extravagance.
Perhaps this piece is more of a love letter to Liverpool and the friends I now have there, and to them I owe the world because they sent me on a total adventure of makeup!
If you enjoyed reading this, there's a writer called Nancy Buckland that you simply must follow. She writes for various publications and she's like the Jackie O of the north – you can find her on Instagram @NancyBucklandKirk.