Up until around a year ago, the idea that you had to 'top up' your SPF every few hours utterly perplexed me.
Sure, when you're away on holiday soaking up the sun makeup-free, it's easy to slather on the stuff as regularly as you so choose. But during day to day life year-round? Um, won't makeup make that all but impossible?!
This is where your handy SPF mists come in. They're portable, effective, and mostly affordable, making them a must-have addition to your sunscreen wardrobe. Simply spritz over your makeup for a protective boost when needed – and yes, I do mean every day, even in January when it doesn't seem like the sun has been out for 100 years.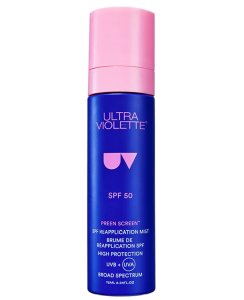 If SPF isn't a key step of your daily skincare routine anyway, now is prime time to make this a habit. When sun exposure is at its highest in the UK — between April and September — it's even more important to stay on top of your SPF application. That's because this is when the sun's harmful UV rays are most likely to damage your skin (aka sunburn), which in turn increases the risk of skin cancer and early skin ageing.
Read next:
So, you're clued up on the importance of wearing sunscreen, let's talk about how to apply it and which products to use.
How often should you top up your SPF with a mist?
You should always begin your day with a hefty dose of SPF as the last step in your skincare routine. Whether that's a serum, cream or gel, you should always, always be applying your sun protection before leaving the house (or even sitting near a window!).
But once out and about, be it at work or in the car, you should look to apply more every few hours. The official advice from the NHS states top-ups are required every two hours, so that's a good time-frame to go by.
Just be sure to give a good spray of the stuff so you've received enough product, as many products can emit a very fine mist.
The best SPF mists for face in 2023
Not sure which to choose? Here are eight I recommend for keeping your face protected and your makeup unaffected.
Ultra Violette Preen Screen SPF50 Reapplication Mist
Six years in the making, this high-tech SPF face mist has just launched in the UK — and it genuinely ticks all the boxes. It has factor 50 sun protection, it's lightweight and it can be reapplied throughout the day without disturbing your carefully applied makeup. Plus, it doesn't just protect you from the sun's harmful rays. It is actually packed with ingredients that will combat free-radical damage, redness and irritation, too. And, it contains a healthy dose of Vitamin D, Niacinamide and Vitamin C to brighten and moisturise, even your skin tone, reduce signs of ageing, and make your pores look smaller. What more could you possibly want? Well done, Ultra Violette.
Supergoop! (Re)setting Refreshing Mist SPF 40
Supergoop! is a brand that is dedicated to making sun care simple, and I'm obsessed with its (Re)setting Refreshing Mist. It does what it says on the tin: resets your makeup and refreshes your skin, all while offering factor 40 sun protection.
If, like me, you have oily and shine-prone shine, you'll especially love this mist. It has a matte finish and helps to control oil, which is ideal when you're under the summer sun. You'll need to reapply every 40 minutes or straight after swimming or sweating but trust me, it won't feel like a chore.
Garnier Ambre Solaire Over Makeup Super UV Protection Mist, £12
The product I keep on my desk, this offering works for all skin types, even those that experience sensitivity or dryness. It emits a very lightweight, cooling mist that feels pleasant and refreshing on the skin, and with an SPF50, you can feel ultra-protected every time you reach for it.
Hello Sunday The Retouch One – Face Mist SPF30, £18
While some SPF sprays are so fine you barely feel you are getting much from them, this one by Hello Sunday has a non-continuous applicator spray that is much more targeted, so be sure to apply it a little further away from the face.
I like this option because you can tell you're actually getting enough product, and it comes in a pretty sizeable bottle for long-lasting use.
COOLA Makeup Setting Spray SPF30, £39
IMO, the best kind of SPF mist has extra benefits, such as setting your makeup. This COOLA one pulls out all the stops, with a semi-matte finish and a host of skin-loving ingredients, from hyaluronic acid to refreshing aloe and cucumber.
Kate Somerville UncompliKated SPF50 Soft Focus Makeup Setting Spray, £34
Another brilliant makeup setting spray for fans of Kate Somerville, this option may be a little pricier but it does offer a higher level of protection with SPF 50. It promises to act as the 'final touch' for flawless makeup application, and will maintain your masterpiece well into the day and night.
Bondi Sands SPF 50+ Fragrance Free Face Mist, £9
A SPF spray with a factor 50, with no scent and under £10? I think I'm onto a winner with this one. From beloved tanning brand Bondi Sands, this product has a non-greasy finish and offers up to 72 hours of hydration, acting like a tall glass of water for struggling skin.
La Roche-Posay Anthelios Anti-Shine Invisible Fresh Mist Spray SPF50+, £14.50
The first SPF spray I tried, this offers a super fine spritz that feels totally undetectable on skin. Hate feeling sticky or weighed down by your sun protection? This is absolutely the antidote. It also has anti-shine properties, so you'll never feel reflective!