If, like me, you end up frantically googling 'nail trends' on route to your fortnightly manicure appointment, I'm about to fill you in one that I'm convinced is going to be as big as the recent chrome resurgence.
What is cat eye nail art?
Cat eye nails don't involve a new technique and instead see the return of magnetic nail polish. I know what you're thinking, but I promise this isn't a Barry M Crackle Paint situation.
Magnetic polish has been quietly gaining popularity on all my algorithms and while I've been trying to find a salon that offers the service, I've been saving/pinning and favouriting as many as I can find in the meantime.
How do you get cat eye nails?
What makes this specific technique slightly different to a brushed velvet effect is that the aim of the manicure is to create a thin shimmering line in the middle of the nail, mimicking the pupil of a cat's eye.
This celestial effect is created by guiding the metallic particles in the polish with a magnet into the shape that you want, which can then be further emphasised by adding a line of glitter polish on top.
Depending on how far you or your manicurist go with it, the finished design can look like a multi-faceted crystal or a throwback to your 2009 galaxy nails obsession.
I wish I'd known about magnetic nail polish back then when I was trying to mimic the night's sky with a cut up make up sponge…
It's also worth noting that 'cat eye' has become somewhat of a blanket term for magnetic nail polish in general. That is because professional nail brands like BrillBird named its magnetic polishes, well, 'cat eye.'
At-home gel polish brand Mylee has also launched a line of Cat Eye Gel Polishes for £8.50 each (FYI the magnet is sold separately at £7).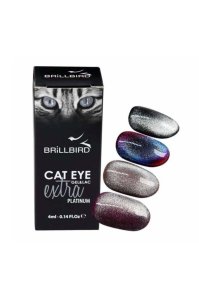 That said, if you take my advice and book in for a cat's eye manicure, just be sure to discuss with your manicurist the effect you want. At this point, I have so many magnetic nail designs saved, from velvet tips to recreations of Mrs Hinch's velvet sofa in Barbie pink. In short, it's worth going in with a clear idea.
While we can't give Hailey all the credit, her 'glazed doughnut nails' proved to be so popular they reignited this passion for nail experimentation we haven't seen in years.
Yes, nail art has always been here, but not like this. With chrome making a surprising return this year, it was inevitable that techniques like magnetic polish would come back as we become more open to the world of nail exploration again.
To inspire you for your next manicure, I thought I'd share my saves so you can screenshot for your appointment. These are my favourite cat eye looks of the moment:
Velvet frenchies
Birmingham-based Nails Bab is one of my go-to accounts for nail art inspo and it was their velvet twist on a classic French that first got me hooked on the cat eye effect.
Classic cat eye
This beautiful manicure by Teesside-based Lili Croès shows the traditional cat eye effect with that shimmering line in the centre.
Paired back galaxy
I'm finding a lot of nail inspiration from Japanese and Korean-based artists right now and Yoshiya from Japan's take on a cat's eye brings the galaxy nails effect bang up to date. I love how they switched up the traditional straight line for curved ones, and mixed up the placement.
Dolores Umbridge's office
These are the Mrs Hinch Barbie sofa nails I was telling you about earlier, and they are the work of U.S.-based Aisté Plechaviciute. See how the magnet has been used to create lighter areas on the sides and tips of the nails for a real multi-faceted effect?
Barely-there velvet
Sisa's take on the cat eye trend is super subtle, but you can still see those mesmerising sparkling lines running through each nail.
Celestial dreams
If only Anna could recreate this effect with my eyeshadow as well…
Y2K inspired
At this point, U.S.-based San Sung Kim should restrict me from her account because I'm out here commenting, favouriting, and liking every post. Don't want to go full on magnetic? How could you say no to these velvet tips, instead?