News flash: despite what you may think, the perfect curly hair routine does not have to include the most expensive products, nor does it need to consist of ten steps. In fact, whether you are still getting to grips with your hair, or just trying new products, I would always say less is more – until you need more! Sometimes, the simplest routines are the most effective.
Before choosing your products, it's crucial to assess the current condition of your hair. Many curls will often feel dry – but sometimes they will be drier than usual, or indeed more moisturised. This will dictate which products you use for your wash day, and should lead to happy, bouncy, moisturised curls.
I am going to provide a simple, affordable, good quality full wash day routine with recommendations and adaptations wherever you see fit for your curl type. To keep things simple this time around, we will assume your hair is feeling as dry as normal.
Here goes…
Your curly hair cleanser
Every good wash day routine should begin with a cleanser. Starting with a well-balanced shampoo will help cleanse your hair without stripping it of its natural oils. The Garnier Ultimate Blends Cocoa Butter Shampoo, £6, Boots is a great option for this exact purpose.
Other shampoos I like are the Imbue Coil Awakening Cream Cleanser, £8.99, LookFantastic, Imbue Curl Liberating Shampoo, £8.99, Superdrug, and Matrix's A Curl Can Dream Shampoo, £13, FeelUnique.
I like to shampoo twice. The first time as a thorough cleanse with scalp scrubbing and some detangling, and the second as a general rinse. I have low porosity hair which means it's difficult for water and moisture to both enter and leave my hair. Shampooing twice ensures all of last week's products have left my hair in preparation for a new week of styling.
Your curly hair conditioner
I am sure most curlies will agree that the main characteristics to look for in a rinse-out conditioner are slip and moisture; slip to ease detangling, and moisture to replace anything lost through shampooing. For that reason, I would say keep it simple and don't break the bank!
The Garnier Ultimate Blends Cocoa Butter Conditioner, £6, Boots is a great follow-up product because it does both of these things perfectly. Some other favourites of mine are Umberto Giannini Coily Curls Moisture Conditioner, £8.75, Boots, and Grow Gorgeous' Curl Defining Conditioner, £18, LookFantastic.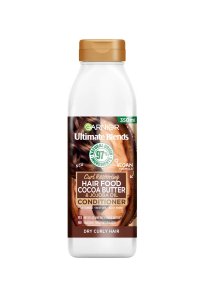 Your curly hair deep conditioner
The next step is optional: deep conditioning. It is not always necessary, however I know it is crucial to some people's routine. If you feel like your hair's still craving moisture after your conditioner, go for it!
Alternatively, you can swap the rinse-out conditioner for a deep conditioner. This allows your hair to receive a more intense shot of moisture straight after shampooing. A great affordable deep conditioner I love is the Shea Moisture Superfruit Complex 10-in-1 Multi-Benefit Hair Masque, £12.75, Beauty Bay.
Your curly hair styling product
Once the deep conditioner or rinse-out conditioner has been rinsed out, the next step is to apply a leave-in conditioner or curl cream.
A great leave-in conditioner that provides moisture aplenty and tons of definition is the Rhyme and Reason Quench and Curl Leave in Conditioner, £8.99, Boots. Imbue's Curl Inspiring Conditioning Leave-In Spray, £7.99, Superdrug, also helps to detangle, and As I Am's Leave-in Conditioner, £8.99, Boots, smells incredible.
Depending on your hair type and texture, a leave-in conditioner or curl cream might provide enough moisture, hold, and definition (if you want it) for a whole week. If that's the case, go you! If not, you might want to double up and go with a leave-in conditioner followed by a gel.
Imbue's Curl Empowering Crème Gel, £6.99, LookFantastic, and As I Am Curling Jelly Coil and Curl Definer, £8.95, LookFantastic are two styling gels that give my curls hydration and definition.
Before you decide, you want to make sure the leave-in conditioner and gel mix well together. Products that mix well will appear as a smooth emulsion with no lumps, bumps or curdles.
Products that don't mix well will do the opposite, and when applied to your hair, will create dandruff-like flakes. 
Your curly hair oil
If you are still struggling with moisture, you might want to add an oil into your routine. Oils can be added after a leave-in conditioner to seal in the moisture of the product, or at the end of the routine after the gel or curl cream.
This is something you might want to experiment and play with. Discovering whether your hair needs extra oils is a great way of learning what type of hair you have and what your hair's porosity is – more on this another day in another column!
Before I leave you, one thing I must implore you to remember is that everyone's hair is different. This routine is a loose frame, but the adaptations and extras I have added can be just as important as the necessities.
Have fun exploring what works for you and see you back here in two weeks for my next column.