I've become a religious fake tanner. I'm not even sure how it happened, but I can't remember the last time I went more than a week without popping open a bottle of fake tan and applying it from head to toe. I love the glowy golden finish. I even love the controversial biscuity smell.
What I don't love so much is having to plan out my whole day around the normal 4-6-hour development time. That's why I was so excited to try not one, but three new express tans, which promise to deliver a seamless tan in an hour or less.
How do express tans work?
Express tans differ from normal tanning products in that you can wash them off in less time, and they will still continue to develop afterwards. For example, most normal tans ask you to leave them on for 6-8 hours before washing off, which then requires you to either tan before bed (cue: orange bedsheets) or be super prepared and do a whole tan routine before breakfast – not gonna happen for me I'm afraid.
The three express tans I tried have all been formulated to allow you to wash off between 30 minutes to one hour after you've applied. You can leave them on for longer for a deeper tan, but the idea is that you'll still get a nice bronze in the minimum time. The tan then continues to do its thing and will be fully developed around 4-6 hours later, while you can go about your day not worrying about an aroma of tan following you around or being terrified to lean on any white furniture.
These new tan launches come from three of my go-to fake tan brands; Isle of Paradise, Tan-Luxe and Bondi Sands. I use Tan-Luxe's Super Glow Hyaluronic Serum, £36, Look Fantastic, and The Creme, £33.15, Sephora, in my daily skincare routine, always count on Isle Of Paradise's Self-Tanning Water, £18.95, Boots, to give me a uniform tan by the morning without staining my bed sheets, and love Bondi Sands affordable and effective gradual tans and foams.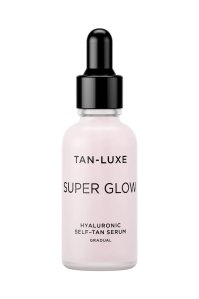 After years of waiting overnight for my tan to develop and being disappointed by instant tanners that were no match for the number of drinks spilt on me on a night out, I wasn't ready to get my hopes up. I put all three to the test, and this is my verdict. 
Want to see what each tan looks like? This is what happened when three Eliza team members gave the express formulas a go:
Isle of Paradise 30 Minute Express Self-Tanning Mousse, £21.95
Wash off after: 30 minutes
Full development time: 4-6 hours
Shade range: 1
Formula: Mousse
As I previously said, I'm a huge fan of Isle of Paradise's tans. Its clear formulations are always reliable for delivering a streak-free tan and I've never had an issue with it transferring onto my clothes or leaving tan stains on my bed sheets. I was apprehensive about trying this tan as it has a colour guide, which is helpful as it allows you to see where you've applied it, but historically I've found this to be a sign that the tan will transfer.
I applied the mousse, which glided on nicely and dried down within 5 minutes, and then went about the rest of my evening. On immediate application, the mousse delivered a light-medium tan, which makes it a good everyday option, but I do prefer a slightly deeper shade normally. To be cautious, I put a towel on the sofa where I sat in case the tan transferred, but to my surprise, the towel was left white and unmarked. I also quite like a biscuity tan smell (sue me), but this one was pretty minimal.
I washed this tan off after a couple of hours after getting distracted by a reality TV show, and then went to sleep. The tan had continued to develop overnight and in the morning was slightly darker than when I'd applied it, and overall I was left with a light bronze tan. My biggest concern was whether it would cover my old tan, which had begun to fade rapidly. Thankfully it had, giving me a uniform, golden finish.
Verdict: I was impressed with this tan and liked the sun-kissed, natural finish it gave me in a short amount of time. However, it currently only comes in one shade so I think more options are needed for deeper skin tones to be able to get the full effect.
Bondi Sands Technocolor 1 Hour Express Self Tanning Foam, £19.99
Wash off after: 1 hour
Full development time: 4-6 hours
Shade range: 4
Formula: Mousse
Bondi Sands is one of the brands changing the face of tan as we know it; no longer a one-shade-fits-all approach. The new range comes formulated with four different pigments – 'emerald', 'olive', 'magenta', and 'sapphire' – all of which have been tested and chosen due to their optimal performance on different skin tones. For example, the 'sapphire' option has been formulated to give the most natural-looking tan for fairer skin tones, while the 'caramel' formula enhances and complements deeper skin tones best.
This tan allows you to wash off after an hour but you can leave it on for longer for a deeper colour. Another mousse, this sinks into the skin quickly and is definitely one of the more hydrating formulas for dry skin types like mine. Immediately on application, the tan evened out any blemishes or pigmentation I had on my arms and legs, giving my skin a super-smooth appearance.
This one did have a bit more of the typical biscuit scent (not like that bothers me), and I did find that it slightly transferred onto my clothing, so it's not one you'd want to leave your house in before washing off. However, if you've got an hour or two to kill at home before you go out, this gives a personalised, neutral-toned tan that's probably the most natural finish for my skin tone that I've ever tried.
Verdict: I was seriously impressed with the technology that Bondi Sands has created with this formula and it did make a difference to the depth and natural look of the tan on my skin. Where other tans can look orange on my pale skin, the sapphire pigments gave me a cool-toned, neutral tan which I loved the look of. To the untrained eye, the fact this was a fake tan rather than a real one courtesy of a holiday abroad, was undetectable.
Tan-Luxe Express Self Tanning Mousse, £37
Wash off after: 30 minutes
Full development time: 4-6 hours
Shade range: 1
Formula: Mousse
If you really can't stand the typical tan smell, you'll probably love this option from Tan Luxe. It features the brand's classic raspberry scent and goes onto the skin completely clear, meaning there's no chance of you leaving a tan trail on any item of clothing or furniture. Out of all three I think this one dried the most quickly, however I did find it to be a bit tackier on my skin than the others.
However, I do think this one gave the most impressive glow in the shortest amount of time. I washed it off after 30 minutes and by the morning I was left with a luminous golden tan. Even though there was no guide colour when applying, I wasn't left with any streakiness or patches.
One of my favourite things about Tan-Luxe is that it prioritises using skin-loving ingredients in its products, because you really can notice a difference in your skin in the following days. The Express Tanning Mousse is formulated with beta-glucan, double hyaluronic acid, vitamin B5 and poly-glutamate, which all come together to create a super cocktail of hydrating, barrier protecting and moisturising properties. Not only do I find this makes my skin supple and soft, but also that the tan lasts a couple of days longer than other ones and fades in a more uniform fashion.
Verdict: I wasn't a massive fan of the tackier finish but as you are able to wash off after 30 minutes, it wasn't a big issue. I think the overall look and feel of the tan was my favourite out of the three as my dry skin really benefited from the additional hydrating and moisture-locking ingredients.
Final verdict: which express tan is best?
It's pretty hard to pick my favourite tan as I was impressed by all of these and have since continued to use them in my tanning regime. I think all of them have a strong USP and each of them work best in different circumstances. However, I was most impressed by Tan-Luxe's Express Mousse; it was so simple to apply and I liked not having to worry about it transferring onto anything, the colour it left was a gorgeous natural golden tan, and it left my skin surprisingly soft and smooth.