De-mystifying certain ingredients, clarifying how to apply products, and revealing everything you've always wanted to know about skin types; Eliza Explains will fill you up with beauty knowledge.
Wearing mascara on your lower lashes is, in theory, a straightforward concept. But if you've ever tried doing it, you'll know that isn't the case.
The scene is all too familiar: your base makeup is applied and set to perfection, your eyeshadow and liner flawless, you go to apply mascara to your bottom lashes and all hell breaks loose.  
There's a mass of black splodges that resemble an oil spill, you've poked yourself in the eye and can only hope the double-vision wears off, and somehow your eyelashes below your eye are clumped together like little black raisins.
It's makeup microtraumas like these that we're here to help you navigate, and so with our love of fluttery lashes not going anywhere any time soon, we enlisted the pros to help figure out how to achieve perfect lower lashes every time.
Read next:
What difference does putting mascara on your bottom lashes make?
While the obvious and immediate result of mascara is to define your lower lashes, the way you apply your mascara can also help you to cheat a certain eye shape.
"Applying mascara to your bottom lashes helps to open up your eyes and make them look bigger" says Dominic Skinner, MAC's Global Senior Artist.
"However, the direction of your lashes can also create different moods; If you applied mascara in a fanned out style, this will make your eyes look quite doll-like,"
"On the other hand, if you were to apply your mascara out towards your ears, this will create a more seductive, almond shape. Never underestimate the importance of a good lower lash."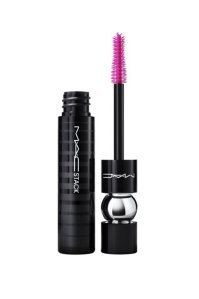 How to apply mascara on your bottom lashes
The key to acing your bottom lash mascara application is as much down to the way you apply it as it is due to the shape of the wand itself.
"The key to applying mascara to the bottom lashes is to find a mascara that features a wand with a thin, bristly tip. A precise applicator will enable you to coat your bottom lashes without getting the mascara all over your undereye area," explains Dominic.
Depending on the desired look you want to achieve, there are a few ways you can apply your mascara.
For exaggerated, 60s style eyelashes, makeup artist and Max Factor Ambassador Caroline Barnes recommends employing a dual technique; "Use the barrel of the wand to get lots of mascara onto the lashes applying in a zig zagging motion," she says.
"Then stroke the mascara wand down the lashes from root to tip with the tip the wand. This helps to lay the lashes straight, helping them appear longer and thicker."
If you want to achieve something a little more natural that extends the look of your eye, Dominic advises "brushing them in the direction of your earlobe, as this will elongate your eye shape."
I've made a mistake, how do I remove mascara without ruining the rest of my makeup?
Because we can't always be perfect, there are times where your mascara application might go awry. In that case, don't be hasty. Just follow Dominic's advice:
"The first thing you do is not to panic and don't rush it. Take a breath, think through your personal affirmations and then move onto something else. You need to let the mascara blob dry."
"If you try and flick it away when it's wet, it will smear across your face and you'll never get it off. However, once it's dry, you should be able to either flick it or pick it off without having to get the makeup remover out.
Which mascara colour would work best for me?
Black mascara is great for adding drama and definition on your bottom lashes, but if you're looking for something a bit more natural, opt for a softer brown shade instead.
If you're really wanting to make your eyes pop without spending hours on complex eyeshadow looks, adding a coloured mascara into your makeup routine is key.
"Using a coloured mascara is a great way to make eyes look brighter without wearing a lot of eye makeup. Use a shade that is opposite to your own eye colour as this will create a contrast, making your eyes really pop," says Dominic.
"For instance, if you have green or blue eyes, use a rich burgundy or plum. For brown eyes, using a blue or purple mascara will really make your eyes stand out."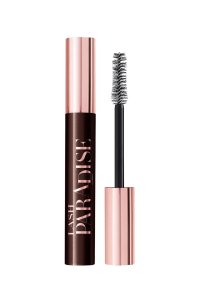 How can I stop the mascara on my bottom lashes from smudging?
If you thought the reason your mascara was transferring underneath your eyes was down to its formula, you'd be forgiven, but as Dominic explains, smudging throughout the day is probably due to another culprit.
"Most of the time it's actually down to your undereye concealer. These tend to be oil based, and as oil can act as a makeup remover, it can prevent your mascara from drying down."
The good news is, this doesn't mean you'll have to relinquish your favourite concealer or mascara. Instead, reach for a trusty translucent powder.
"A quick tip is to always set your under eye with powder to soak up the oil so it doesn't touch the lashes. Or you could lightly dust a little translucent powder on your lashes after you've applied your mascara to set and lock in your lashes."
How do I apply false lashes to my bottom lash line?
If you're ready to level up to the big lash leagues, consider going for individual false lashes.
There are countless styles of individual lashes specifically designed to enhance your bottom lash line: If you're looking for a retro 60s look try Anastasia Beverly Hills Norvina False Eyelashes in A Moment, £13, BeautyBay, or for something more coquette-ish, try Sweed Nikki Defined Underlash, £16, BeautyBay.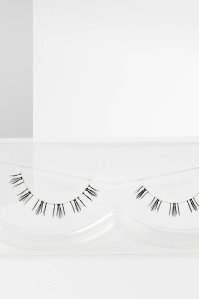 When it comes to application, Dominic's advice is as follows: "try and work the spine of the lash in amongst where the lashes grow. Then use a little mascara to bridge the real and the false lashes together. This also helps them to stay put for longer."
Time to get your lashes on…