We've all been there. You go to a wedding thinking you've done a wicked job of your makeup, and either get to the bathroom or look back at a photo and wonder where, after all that, your it has all gone?
First of all, I think it's important to bust one of the biggest makeup myths: makeup isn't going to last all day, no matter what the bottle tells you. To maintain Kardashian-levels of flawless glam, you're going to need a few major top-ups.
Failing to prepare is preparing to fail, so begin with your skincare. Find a moisturiser to suit your skin type; dry or normal skin will like something rich like Revolution Skincare x Sali Hughes' Cream Drench, £14, Beauty Bay: a buttery base that instantly comforts dry patches.
Dehydrated skin will drink whatever it can — including the moisture from your foundation. Giving your skin that drink from an adequate skincare step will reduce the risk of it eating into your foundation, thus preventing it from looking patchy or even disappearing.
Oily or combination complexions will prefer something like the The Inkey List Omega Water Cream, £9.99, Boots; densely hydrating without feeling heavy.
I may divide the crowd with this next point, but I don't always believe in primer. If it's purposefully targeting something like oiliness or radiance then go ahead and apply it. But, if you're putting it on for the simple purpose of wanting your foundation to last well, I think it becomes obsolete once you nail the skincare in the prior step.
For long wear and/or oil control, the Murad Oil and Pore Control Mattifier, £37, Cult Beauty is one of the most reliable primers in my kit. For dry skin, look no further than the creators of the TikTok viral green-adapting blusher, Youthforia. Its Pregame Protective Primer, £38, Revolve, is designed to retain moisture, thus delivering a longer wear from your makeup.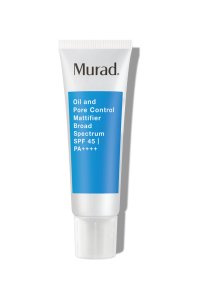 Now for your foundation. Another of my most asked questions is 'what's the best foundation?' and, put simply, there isn't one. We all want different levels of coverage (sheer, medium, high) and different finishes (luminous, fresh, velvety), and all have different budgets. Find what works for you, and tailor your application techniques to get it to last.
For a start, whether using a brush, fingers or sponge, I want you to barely use any pressure. If you rub your foundation kicking and screaming across your face, chances are you're wiping it all away rather than building coverage.
Pat where possible (don't rub) to build a fuller coverage, and start wherever you need the most coverage, working outwards with the remainder of your product. If it's a special occasion, trust me on this and wear 1/3 more foundation than you usually would. Your photos will thank you for it.
When you're happy, lock everything into place. Think of this step like the hairspray equivalent within your makeup routine (just please don't ever use that on your face!). My favourite method for all skin types is to use a translucent setting powder — Laura Mercier's Translucent Loose Setting Powder, £34, FeelUnique is one of the most universally-loved.
Focus on the t-zone and leave the rest for a more natural look. If powder isn't for you, the Indeed Labs Nanoblur, £19.99, Boots is a gel mattifier that won't sit into fine lines or look dry.
If you want to keep things going all day, a crucial question to ask yourself is this: are you touching your face a lot? It's a simple habit that you may not even notice, but you'd be surprised at how quickly it can swipe away your makeup.
But the real secret to keeping your makeup in place is topping up your t-zone throughout the day. Pack something portable in your bag like the Bobbi Brown Skin Corrector Stick, £21.50, John Lewis and freshen up the t-zone when you pop to the bathroom. I promise you'll thank me.
What can I help you with next time? Let me know on Instagram @RoseGallagher.