Demystifying ingredients, clarifying how to apply products and revealing everything you've always wanted to know about skin types; Eliza Explains will help you become a beauty pro.
When it comes to hair shedding, I consider myself a pro. In fact, ask anyone who has ever lived with me, and they will attest to the fact that I am something of a champion shedder. Yes, if you cohabit with me then you'll certainly be no stranger to discovering my strands blocking everything from the shower drain to clogging up the vacuum filter. Lucky you.
But, besides the fact that it's slightly annoying having my random hairs as near-constant companions in my living space, I've never been too concerned about my hair falling out. I know it's a normal part of the hair cycle and I've always been lucky enough to have thick hair with plenty of strands to spare.
That is, until I had children. And a few months after the birth of my second baby my hair started falling out at a rapidly alarming rate – even for me.
Worrying that I'd be left with hardly any strands remaining, I took to researching hair loss like it was my full-time job; sliding into the DMs of many hair pros to get some expert advice. After all, what was actually normal when it comes to hair shedding and is there anything that we can do to stop our hair from falling out?
A day in the life of your hair
To determine how much hair shedding is normal, it's important to understand our hair's natural cycle.
Without getting too technical (I was never much good at science), a hair enters four key phases; the anagen phase where the hair grows from the follicle, the catagen phase where active hair growth ends, the telogen phase where the hair is just chilling, and the exogen phase where the strand falls out and the process begins again. Phew.
This whole process can take anywhere from three to five years but, simply put, means that there are always new hairs growing from your follicles and there are always old strands being shed. In fact, we shed anywhere between 100 to 200 hairs a day as part of a healthy hair cycle.
However, every now and then something might trigger our hair to drop out more dramatically than usual. So, what can we do if we start to lose more hair than usual?
The root causes of hair loss
First things first, don't panic. Wil Fleeson, trichologist and co-founder of Root Cause Clinical, assured me that even losing more hair than normal is highly unlikely to lead to a balding scalp. But, the best place to start if you are worried is by seeking the advice of a qualified trichologist or dermatologist, or by booking an appointment with your GP.
However, there are a few issues that can trigger hair loss, with factors like stress, illness, iron deficiency and hormonal imbalances some of the most common (which definitely explains my latest episode of hair shedding post-baby).
"Postpartum [hair loss] is a natural response to the re-balancing of the female biological systems after pregnancy," explains Fleeson. "It is nearly always temporary [and] commonly lasts for three-to-six months."
Good news, indeed. But while I wait for this phase to reach its natural end, is there anything I can be doing to help minimise my hair fallout?
How to tackle hair loss
While the best place to start is by seeking professional advice to find out the cause of your hair falling out, day-to-day, there are a few things that we can do to help reduce the effects of hair shedding.
1. Switch up your shampoo
Dom Seeley, international creative director of Color Wow is a big advocate of switching up our shampoos as a starting point to help encourage new hair growth.
"So many shampoos on the market leave behind residue and build-up on your scalp, which can stop the delicate new hairs from growing," he explains.
Instead, opt for lightweight textures and shampoos with scalp-stimulating formulas to boost growth. Caffeine is a good ingredient to look out for to encourage growth, while collagen-rich formulations will help to enhance the health and thickness of your remaining hair.
Color Wow Hooked Shampoo, £26
This shampoo is targeted towards curly hair types, but as it contains Procapil (often used in hair strengthening and anti-hair loss treatments), it works on all hair types to anchor hair to the scalp and reduce dropout by up to 80%.
2. Roots Professional Imperium Stimulating Shampoo, £32, Roots Professional
An underrated gem that has worked wonders on improving my hair health, this thickening shampoo is enriched with vitamins, caffeine, collagen and more to strengthen and volumise thinning strands.
Absolute Collagen Thickening Collagen Complex Shampoo, £18, Sephora
This collagen-rich shampoo promises to boost hair thickness, particularly when used with the matching conditioner.
Gently does it
If your hair is falling out, then it's best to treat it ultra-gently. Try wrapping it in a microfibre hair wrap post-wash (I'm currently using this one from Kitsch) rather than vigorously rubbing it with a towel.
I've also been really careful about the types of brushes that I use on my hair, opting for a design that's specifically created for use on wet hair when I'm out of the shower to limit breakage (you really can't go wrong with the original WetBrush IMO).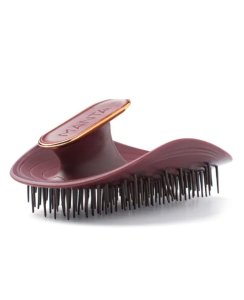 The biggest switch I've made in my haircare routine, however, is dialling down the amount of heat styling. Normally, I'm a blow-dry, straighten and tong kind of girl, but instead I've been letting my hair air-dry as much as possible and playing with products that enhance my natural texture without the need for tools. My hair definitely feels healthier for it.  
Adding a hair oil or serum to your routine can nourish and strengthen the hair, giving it a thicker appearance. Massaging oils into the scalp will also help to increase blood flow and stimulate the hair follicles to support growth.
Try a hair-boosting supplement
It's not just what we put on our hair that we should consider, either. Making sure that we are feeling our best on the inside is one of the most important ways to look after our hair and prevent it from falling out.
As well as eating a balanced diet and getting enough sleep, look for supplements that contain biotin, zinc and iron, which are all key vitamins for healthy hair, as well as vitamins D, E and B vitamins. These are some of my favourites:
So, there we have it, fallout is a normal and natural part of our hair's cycle. But if, like me, you're currently dealing with some excessive strand shedding, then these tips should help you minimise the impact and restore your hair to its crowning glory.