As I began my treatment, I took deep, long, calming breaths to quell the panic that was rising inside me. My ears started to block and my brain started to compute that I was locked in a metal chamber – what was I thinking when I decided to try a course of hyperbaric oxygen therapy at Mallucci London?
Were it not for the fact that doctors the world over and celebrities such Kendall Jenner, Justin Bieber, Cristiano Ronaldo and LeBron James rave about the health and beauty benefits of hyperbaric oxygen therapy, I probably would have given this treatment a wide berth.
Spoiler alert: I'm glad I didn't.
What is Hyperbaric Oxygen Therapy and what are the benefits?
You may well be asking why on earth anyone would need (or want) to lock themselves into a tanning-bed-like chamber to breathe in oxygen when it's literally all around us every day (for free, no less).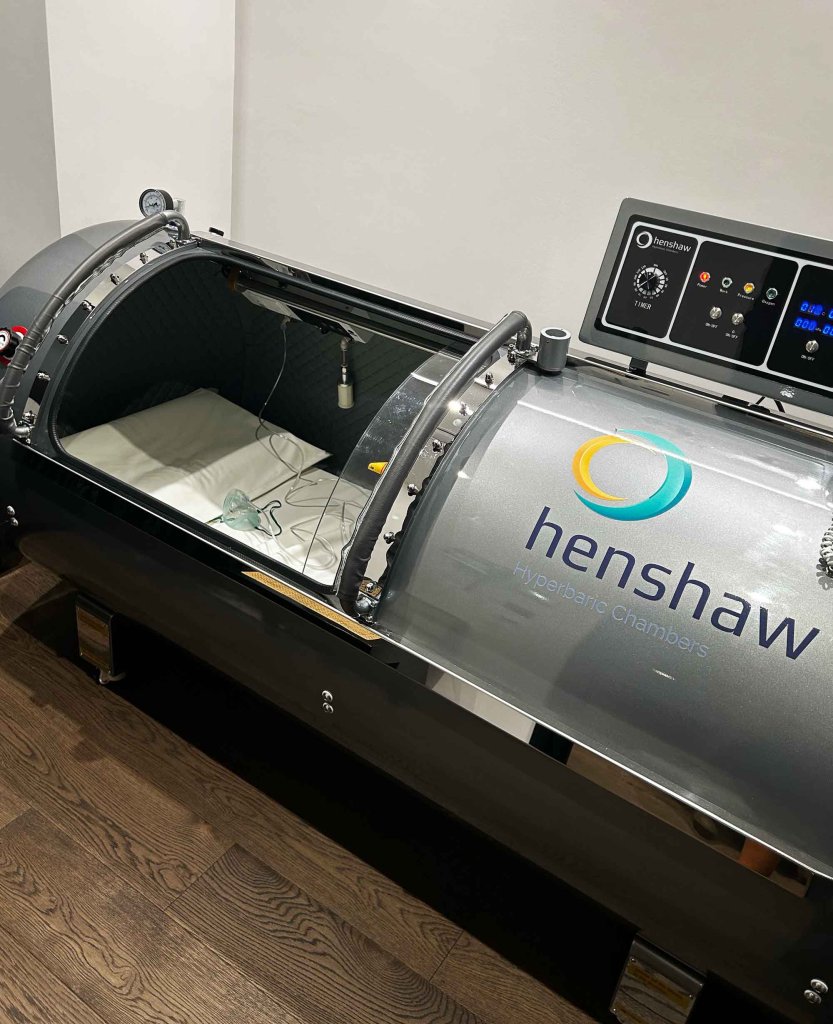 Well, founder of Mallucci London aesthetic clinics and renowned plastic surgeon Patrick Mallucci explains: "At normal air pressure our oxygen-carrying red blood cells are saturated, and therefore can't hold any more oxygen. But during hyperbaric therapy, the body is put into a pressurised environment, which is two to three times higher than normal. At this level of air pressure, the medical-grade oxygen present can dissolve directly into the bloodstream to increase oxygen levels in our cells."
This increase in oxygen turbo charges regeneration. The result: a reduction in inflammation and swelling, a stronger immune system, an increase in collagen production, accelerated healing, pain relief and an energy boost. All of this is why hyperbaric oxygen therapy has been used in medicine since the 1930s.
Fast forward to 2023, and aesthetic doctors and clinics are tapping into the healing benefits by offering this therapy as an add-on after treatments such as microneedling, chemical peels and lasers, (as well as plastic surgery procedures). They also offer standalone sessions, so you can take advantage of the texture and line smoothing benefits.
So, despite my aversion to small, enclosed spaces, now you know why I couldn't pass up on giving a course of treatments a go.
What is it like to experience hyperbaric oxygen therapy?
At the start of my first session at Mallucci London, the clinic manager talked me through what I could expect during the treatment. She likened it to the take off and descent of a plane, warning me that to begin with my ears might feel 'full' until elevated air pressure levels are reached, and then again at the end of the session when air pressure is returned to normal. They did, but after about 10 minutes they 'popped' and at each subsequent session they were less impacted by the change of pressure.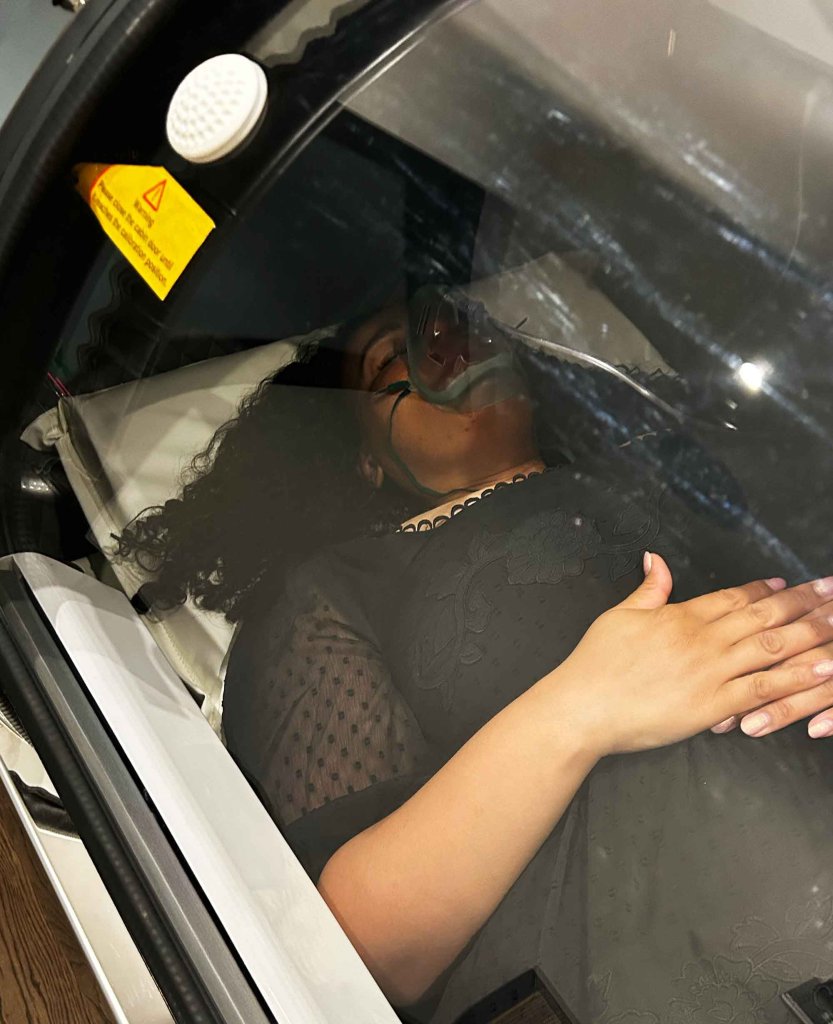 Once optimum air pressure is reached, that's when I was directed to put an oxygen mask on. Then, to enhance oxygen uptake you can employ some deep breathing techniques, although breathing normally is also fine.
While I was locked in the chamber alone, I wasn't left completely in the dark as there's a large window to see out of – phew. Apparently, some people like the lights off so they can nap, but that wasn't me.
Thankfully, the friendly staff at Mallucci London kept me company, chatting with me using the two-way intercom system. Eventually, I felt comfortable doing the 60-minute treatment with regular check-ins, instead.
After my first session, I felt incredibly tired. This surprised me, but Mallucci explained that "some people may feel very tired, because the mitochondria (the powerhouse of your body's cells) are working harder than usual as more oxygen is supplied." I went to bed early post-treatment and slept like a baby.
Hyperbaric oxygen therapy: the results
A course of treatments can be anything from five to 40 hours, depending on what you want to target. However, for general beautification I opted for six treatments over the course of two weeks. I got used to the enclosed space, and as long as I didn't think about it too much, I managed not to panic.
I noticed almost instantly that my skin had a newfound glow, so much so that multiple people commented on how radiant it looked. Plus, I'd been experiencing contact dermatitis on and off for months and it would usually take at least two weeks to clear, but this time it was gone in a matter of days. I'd tried all sorts of derm-approved creams to no effect – this time, I did nothing and so I'm convinced that the oxygen worked its magic.
In terms of the promised boost of collagen – that was the toughest to measure as almost all the products I use and treatments I get are designed to boost collagen.
However, Malucci London (and a host of clinics in the UK) also offers the Visia Skin Analysis skin scanning tech, which measures lines and wrinkles, pore size, UV damage, hyperpigmentation and rosacea – all of which can be improved by increasing collagen levels.
So, if you wanted to conduct your own 'study', you could use the Visia before and after a treatment course to measure just how effective it is.
My verdict
It's safe to say this treatment isn't cheap. It costs from £14,000 to buy your own chamber, or £695 a month to rent one, while sessions are £250 each at Mallucci London. Yep, I told you it was boujee.
However, the healing benefits are undisputable, so I would happily (when funds allowed!) book in for a £250 session as an add-on to the more hardcore aesthetic treatments I partake in, such as my biannual high-percentage chemical peel and a yearly course of radiofrequency microneedling.
For those of you who want to look well-rested, with glowing skin for a fraction of the price, here are some of my favourite buys as a beauty editor who's tried it all:
BetterYou Lights-Out 5-HTP Nightly Oral Spray, £19.95, Holland & Barrett
Studies have shown that taking 5-HTP can help people get to sleep quicker and sleep more deeply. If you sleep better, you look better – facts!
Kiss Falscara Lengthening Wisps Accent Lashes, £9.99, LookFantastic
When I want to cheat my way to looking bright-eyed and bushy tailed, individual false lashes placed in the outer corners of my eyes are my go-to. These are quick and easy to apply and give the illusion of brighter, bigger peepers.
Ultra Violette Preen Screen SPF 50 Reapplication Mist, £32
UV exposure is the skin's biggest ager, and while the importance of using SPF is getting through to most of us, reapplication is one area where many of us (me included) struggle. This mist can be spritzed over makeup for touch-ups and suits all skin tones.
Kinship Insta Swipe Lemon Honey AHA Exfoliating Pads, £24, Cult Beauty
These compostable glycolic acid, manuka honey and lemon pads exfoliate, brighten, clear pores and reduce breakouts – all in a single swipe.
Kama Ayurveda Geranium Cleansing Gel, £24
Great skin starts with a good clean but the trick is not to strip the skin, which is why I'm a fan of this geranium-laced face wash. Not only does this essential oil have antibacterial, antioxidant and anti-inflammatory properties but its scent is said to help with anxiety, low-mood and even pain management.