Halloween is my favourite day of the year. But in the name of making this column as widely helpful as possible, I've avoided the urge to pen a step-by-step Beetlejuice tutorial (maybe next year?) and instead want to give you a classic makeup starting point that you can customise to suit your costume.
Step one: start with killer eye makeup
Whatever your character, a smoky eye baseline is always a good idea. Let me remind you of a few trusted ways to create yours…
If you like to use powder eyeshadows, it's best to create your eye look first, wipe away any drop-down, and then apply your foundation. The advantage of working like this is that you can be as messy as you like when doing your eyes, and it tends to make you a little more fearless in your quest.  
A potential red flag is the fact that smoky eyes will often look completely out of place without the rest of your makeup on. Trust the process; something that feels way too heavy is often less intimidating once your foundation is complete. Plus, this is Halloween!
Pat McGrath's TikTok-viral eyeshadow palettes are the most sumptuous way to create your look. Alternatively, Max Factor is a more affordable home for well-curated eyeshadow quads.
If you prefer creamy eyeshadow sticks, feel free to work away in any order that you like. E.l.f makes fantastic eye crayons in a variety of shades, or for a wider selection of glitters, shimmers or mattes, Laura Mercier is also a great place to start.
Instead of opting for black, try an emerald green or a plum so that your chosen shade has a practical lifespan outside of Halloween.
For best results, apply your shadow one eye at a time and blend. If you do both together, the second eye may have dried before you've had a chance to soften it.
Then of course, there's the easiest of the lot: simply mapping out your smoky eye with liner. For an all-over intense look, the Bobbi Brown Gel Liner is your best bet, or for a smudgy pencil with lots of slip, try the Pixi Silky Eye Crayon.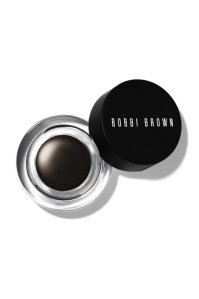 Step two: look to the brows
From here, there are simple ways to make your makeup infinitely spookier.
Pay close attention to your eyebrows, for one. A simple curling of the inner corners will give even the simplest makeup a Tim Burton-inspired cartoon effect.
Step three: play with shimmer and glitter
When the brief is more magical, nothing will transform a simple makeup look like colours that play with light.
Iridescent glitter is a must; the Peaches and Cream pigments are the very best, and they even have a Halloween collection complete with shades like Fangulous, Sinderella and Mad Moiselle.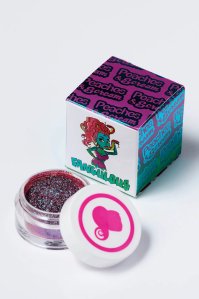 Deck of Scarlet is a relatively new vegan brand, which offers the most pigmented, rich colours across the board. It has unique double-ended eyeliners, which contain both the classic jet black that you'll get the most use out of, and a petrol-like shade that corrupts a little when the light catches it.
Step four: don't be afraid to accessorise
And then, of course, there are face gems. Even the tiniest hints of sparkle will completely elevate your everyday makeup, adding an otherworldly quality.
Half Magic Beauty uses medical adhesive for its gems, so not only will they last the night beautifully but – even better – you can reuse them!
If you don't have time to order yours, try using a white liquid eyeliner to draw on dots and fake the illusion of gems – as I do in this week's tutorial video. The 3INA white eyeliner is especially pigmented for this task.
However you add your embellishments and trims from here, be sure to avoid your hairline. You want to be able to remove all of this by the end of the night, not have it linger in your sideburns for the next two weeks.
Remove your makeup carefully with micellar water or a cleansing balm and make sure your face is clean before you get in the shower. Otherwise, when you splash your face with water, you'll be left with more glitter in your hair than any amount of Instagram 'likes' can really justify.
The final magic trick to Halloween makeup? Make a Pinterest board before you begin and use it as your makeup roadmap. There is an endless world of inspiration on there and I find that having something to copy can be helpful when embarking on a whole new makeup concept.
What are you going as this year? Have a happy Halloween!