Getting your nails done is one of life's great luxuries. When your talons are perfectly lacquered, you feel like a woman who's got her life together. Or at least, I do.
Roll on three weeks later however, and there's nothing more un-polished than sitting on your sofa picking off the dregs of your gel nails because you're too unorganised, chaotic and/or lazy to book an appointment to get them removed professionally.
I am this person and I do it every time, and then spend the next month embarrassed about my hobbit nails that are breaking all over the place. I look down at my hands, so weak and brittle and I think, what on earth have I done? A far cry from the polished nail girl a few weeks earlier that I was trying to embody.
That's why when I saw an ad on Instagram for at-home gel nails you can remove easily with liquid remover, I was desperate to try it.
What is Manucurist?
Manucurist is a green, clean and cruelty-free nail brand made in France. It prides itself in not using any 'bad' or harsh ingredients and instead swapping them for 'healthy,' vegan alternatives that promote glossy, long-lasting manicures and healthy nails.
The brand is centred around its LED nail polishes that claim to provide an alternative to regular nail polish and gel manicures, lasting up to 10 days without compromising your health.
How to shop Manucurist
I went for the Green Flash Pro Kit, which includes a base coat, top coat, green flash gel polish remover, pro lamp, one colour and some nail clips. It costs £126 but seems to be regularly discounted to £85. Not cheap, but it is the cost of about three professional manicures and removals so feels like good value for money when you total it up.
There's an extensive array of colours to choose from, with classic reds and nudes to more fun shades from the brand's Yucatan range that is inspired by Mexico's colourful streets.
The packaging is recyclable, the branding is simple and attractive and the lamp is really compact and folds flat, so is perfect if you're short on storage.
The application process
The application process is exactly the same as when you get gel nails done at the salon. You simply apply the base, colour and top coat and place hands under the lamp for 60 seconds each time.
Doing it at home without a nail expert does require a steady hand, but with a little practice, you can easily achieve a professional-looking finish. Any mistakes can be quickly cleaned up with a q tip and the remover.
What I found really noticeable, was the lack of any chemically smell that you normally get from the harsher ingredients in gel nail products, which is a very welcome benefit. 
How long does Manucurist last?
I'll be totally transparent: the Manucurist polish doesn't last as long as gel polish. The varnish's consistency is a lot thinner than its gel counterpart, which is why it can be removed with liquid. The brand says it lasts up to 10 days but for me, it was about five to seven before I started to see it chip off at the tips.
The picture below is of me writing this eight days after I applied the polish, and you can see the little chips at the top. Not terrible, but not perfect.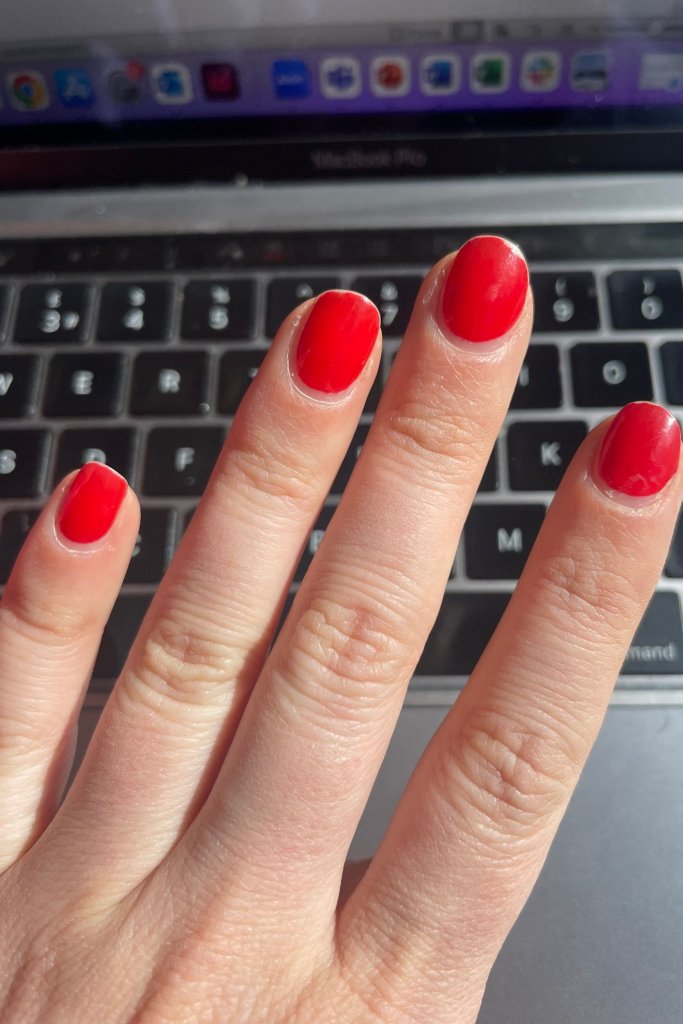 It does however last a lot longer than regular nail polish and because the application process is so easy, I just topped up the ends with a quick patch job and 60 seconds under the lamp. I haven't applied it yet to my toenails, but I would imagine it would last a lot longer here given toes tend to be less chip-prone.
For the time it does last, it looks lovely and glossy, and just like any other professional manicure.
The removal process
This is the magic part that really appeals to me most; I was blown away at how easily the product comes off. You simply put some of the brand's liquid on a cotton pad and leave it on your nails for one minute. You can use the clips to apply a little bit of pressure, and then the polish just peels off effortlessly to reveal healthy, undamaged nails with no staining.
After removal, my nails remain healthy with none of the damage usually incurred from the longer-lasting varnishes.
Manucurist: my final verdict
Overall, I would really recommend this kit. Because the removal process is so quick, it's less of an ordeal to re-do your manicure and gives a great excuse to try out more colours.
This would suit anyone looking for a day-to-day mani and would be perfect for an event or a week's holiday. If I was going away for longer than a week, I would probably consider getting a gel manicure, but even just thinking about it now, I feel bad for the trauma I would put my nails through.
Maybe on reflection I am a total Manucurist convert…