When my beauty columnist Laura Capon first pitched a piece about Merit back in October 2022, I have to admit that it was the first time I'd heard about it. Whether this makes me a bad beauty editor aside, LC's Merit piece very quickly convinced me to give the brand a try.
As someone who's obsessed with a pared-back glow, the premise of easy, quick makeup with balmy textures and simple application appealed to me big time. And I have to admit, Merit's 'no-makeup makeup' has won a permanent spot in my everyday routine.
What's all the hype about Merit?
Merit was founded by Katherine Power – the woman behind skincare brand Versed and the founder of Who What Wear – back in 2021, but it only came over to the UK in February 2023, bringing with it the now-famous Merit concept of the 'five minute morning'. The idea: its range of multipurpose, easy-to-use and sheer-yet-buildable products provide everything you need to get ready in, yes, just five minutes. The result: a glowing, fresh face of makeup that's subtle enough for day but can be built up into a statement evening look – the perfect antidote to full-on glam (and much quicker, too).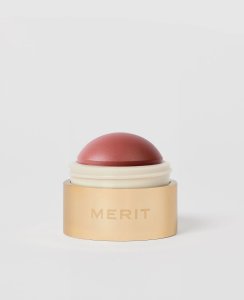 Where can I buy Merit from?
Merit is available exclusively on the brand's UK e-commerce site. It's only be available here, rather than any third party retailers (for now, anyway).
The Merit Beauty 5 minute makeup tutorial
What should I buy from Merit?
Full disclaimer: I've tried six products from the 10-strong line-up, and I definitely have my favourites.
The lipsticks are lovely; nourishing with impressive pay-off. There are nine shades in total – I love 'Baby', which is a pinky-nude that's wearable for everyday.
And for a bolder finish, the Signature Lip now comes in a newer, limited-edition shade just for summer. 'Aperitif' is a suits-all red that adds a generous hit of colour in just one swipe.
It's promises to look good on everyone, and is the one lipstick you should keep in your bag to take your makeup from day to night.
My everyday go-to from Merit would have to be the Bronze Balm. This is a creamy stick bronzer that comes in five shades, and can be used to contour or to add a bronzed glow. The appeal is, unsurprisingly, in how easy it is to use: the stick can simply be swiped under cheekbones to sculpt or across the forehead and cheeks to add colour. It's super creamy and easy to blend with either a brush or your fingers, and it has become a mainstay in my personal makeup bag.
I'm also a big fan of the Flush Balm, which is a fuss-free cream blusher that can be applied right from the domed stick (again, everything is designed to be quick and easy to use – great for touch-ups when you're on the go). It's a fairly sheer product, so if you fancy more of a flushed look, it's ideal. For more colour, you can build it up slightly – but, I'll be honest, it's never going to give a super-potent 'pop'.
I liked everything I tried from the brand, but these three were top tier. The other products I tested (the Day Glow, Shade Slick and Brow 1980) were good but not great, IMO. The brow product – a 'volumising pomade' was a little difficult to apply without smudging, while the Day Glow highlighter was pretty but didn't offer that 'wow'-factor glow I usually look for. The Shade Slick tinted lip oil did offer great shine and a moisturising feel, but I just felt that it was outshone by the the other lip formula in the range.
My overall verdict: if you're looking for your-skin-but-better makeup that's quick and fuss-free to use, then Merit is the brand for you.
Want to know where to start? Snap up the Bronze Balm and a lipstick of your choice.