Wondering if a new trending facial is actually worth your cash, or if fillers are for you? Our 'I Tried' franchise trials and tests all the latest treatments to provide honest, frills-free recommendations.
My relationship with my eyebrows has been a tumultuous one, to say the least. I spent my early teenage years plucking the life out of them, followed by a few years of terribly drawing them on, and finally the last few years overcompensating my years of brow abuse by letting them grow wild and free.
But I'm only human, and as a result of consuming hundreds of images of lifted and sculpted celebrity brows via Instagram and red carpet coverage, I've recently become obsessed with the pursuit of that snatched brow look. While celebs' favourite hobby seems to be denying ever having any work done, putting it down to 'natural' aging changes, more often than not, it's thread lifts or surgical brow lifts that are responsible.
So, when I heard about the Thermage FLX Brow Lift treatment, which offers a non-surgical brow lift alternative to 'traditional cut-and-sew procedures', I knew I wanted to try it for myself. 
What is the Thermage FLX Brow Lift Treatment?
Unlike more invasive and injectable procedures such as thread lifts, Botox and surgical brow lifts, the FLX Brow Lift uses its patented radiofrequency technology to heat the skin via a machine. This makes it a great option if you're squeamish or have a fear of needles, as the machine is passed over the skin without any need for making incisions into the skin.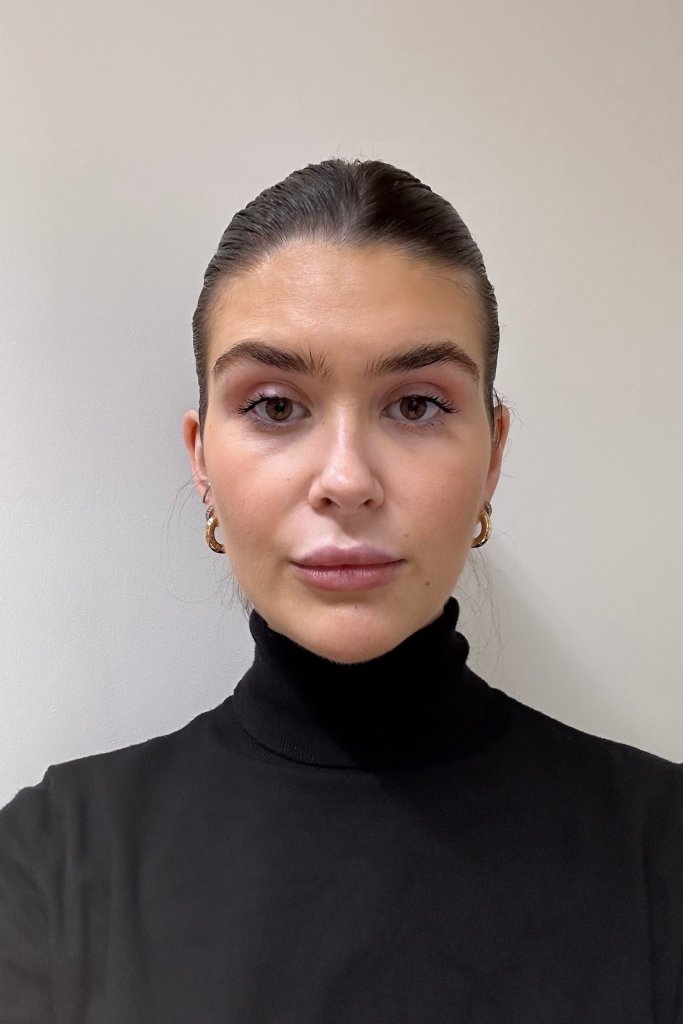 How does the Thermage FLX Brow Lift work?
I left my science studies behind at GCSE level, so the mention of radiofrequency went right over my head. However, the practitioner doing my treatment explained it to me in layman's terms: radiofrequency delivers intense heat into the layers of the skin where our collagen resides.
In turn, this heat reacts with the collagen already in the skin to tighten, while also stimulating the production of more collagen in the coming months. This helps to tighten and lift the appearance of skin, as well as visibly plumping it over a longer period of time.
My review of the Thermage FLX Brow Lift
For my treatment, I headed to the 111 Harley St Clinic, where I was taken into a bright and spacious room and sat down on a chair while the practitioner explained the procedure to me. She started by attaching a cooling pad to the side of my stomach, before showing me the machine and talking me through how strong the radiofrequency would be (this might be different depending on your wants/skin requirements).
She then mapped out the areas on my face where the treatment would be focused; across my forehead and underneath my eye area, and applied a gel which would allow the waves to penetrate the skin properly.  
One of the main reasons I wanted to try out this treatment was that it's low maintenance; it only requires one session which takes around 45 minutes, and the results last between one to two years depending on personal factors such as smoking, exercise and metabolism.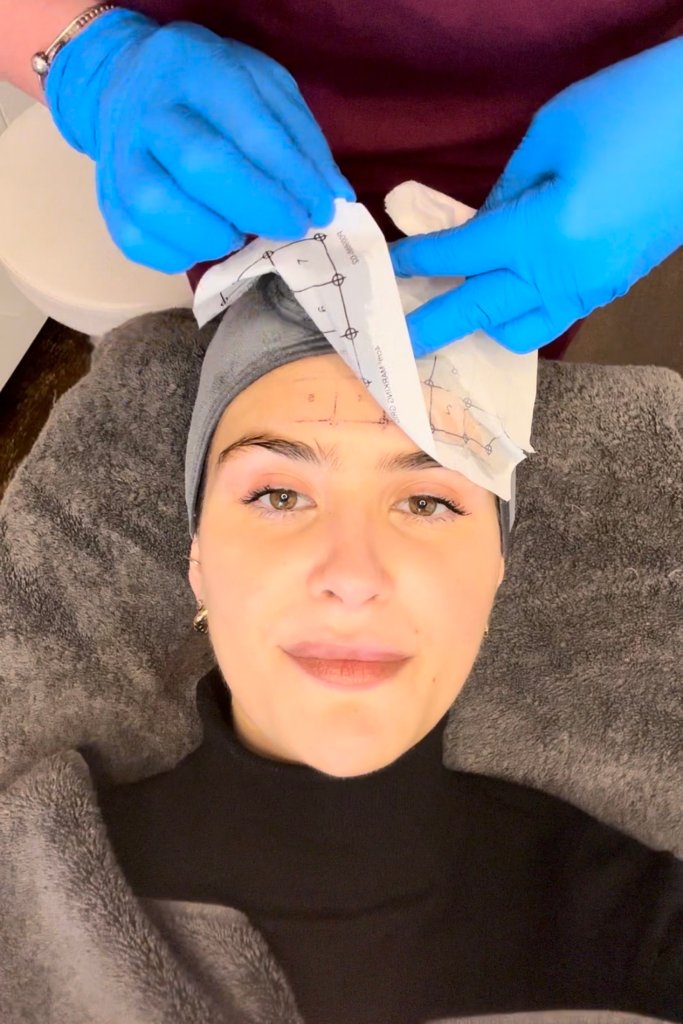 I'm 24, so I'm aware skin sagging and loss of elasticity are not an issue for me yet, however as 25 is the year your collagen levels start to decrease, I was intrigued to see whether this treatment would make a discernible difference in the texture and look of skin around my forehead and eyes, which tend to suffer from dehydration lines.  
The practitioner warned me that each hit of radiofrequency would start out mild before getting more intense toward the end, but that each one only took a few seconds. I was then also given the option of having the machine vibrating which can help to distract from the heat of the machine on the skin.
The treatment then started, with the practitioner starting across my forehead and applying the radiofrequency in sections. The best way I can describe the sensation is a very high heat being applied to your skin; it was slightly painful across the forehead, but more so under my eyes and around my temples.
At one point, I did ask for the heat intensity to be turned down as I found it too hot and uncomfortable; the practitioner informed me that if you're dehydrated (me, always) the treatment will often feel more painful, so if you're getting it done, get chugging water in the days before!
The treatment lasted around 10-15 minutes on each side of my face; I don't feel like I would have been comfortable going for much longer, and my overly watery eyes did not help. I did however notice some interesting results.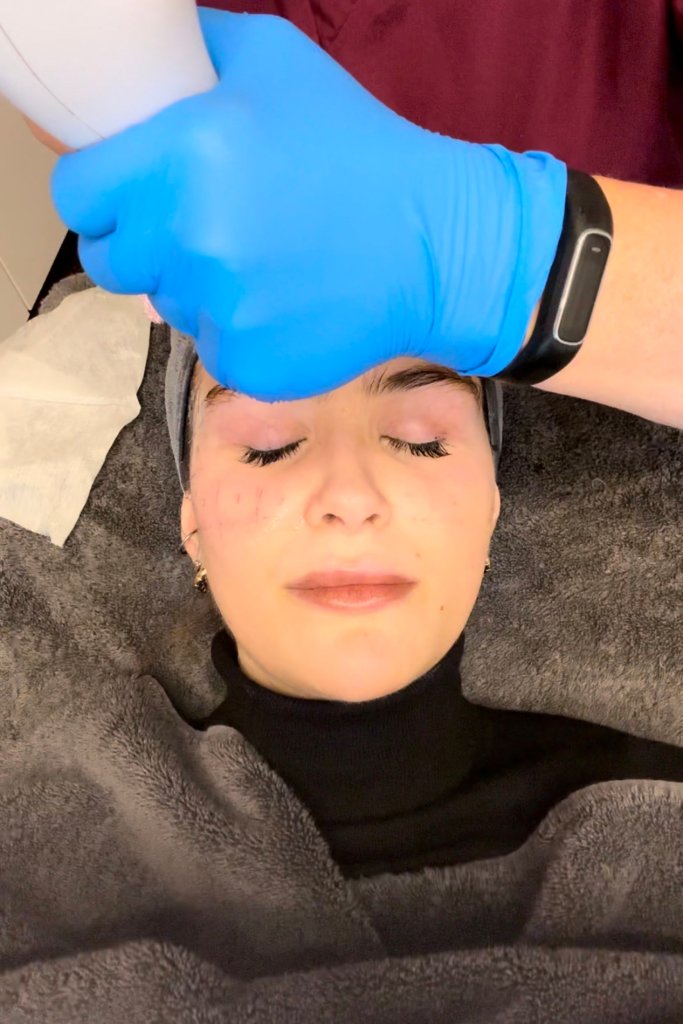 As someone who has also had Botox in their forehead and brow area (just over a year ago), I feel it is probably easiest to compare the two treatments. Whereas I saw an immediate and obvious lifting effect with Botox, the FLX Brow Lift was much more subtle. My eyebrows looked slightly more arched, as someone commented on when I got back to the office, but I wouldn't say it was as noticeable as I might have liked.
The FLX Brow Lift also leaves you able to move and be expressive with the treated area, whereas Botox will freeze it from around one to two weeks post-treatment. Personally, I love the resting bitch face Botox gives me, but if you're looking for a treatment that offers a more natural, flexible face, you might prefer Thermage's Brow Lift.
However, the change in the texture to my skin was immediately apparent: the dehydration lines that always bug me (and the ones visible in my 'before' photo) were completely gone, and my skin looked obviously smoother and plumper. I also noticed that my cheekbones looked more prominent and contoured afterwards, which was an unexpected but welcomed result.
While a subtle tightening and lifting effect is said to be one of the benefits of this treatment, the main draw is the increased levels of collagen in the treated area over time. My practitioner told me that it would take around 12 weeks for the extra collagen to start showing up in my skin, and that this hydrated, plumper looking effect would last between one to two years, so I'll be coming back and updating this piece with some more pictures of my skin when I hit that mark.
There was a little redness as I left the clinic, but by the time I got back to the office 20 minutes later, that was completely gone. Other than avoiding using active skincare that evening, the treatment didn't require me to steer clear of anything else.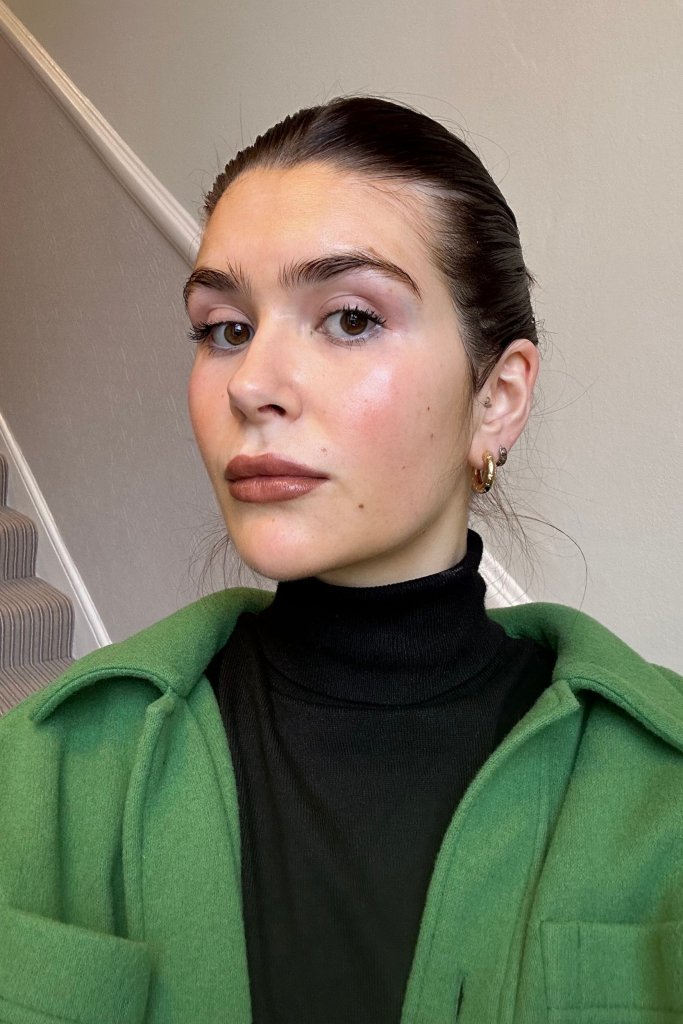 Thermage's Brow Lift is definitely at the more expensive end of facial treatments, with prices starting at £2200 in London clinics. It is quite a bit more than your average Botox appointment, however with one treatment of the FLX Brow Lift lasting on average one to two years, and Botox requiring regular top ups every 3-4 months, the prices aren't too dissimilar when you compare over a two year timeline.
For people with needle phobias or who don't want anything injected into their skin, the FLX Brow Treatment would be a worthwhile alternative investment in your skin.
Would I recommend this non-surgical brow lift?
While certain skin concerns aren't yet an issue for me at this age, I was pleasantly surprised at how bouncy, bright and plump my skin has looked since the treatment, with multiple people commenting on how glowy my face looked in the following days.
The texture has definitely improved and my dehydration lines, which usually creep in by the afternoon, haven't reappeared since. From the results I've seen immediately, I do think this is a good investment treatment for those with thinning skin, dehydrated skin and skin that's lost its elasticity.
However, if it's a super-snatched, Bella Hadid brow lift that you're after, personally I think you would be better off getting a consultation for Botox or a thread lift.  
While the jury is still out on the cumulative effect of the collagen (as I've got to wait the 12 weeks), I'll be updating this piece at the end of June, so be sure to check back then.