Party season calls for the fanciest of makeup looks and I for one am ready to embrace the glitter. It's easy to get stuck in a rut with your go-to vibe, but a quick scout of Instagram will give you a boost of inspiration to get a little creative with your makeup.
Love a smoky eye but want to ramp it up? Metallic eyeshadows are your friend. Is a liquid eyeliner your makeup bag staple? Try a brighter colour for a party vibe.
Basically, from the 1st to the 31st of December, you've got a free pass to go as OTT as you possibly can with your makeup. So don't be afraid to don a red lip for Christmas and add a heap of glitter for New Year's Eve. Hell, why not go the whole festive mile and match your nails to the occasion too?
Here, I've compiled some of the best party looks for every taste, from bright lips to metallic eyes…
Party in pink
Pink had a big year in 2022, and according to Pantone, we're going to be seeing it even more in 2023. Viva Magenta, a deep pinky red hue, has been named the colour of the year for 2023, so why not embrace it for your next party look?
Go monochrome and opt for the same shades of pink across your eyes and lips for a modern twist on an '80s vibe. Start by blending out a raspberry pink shade across the lid and top with a pink glitter eyeshadow in the middle for a halo effect.
Keep the base fresh and light and seal the look with a solid magenta lip. Revlon's ColorStay Matte Lip Pencils have a super moisturising feel, but the soft matte finish will see you through your party and beyond.
Cause for chrome
If you're looking to dazzle this festive season, it doesn't get much more mesmerising than this eye look.
Trying to figure out what exactly that is on her eyelids? Let me introduce you to chrome flakes, the otherworldly makeup product that gives a shimmering, multidimensional duo chrome finish. I'm in love with this combination of moss green and electric pink.
What's more, achieving this look is a lot less complicated than it looks; use a flat eyeshadow brush or your finger to pat the chrome flakes onto your lid – Glisten Cosmetic's Chroma Flakes, £14.50, Beauty Bay, are ideal as they come already in a gel base – and run a light champagne eyeshadow underneath the eye to bring it together.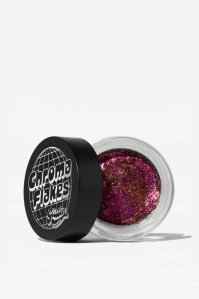 Bright eyes and slick lips
I love this makeup by model Selina Yang, proving that 'lips or eyes' so isn't a thing anymore – life is short, go for them both.
If you're new to a bright eyeshadow, the By Beauty Bay Midnight 9 Colour Palette, £7.50, Beauty Bay, is a great budget-friendly option to give a whirl.
The mix of glitters and matte shades give plenty of scope for experimenting, too. If you have oily lids, don't forget to use an eyeshadow primer first to avoid the product creasing – a real game changer. The Urban Decay Eyeshadow Primer Potion, £19.50, Boots, is a great makeup bag staple.
A high gloss lip is also giving 2003 and I'm here for it. Try this Glossier Lip Gloss in Red, £12, Glossier, to replicate Selina's vibe.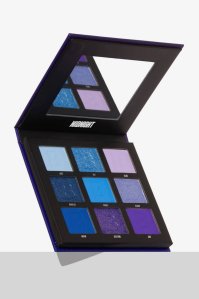 Lashes that flutter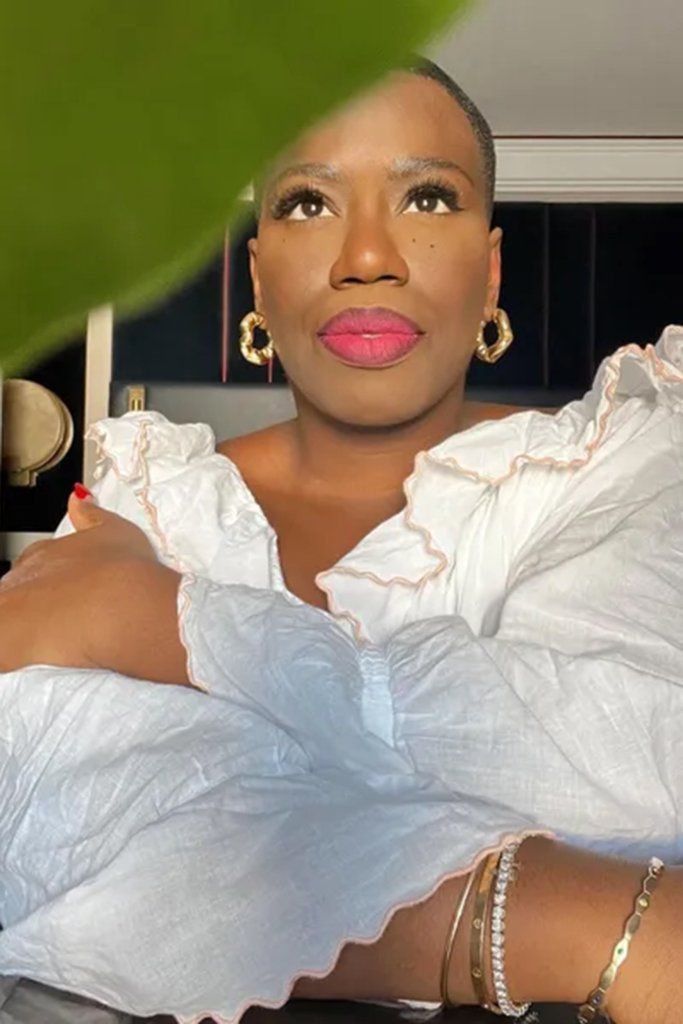 Long, fluttering lashes add instant drama, but there's no need to schedule in an appointment at the salon to achieve the look. DIY false lashes have come a long way since our teens and these Eylure Fluttery Light Lashes, £6, Boots, go to the top of the class.
Tried and tested by yours truly, they stay put all night long and subtly elevate your makeup. Top tip – start by doing the rest of your makeup first and then apply after using tweezers. Don't forget to trim them first if they're a little too long!
Want something a little longer lasting? Why not try at-home lash extensions, which are just as easy to apply.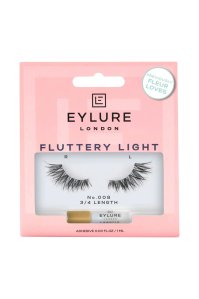 A moment for metallic eyes 
Metallic eyeshadows are the unsung hero of lazy girls' party makeup and truthfully, I'm all for it.
This gorgeous green look can be recreated with cream shadow like the Barry M Euphoric Metallic Eyeshadow Cream, £2, Boots. 
Throw yourself into it by replicating the green look, or go for a softer, warmer toned metallic if you just fancy dipping your toe into the world of shimmers.
Dab a cotton wool bud into eye makeup remover to help get a defined, winged look.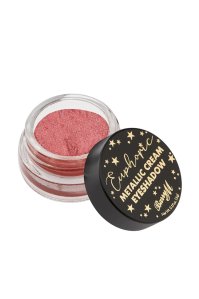 Get up and glow
You just can't beat a touch of perfectly placed highlighter and for festivities, an amped-up glow gives major party vibes.
I like the Refy Gloss Highlighter, £18, Selfridges (a favourite of beauty editor Rebecca's too), for easy application; the squeezy tube helps control how much product you use and trust me when I say a little goes a long way.
Pop half of a pea-sized amount of the product onto your ring finger and lightly tap along your cheekbone. It's buildable, so always best to start with small amounts!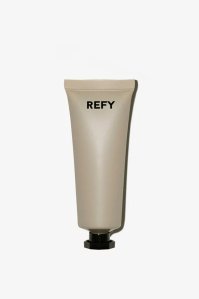 Winged liner with a twist 
Party makeup is an opportunity to go a little outside the box from your everyday, and this metallic winged eyeliner with a twist provides the ultimate inspo. 
Apply your winged liner as usual (check out this real-time tutorial from Eliza columnist Rose if you need some tips) and extend the line a little further. Aim to mirror the shape with the second line above and finish at the centre of your brow.
This is one that takes a little more practice than usual but provides some serious wow factor.
For a more festive vibe, try the Rimmel Wonderswipe 2-in-1 Eyeliner to Eyeshadow, £6.99, Boots, in the perfect shimmery gold shade 'Ballin.'
The classic red lip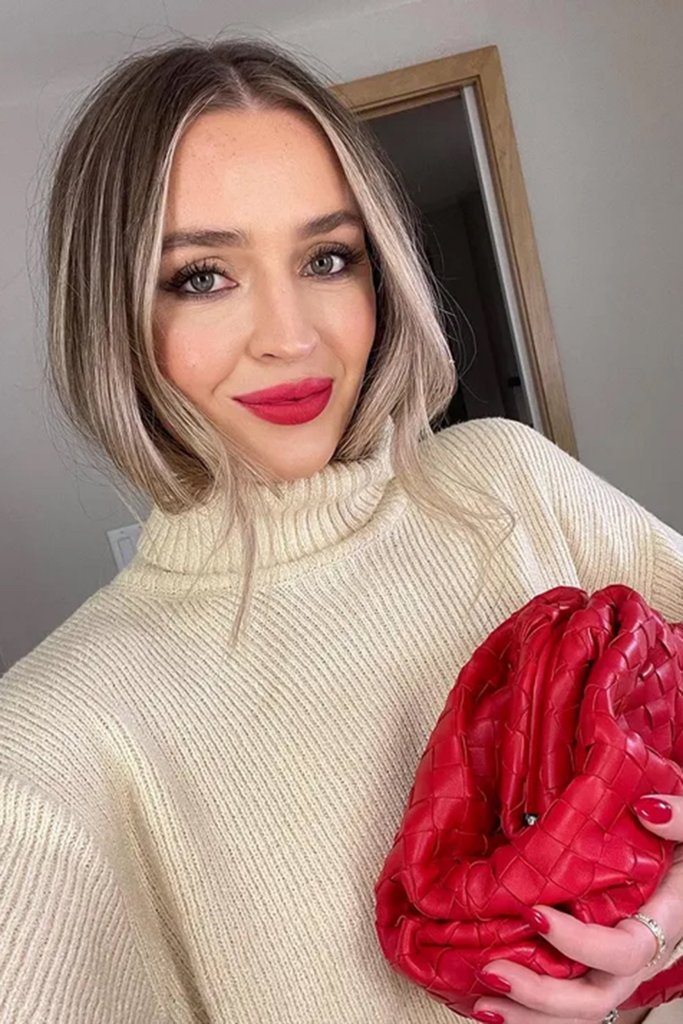 And what's a Christmas party makeup round-up without a bold lip? A drop in temperature is a klaxon to dig out your favourite red. Go bold and bright with your makeup bag update; I love the Dior Rouge Dior Lipstick in 888 Strong Red, £34, Boots.
Finding a matte lip product that isn't drying can been a toughie, but this ticks the box and makes it worth the splurge (I know, it's a little pricey!).
If you have extra dry lips, a pat of post-application lip balm does the world of good. Don't forget to line your lips first for an extra-defined look, too.