When I discover a hair product I like, I stick to it. I think that's the same for most people with curly hair – finding products to hydrate and define doesn't come easy, so it takes a lot to sway me from my usual line-up. Then, Pattern came along – and in particular one product, which I recommend most from the line (more on that later). 
What is Pattern Haircare?
There's been a lot of hype since the brand's US launch in 2019. Its founder and CEO, Tracee Ellis Ross (also an actor – Girlfriends, hello) is known for her beauuutiful halo of curls and with Diana Ross as her mum, she's part of a superstar sensational-hair dynasty. And now, Pattern is finally available in the UK, so we can all get in on the action.
Is Pattern Haircare good for all hair types?
The 14-piece collection is designed to celebrate curly and textured hair types, with some products that can be used across all, and others more suited to tighter, coarser coils. While Pattern isn't designed just for Black hair, you can tell it is a Black-owned business, in the way it caters for the specific needs of textured hair and brings it into the luxury haircare space.
Everything about Pattern has been carefully considered. There is nuance to this collection that I've not seen from other widely available curly haircare lines – it fills a much-needed gap in the market, recognising the need for varying levels of hydration and hold. As anyone with textured hair knows, one curly hair product does not suit all.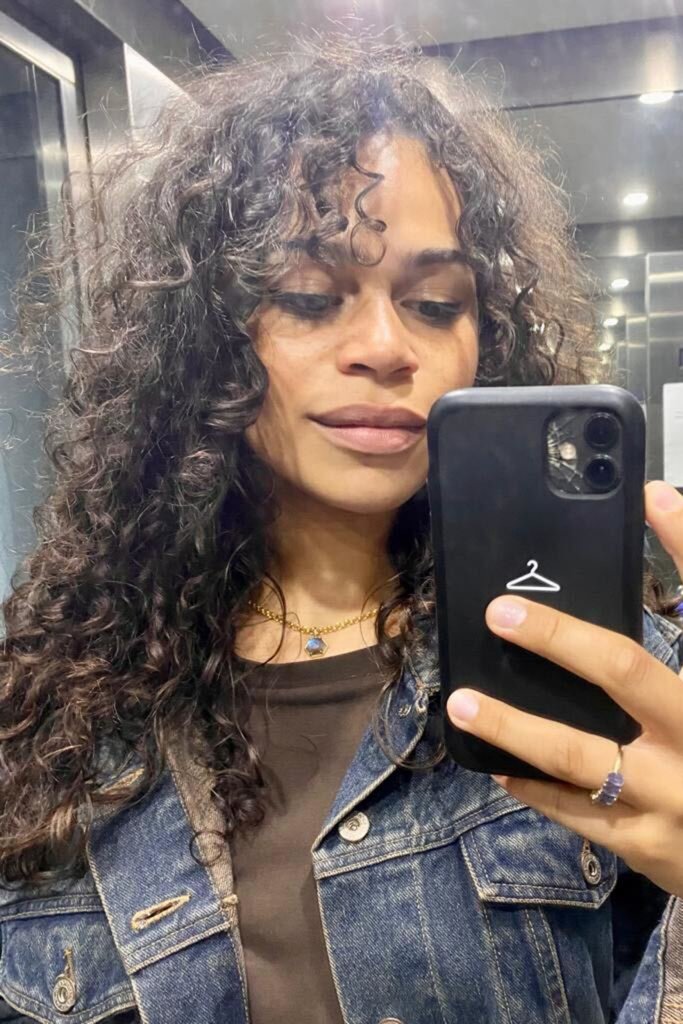 For context, my hair texture is on the finer side, with 3b curls that spiral down past my shoulders and have a tendency to frizz up if not cast in a thick layer of gel and cream. So, on my last wash day, I gave the collection a go – here's what I thought…
Pattern Haircare: my honest review
The Pattern Shampoo
The Cleansing Shampoo, £20, Boots, clarifies without stripping your hair of its natural moisture. It felt free from product after just one use, without feeling squeaky clean – it was actually silky soft. I can't say the shampoo (or any of the products, really) will be known for their scent – there's a gentle aroma of natural oils (the line features the usual shea butter and jojoba oil, plus surprising hints of matcha), but a swish of your hair won't leave a waft of perfume in your wake. However, your hair will feel clean, smell fresh and feel soft. So it's still a win from me.
The Pattern Conditioner
A special mention has to go to the conditioners. Because there's not just one, there's four. A Lightweight Conditioner, £25, Boots 'designed for those with fine or thin hair', a Medium Conditioner, £25, Boots, 'for curly and coily hair types', a Heavy Conditioner, £25, Boots 'for coily and tightly-textured hair types or those with low porosity' and an Intensive Conditioner, £25, Boots, 'for porous, denser textures' (£25 each). Find me another brand that offers that level of detail.
I'll admit, the conditioners aren't the most affordable. But they're twice the size of the shampoo. Finally, a brand that recognises how much conditioner we're actually using each time we wash our hair. Gone are the days of 'use a 50p-sized amount' – and no more having to buy two bottles of conditioner for every one of your shampoo in a monthly shop.
The Medium formula is my weapon of choice, and despite being on the lower end of the conditioning spectrum, it feels decadent: a thick, buttery cream providing instant hydration and excellent detangling of my matted morning mess (yep, I fell asleep without wrapping my hair the night before). Thank you, Ms Ross.
The Pattern Mist
Pattern's Hydrating Mist, £18, Boots, revived my dull, unwashed curls with ease. I sectioned my hair, sprayed water on certain areas and added the Mist all over to help de-clump and revive my curls.
Infused with aloe vera and coconut and avocado oils, it's also great for boosting moisture on dry hair throughout the day – a bit like a good face mist perks up your makeup mid-afternoon, this does the same for your hair. And to top things off, it protects against environmental aggressors (such as pollution) – I'll definitely be packing this for my next holiday.
The Pattern Oil
My hair is funny about oils. It turns greasy from rich, unctuous formulas, while lightweight lotions leave it wanting more. The Pattern Jojoba Oil Serum, £25, Boots, is like the Goldilocks of oils: not too heavy, not too light, just right.
It is lightweight, but it gets the job done, reducing breakage on the ends, adding shine to the mid-lengths and soothing my dry, flaky scalp. I'd also recommend it for next-day detangling: rub all over your hands like hand cream, apply a little Detangling Mist, then use your now-slippy fingers to gently remove any big knots.
The Pattern tools: a special mention
Pattern's range of tools serve to enhance its products and, frankly, make your life easier. There's a Shower Brush, £17, Boots, to detangle whilst the conditioner is working its magic; a Hair Pick (£9, Boots, launching in August) to add volume and revive curls; and, my favourite, the Edge Tool, £12, Boots – a souped-up version of my usual trusty toothbrush to get my baby hairs into formation.
My hero product: the Pattern Leave-In Conditioner
If I had to single out one product from the range for you to invest in, it would be Pattern's Leave-In Conditioner, £25, Boots. This one not only brings hydration to the table, but invites a good dose of hold as its plus one.
The packaging mentions a 'soft hold for curl pattern definition' so, putting my trust in Tracee, I slathered it throughout my curls and allowed my hair to air dry (my usual routine) – with no gel in sight. The result? Exactly what it says on the tin. Defined, shiny, super-soft curls that stayed that way all day, from a humid morning, through a spell of afternoon rain and beyond. The next morning, my curls were also more defined than usual. I've never used anything like it.
For everyday curls, the Leave-In Conditioner is perfect for me – and has firmly found its way into my haircare routine.
Where can I buy Pattern Haircare in the UK?
Pattern is available in Boots stores, online at Boots.com.