Demystifying ingredients, clarifying how to apply products and revealing everything you've always wanted to know about skin types; Eliza Explains will help you become a beauty pro.
The biggest defining crisis of our generation (and I know, it feels like we've had more than our fair share) is undoubtedly the ever-growing environmental issue of climate change.
With seemingly interminable 'once in a lifetime' natural disasters, mounting plastic waste and record temperatures even in the winter months, trust me when I say you aren't alone if you feel absolutely helpless.
It's true that the biggest changes need to be made by a small percentage of huge corporations that contribute most global emissions, but you and I can have a positive impact too.
The beauty industry has really stepped up in recent years, making positive steps towards becoming carbon neutral and phasing out plastic packaging for more sustainable options.
Brands such as Maybelline, who have partnered with Terracycle as part of a nationwide plastic makeup recycling scheme called Conscious Together, are also doing their part to make the recycling process easier for consumers.
You can find your nearest Terracycle station here, and take along both your empty bottles and packaging with product still in it.
But aside from recycling your used products, there are other sustainable swaps you can make to your beauty routine that are super simple and affordable. Read on to find out how…
Sustainable beauty swap no.1: Switch out cotton pads for recyclable ones
There are no two ways about it: cotton is a vacuum when it comes to water usage. It takes about 20,000 litres of water to make a cotton t-shirt, so when I start to think about how many cotton pads I've used in my lifetime, it makes me shudder.
I don't use micellar water that often, but I've now swapped out single-use cotton pads for reusable ones when I'm in a rush and need a quick swipe to take my makeup off. I'll also use them when I want to apply a chemical exfoliant. Simply pop them in with your usual wash and use again and again.
Face Halo's reusable makeup removers are incredible for travelling, festivals, or if you're just lazy, as they remove makeup with just water while being gentle on the skin.
The Body Shop and Sephora's makeup remover pads are made with a blend of bamboo and organic cotton and come with a handy wash bag you can throw into your washing machine.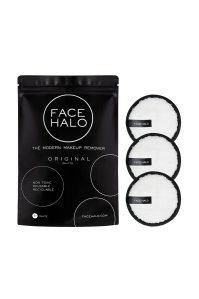 Sustainable beauty swap no.2: Get on the shampoo bar hype
I won't lie, I wasn't thrilled by the thought of shampoo bars at first. I like my hair to feel thoroughly clean and I wasn't sure that the unassuming bars of soap that lined health food stores would give me what I wanted.
However, formulations have come a long way since castile soap and apple cider vinegar, with both independent and established brands creating sustainable and effective shampoo bars.
One of my all-time favourites is L'Occitane's Purifying Freshness Solid Shampoo, £10, John Lewis, which creates a generous lather and a cooling sensation on your scalp.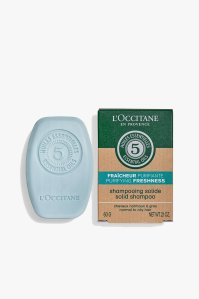 Sustainable beauty swap no.3: Ditch the plastic dental products
While not a single-use product, plastic toothbrushes and toothpaste tubes contribute to a serious waste issue: over 300 million toothpaste tubes go to landfill every year according to the British Dental Journal. Talk about leaving a bad taste in your mouth.
An easy swap to make is subbing out your plastic toothbrush for a bamboo one; it's a truly affordable alternative and there are tons of options that would cost the same price as a plastic toothbrush.
Toothpaste tabs are another eco-friendly exchange; the toothpaste comes in individual tabs (usually stored in a glass or aluminium jar) to bypass plastic altogether. Just pop an individual toothpaste tab in your mouth, bite down and brush away.
They take a while to get used to, but these formulations are just as good as your normal tube.
Sustainable swap no.4: Swap out your deo for planet-friendly pits
If you're like me and have been scarred by 'natural deodorants' before, hear me out, because gone are the days when you'd start smelling your B.O. before your bum even hit the office chair.
New brands such as Wild and Fussy not only offer aluminium-free formulations, but they come housed in a reusable container too.
When it comes to scents, you're spoiled for choice; Beauty Editor Becky recently wrote about her favourite deodorants that smell exactly like more expensive fragrance, and you best believe the sustainable options come through smelling rosy.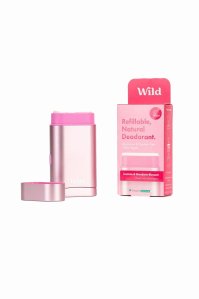 Sustainable beauty swap no.5: Say bye-bye to single-use cotton buds
While cotton buds have thankfully ditched the plastic stems for paper, you're still looking at a lot of single-use cotton production.
Perfect for wiping away mascara mess and sharpening up those eyeliner wings, LastObject's LastSwab has up to 1000 uses in just one nifty (and also pretty cute) reusable cotton bud.
Plus, no need to stash away a whole box of the paper ones with you every time you go away; I'm all about saving the planet, but saving space is an extra bonus.