De-mystifying certain ingredients, clarifying how to apply products, and revealing everything you've always wanted to know about skin types; Eliza Explains will fill you up with beauty knowledge.
Forget the heavy-duty products of yesteryear, marketed to cover 'imperfections' you're actually pretty proud of; the latest generation of celebrity-approved body makeup is more inclusive, skin-like and designed to enhance rather than mask.
Here, I reveal the best body makeup products on the market and exactly how to use them…
What is body makeup?
Body makeup simply refers to any wash-off perfecting products applied below the neck. From body foundation to shimmer sticks and 'glowtions,' these go beyond fake tan, which only deepens your skin tone temporarily (although granted, many newer formulas also promote radiance and a healthy glow).
Most can simply be rubbed in with your hands although a mitt like Rose and Caramel Deluxe Tanning Mitt, £9.99, Rose and Caramel, or brush like Isle of Paradise Blending Brush, £13.95, Cult Beauty, help give a seamless finish if you have the time. To get to those hard-to-reach areas, Velvotan's Tanning Back Applicator, £5.99, Boots,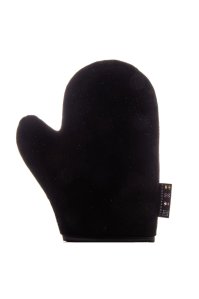 And while you probably won't want to bother getting busy with the body makeup for a trip to your local Tesco, the right formula can offer serious confidence-boosting powers for a special occasion, whether it's by minimising a mark or scar that's bothering you, giving the illusion of longer, leaner legs (a personal favourite) or adding a dose of radiance all over.
What body makeup do celebrities use?
Celebrities don't just have Photoshop and a carefully-chosen Instagram filter to thank for the lustre you see in photos. When they're getting in front of the camera, they usually wear some form of body makeup, too. As Beyonce's makeup artist Sir John puts it, it's a way of making his clients look a touch more "finished."
After years of mixing his own concoctions, Sir John now swears by the ultra-luxe AllEven Colour Shield Hydrating Tinted Protection, £38, AllEven, a waterproof body makeup spray that he says improves the look of everything from shaving stubble to sunburn.
Queen Bey herself has worn it several times, including during the ultimate sweat test – on stage at Coachella.
If that's out of your budget, check out the Sally Hansen Airbrush Legs Leg Makeup, £9.99, Boots, that comes in a similar aerosol format. Both Khloe and Kim Kardashian rate it for disguising psoriasis and visible veins.
Vita Liberata Body Blur Body Makeup, £20.10 (down from £30), Lookfantastic, is another A-list mainstay with devotees including Hailey Bieber, Holly Willoughby and Lea Michele.
The tinted lotion leaves a velvety, flaw-perfecting veil that doesn't look flat or dull. The 'Deeper Dark' option is particularly gorgeous for deeper skin tones as is Rihanna's Fenty Beauty Body Sauce Body Luminizing Tint, £40, Boots, which comes in seven shades.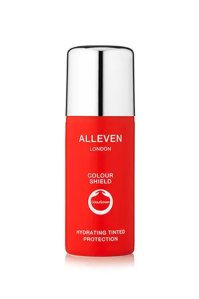 What is the best body makeup for contouring legs?
With a little artfully placed body makeup, you can actually cheat longer, leaner pins. Just remember the same principles apply as when contouring the face; darker matte tones give the illusion of shadows while lighter shimmering hues make areas 'pop' out.
Start with By Beauty Bay Future Bronze Body Base, £9.60 (down from £12), Beauty Bay to sculpt your calves and thighs then target Lottie London's Body Glow Highlighter, £13, ASOS, down the centre of your shins. The latter comes in two shades which can be blended on with a beauty sponge or with your fingertips. It also works well when used to illuminate other zones, including the shoulders and collarbones.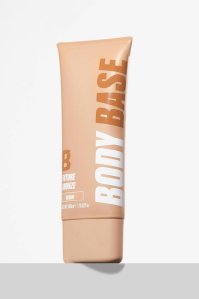 How can you use body makeup to cover scars?
It's easy to minimise unwanted scars and areas of pigmentation – if you wish – using body makeup. Avoid layering on lots of heavy-duty concealer, instead making use of colour-correction – a tried-and-tested trick that's used by professional makeup artists.
NYX Professional Makeup Colour Correcting Palette, £10.39 (down from £12), Boots, contains everything you need. Use the green to tone down red scars or marks and the orange corrector to counteract purple veins or bruises. A little goes a long way; just pat a thin layer on with your fingertips (the warmth will help to blend it) and follow up with one of the kit's concealers.
MAC Studio Radiance Face and Body Radiant Sheer Foundation, £32, Beauty Bay, is another industry favourite and has been a staple in makeup artists' kits since its release in 1993. It leaves your skin with a natural but flawless-looking satin finish and works just as well on the face as it does on legs, arms, and the décolletage. Unlike a lot of makeup designed for the body, MAC's is sheer coverage. That doesn't mean it's not hardworking, though. In fact, its lightweight and buildable formula makes it more versatile because it can cover just about anything from slight redness and tiny blemishes to big tattoos and heavy scarring. Plus, it's self-setting and doesn't need much powder to make sure it stays in place all day. Apply it with a damp makeup sponge, a kabuki or specific body brush, or your fingers, and you're good to go.
How to get a glossy finish with body makeup
You could say the cult REFY Gloss Highlighter is single-handedly responsible for making a glass-like 'just stepped out of the sea' effect the body finish du jour. The original formula, with its universal pearlescent golden tone, is designed for the face but after devotees couldn't stop drenching their bodies with it too, brand founder Jess Hunt decided to develop REFY Body Glow, £28.
I'm an advocate for using it to glaze all over, from your hips and bum to your thighs and tum, for the sexiest transfer-free sheen sans stickiness.