When I think of The Body Shop, I think of banging shower gels, the cult Hemp Hand Protector that would always be in my mum's handbag growing up, and the Shea Body Butter (if you have winter scaliness I implore you to purchase immediately).
What I don't immediately think of is hair care. So, when I saw the brand's new Jamaican Black Castor Oil range drop, I was unsure what to expect.
The Body Shop is no stranger to effective hair care though. Some of my most trusted beauty editor friends actually swear by the brand's ginger range for blitzing dandruff and taking care of their itchy scalps. But as someone with thick, Afro-textured hair, I wasn't sure if any of the haircare on offer would cater to the needs of my mane.
My hair is beyond thick, errs on the drier side, has been bleached and coloured, and is constantly heat styled… basically it requires a lot of TLC, so I tend to go for hair care ranges that are specifically for Afro textures and include ingredients my parched hair will lap up.
As the name suggests, the hero ingredient in this range is Jamaican black castor oil (JBCO for short), which is what initially drew me to it because I genuinely think it's one of the best ingredients for Afro hair growth and health.
In its natural form, Jamaican black castor oil is horrible to apply directly to the hair. It's gloopy, thick, a bit sticky and just gives an unpleasant user experience all round. Even so, I still used it pre-shampooing all the time as a treatment for healthy hair growth and a balanced scalp.
So, if I can replicate the benefits I see when I use it raw with a range that feels nicer to use and incorporates JCBO into every step of my washday, then well… amazing.
What ingredients are in The Body Shop's Jamaican Black Castor Oil range?
Unlike some other JBCO-infused ranges which have only the slightest hint of the ingredient in there, this range is brimming with the stuff, as well as vegan silk protein.
The benefits of the JBCO are amped up by the silk protein and shea butter, which aid in strengthening its efficacy in caring for damage to the hair's cuticle from the inside out.
How was The Body Shop Jamaican Black Castor Oil range made?
One of the best things about the range is how it was created. For this range, The Body Shop adopted a FUBU (for us, by us) mentality, working with people in the curly and coily hair communities from Brazil, Indonesia, South Africa, the UK and the US to co-create the products.
The range is Vegan Society certified and contains at least 93% ingredients of natural origin. Even the shea butter is community sourced from Ghana. We love to see it.
Does The Body Shop Jamaican Black Castor Oil range work?
When you have a range that proclaims to be for all curls, coils and kinks from 3A to 4C, there is always going to be an element of mixing and matching. The whole range didn't work for my hair needs but I truly believe there is something in this range for every curl type and I can't say that about many high street ranges aimed at textured hair.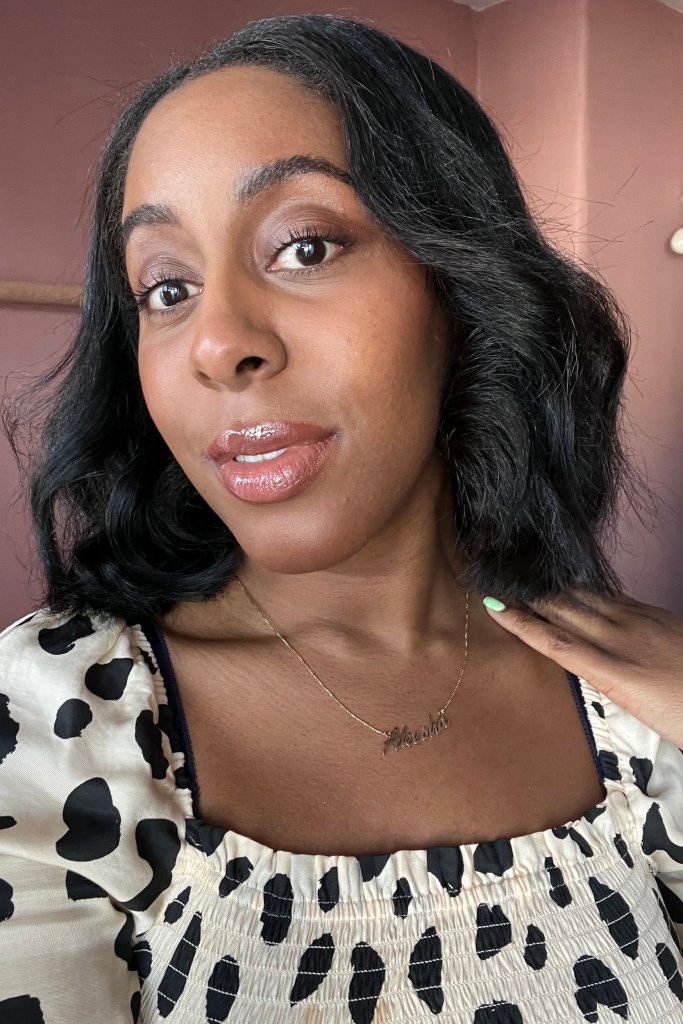 Cleansing Conditioner, £14
If you are a no-poo kind of person, this co-wash/cleansing conditioner will be a new fave. I even liked it and I generally loathe co-washing.
I used this as my second wash as I had used a product with silicones as a styling aid in the days prior, so I needed a shampoo to rinse that off and then reached for this to cleanse my hair and scalp. The smell is glorious, and the texture isn't heavy – it distributes through hair easily.
Leave In Conditioner, £16
The texture of this is so creamy, it creates a lovely slip for detangling hair. It's the perfect initial step for the LOC or LCO method, but if you stretch your coils like me, you can also use it before a heat protector as a caring base for your coils.
Intense Moisture Mask, £15
If you've been hitting it heavy with the heat, bleach or brushing, this mask is like a replenishing soup to nurse it back to health. It's super thick in texture – what I like to call a scoopable consistency, so it's not for you if you have finer hair as you may feel like it suffocates your curls a bit. My hair felt so soft when I rinsed.
Curl Activator, £15
This ultra-lightweight activator will suit finer-to-medium textures for achieving that spring, defined curl or coil. If you have thicker hair like me, it can be used cocktailed with a gel for definition with added hold or with the Leave-In for soft hydration.