I happened to discover what I consider one of the high street's best-kept beauty secrets when I asked a friend of mine what he was wearing and he replied: "Oh this? It's a Zara perfume."
While his signature perfume has since been discontinued (much to his chagrin), it introduced me to a whole new world of affordable perfumes. Since then, the perfume connoisseurs of TikTok have caught on and praised the brand for its complex fragrance offering.
In short, no one on the high street is doing perfumes quite like Zara: each fragrance (and there are many) comes in a minimalist-aesthetic bottle, with enticing names and even more enticing prices. You'd never realise it was a Zara perfume unless you looked closely.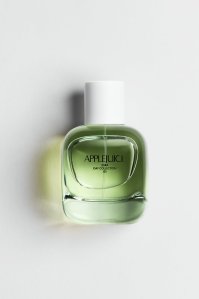 In the same way that its clothes take, shall we say, 'inspiration' from high fashion, Zara's range of perfumes contains similar-smelling scents to some pricier fragrance brands.
Looking for more designer beauty dupes?
Without further ado, let's dive into which designer dupe fragrances you could pick up on your next Zara shopping trip, and how each one lives up to its designer counterpart.
The best Zara perfume dupes 2023
Spoiler: you can grab all of these high-end dupes for under £25.
1. Best dupe for Maison Francis Kurkdjian Baccarat Rouge 540: Zara Red Temptation
Maison Francis Kurkdjian's Baccarat Rouge 540 is one of my favourite perfumes, but at £200 a bottle, I needed to find some more affordable alternatives. I wrote a piece about the best three Baccarat Rouge dupes, and Zara's Red Temptation was one of the best.
Maison Francis Kurkdjian Baccarat Rouge 540, £235
It's slightly more peppery than BR but the similarity is immediately identifiable and is definitely a worthy everyday stand-in so you can save the real thing for extra special occasions. Plus, just look at the size of that bottle – you won't feel guilty about spritzing a little more than usual.
Zara Red Temptation, £22.99
2. Best dupe for Jo Malone Wild Bluebell: Zara Waterlily Tea Dress
Fresh and verdant, Jo Malone's Wild Bluebell is the perfect fragrance for Spring. As opposed to heady florals, this scent is reminiscent of walking through a bluebell woods on a sunny May morning after fresh rainfall. It combines powdery, delicate and green notes for a symphony of freshness.
Jo Malone Wild Bluebell Cologne, £78
While some people have drawn comparisons between Byredo's Gypsy Water and Zara's Waterlily Tea Dress, I think the latter shares more similarities with JML's Wild Bluebell. It carries the same green and aromatic notes, with a hint of floral that remains fresh and cool.
Zara Waterlily Tea Dress, £15.99
3. Best dupe for Lancôme La Vie est Belle: Zara Red Vanilla
If you're looking for a sweet, playful fragrance to see you into Spring, Lancôme's La Vie est Belle is an absolute classic. Bursting with a fruity floral bouquet of blackcurrant, pear, iris, jasmine and blossom, this perfume has a delicious vanilla base which makes it hard to resist.
Lancôme La Vie est Belle, £92
But if you haven't got over £92 to drop on a perfume right now, get a whiff of Zara's Red Vanilla. Fruity and sweet accords are the main attraction here and mimic La Vie est Belle's pretty closely, with matching notes of pear, blackcurrant, iris and vanilla.
Zara Red Vanilla, £12.99
4. Best dupe for Chanel Chance Eau Tendre: Zara Applejuice
Fresh and playful, Zara's Applejuice is remarkably similar to Chanel's Chance Eau Tendre. It shares the same top zesty notes of grapefruit, floral middle notes of jasmine and base notes of musk and cedar.
Chanel Chance Eau Tendre, £115.90
While I've found other Chanel fragrances, such as Coco Mademoiselle, to have impressive longevity and sillage, Chance Eau Tendre is gentle and soft in comparison, and while Zara's Applejuice has less longevity, at this price you can afford to be more liberal with the application.
Oh, and if you're wondering how you can make your dupe fragrance go further, beauty editor Becky shared her tried and tested tips on how to make your fragrance last as long as possible.
Zara Applejuice, £12.99
5. Best dupe for YSL Black Opium: Zara Gardenia
Black Opium seems to be one of those fragrances that people go crazy for; personally, I've always found it a bit too sweet, but I can see that it makes an enticing option for a flirty evening perfume.
YSL Black Opium, £92
Zara's Gardenia is a lighter version of YSL, made softer by the stand-alone top floral notes of orange blossom. Vanilla, as with YSL's Black Opium, is still the major accord here, and it's obvious why these two so often get compared to each other.
Zara Gardenia, £12.99
6. Best dupe for Viktor & Rolf Flowerbomb: Zara Oriental
One of the most popular floral fragrances on the market, Flowerbomb is a complex feminine scent, with bursts of sweet florals, wood, musk and patchouli. The latter is definitely the overarching note in this fragance and the longevity is unbelievable; you'll definitely be smelling this around for days after you spritz.
Viktor & Rolf Flowerbomb, £92
A little more gourmand than Flowerbomb but still capturing that sweet floral element, Oriental by Zara has hints of caramel and vanilla, as well as notes of delicate patchouli, jasmine and musk. Soft and expensive smelling, no one will be able to guess that this fragrance is under £20.
Zara Oriental, £17.99
7. Best dupe for Jo Malone Wood Sage & Sea Salt: Zara Ebony Wood
Jo Malone has become one of the most infamous fragrance brands, with their distinct scents instantly identifiable to most people. One of my favourites is hands down Wood Sage & Sea Salt, the aromatic marine-inspired scent that has spawned a thousand sea-salt replicas.
Jo Malone Wood Sage & Sea Salt Cologne, £78
Ebony Wood from Zara differs in notes but the end result culminates in the same woodsy, clover masculine scent. Ebony Wood reads more peppery whereas Wood Sage & Sea Salt has a more oceanic edge to it.
Zara Ebony Wood, £15.99
If you can't get enough of this warm woody scent, I've got good news. You can also snap up a travel-size version of the perfume, as well as candles and even a hand gel in the same Ebony Wood scent.
8. Best dupe for YSL Libre Intense: Zara Golden Decade
The colour of this perfume might make you think it's a heavy oud scent, but don't be deceived. This is a white floral fragrance with accords of vanilla and citrus, and a powdery base.
YSL Libre Intense, £130
It's got the same rich, sweet-yet-mature vibe as YSL's Libre Intense. It's definitely what I'd described as a 'grown-up, moneyed' scent and one that wears perfectly on autumn and winter evenings (faux fur coat optional).
Zara Golden Decade, £22.99
9. Best dupe for Maison Margiela Replica By The Fireplace: Zara Bohemian Oud
Maison Margiela is a brand that remains one of my go-tos when it comes to warm, woody, and spicy scents. By The Fireplace is an absolute classic from the brand that's comforting, leaving a woody and vanilla scent that takes inspiration from its name.
Maison Margiela Replica By The Fireplace, £55
Zara's Bohemian Oud is undoubtedly reminiscent of By The Fireplace, matching the woody and vanilla accords, differing slightly with added incense, chocolate and black pepper notes.
Zara Bohemian Oud, £22.99
10. Best Dupe for Tom Ford Lost Cherry: Zara Cherry Smoothie
I wrote a piece sniffing out the best dupes for Tom Ford's much loved (but very spenny) fragrances and came across Zara's Cherry Smoothie; a fantastic alternative for TF's Lost Cherry.
Tom Ford Lost Cherry, £280
You probably won't be surprised to hear that the main attraction of this perfume is the cherry, which is leveraged with notes of plum, almond, vanilla and tonka been for a sweet scent that has a jam-like quality.
Tom Ford's Lost Cherry is definitely a more grown-up version of the cherry scent, with a heap of warm spice, woody and amber notes to ground it.
Zara Cherry Smoothie, £11.99
11. Dupe for Dior Miss Dior Blooming Bouquet: Zara Nude Bouquet
Light and floral, Blooming Bouquet from Dior is the perfect daytime spring/summer scent for those that like something clean yet slightly sweet. This fragrance has top notes of sicilian mandarin and juicy middle notes of peach and apricot, with a gorgeous garden freshness from rose and peony and soft notes of musk.
Dior Miss Dior Blooming Bouquet Eau De Toilette, £117
Then in comes Zara with its Nude Bouquet perfume, which matches the delicate and clean vibe of Blooming Bouquet to a T. Although this fragrance contains notes of cherry and vanilla alongside peony, the overall effect is that of a beautiful fresh bouquet that's not overpowering or cloying.
Zara Nude Bouquet, £17.99
Read next: