If you're planning a cute afternoon out that's less high stakes than a fancy lunch and less raucous than a bottomless brunch, but, crucially, just as special, afternoon tea might be just the thing.
Sartorially-speaking, it's the easiest of the three. Given its formal setting (afternoon teas are most often held in fancy hotels and chic restaurants), and time of day, it has an automatic smart/casual dress code that can act as a guideline dress code for your looks.  
If you're planning an afternoon tea this summer, here's how to be sure you're the most stylish at the table…
Afternoon tea outfit styling tips to know:
Add an edge
You might feel like you need to plump for a prim outfit, but if that isn't normally your style then there's no need to leave your comfort zone. Depending on the restaurant, trousers or jeans and a pretty top or a casual midi dress are stylish options, and can be toughened up with chunky sandals and jewellery – a combination that'll dress down even the most formal day looks.  
I'd always turn my attention to my top half, since it's what will be seen at the table: think a cami or corset with a leather blazer and gold hoop earrings.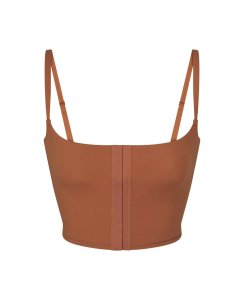 It's all in the accessories
Jeans with a silk shirt and pointed court heels are a completely different vibe compared to the same outfit paired with Nike trainers or leather loafers, so the style lesson here is to use your accessories to change your outfit mood.
Leave clunky rucksacks or oversized bucket bags at home and go for a sleek mini crossbody or top handle bag, which add a feminine touch if you're opting for casual boots or trainers. Likewise, if you're going for delicate strappy sandals, don't be afraid to throw on an oversized blazer for contrast.
Nod to the theme
A pastel cardigan, an A-line skirt, cute low-heeled mules or a sweet hair accessory all chime with the afternoon tea aesthetic, but it may well be overkill wearing all of them at once. One or two however are a nice addition to an outfit, particularly if you'll be taking pictures as they'll complement the scenery.
Pick two from the below, and wear with jeans and a coloured shirt. Or, go the printed midi dress route and pair with trainers or smart flats.
Just add jewellery
Tiers of mini sandwiches, picture-worthy cupcakes and chic teapots will make for a fabulous tablescape, so follow that same vein with your jewellery and manicure. Ring stacks, pastel-tipped or glazed donut nails, an oversized watch and delicate bracelets will add extra pizzazz to your table so focus your attention there.
Four chic outfit ideas to wear to afternoon tea:
1. Minimal and neutral
Edgy but cute leather tote? Check. Strappy sandals? Check. Jeans, for a high-low balance? Check! Anouk's smart/casual look just works. Add statement earrings for extra pizzazz.
2. Cute and comfy
A comfy knitted or T-shirt dress is ideal for bottomless teeny sandwiches, and a colour-pop bag and pretty jewellery dress it up nicely. Copy Iman and go for a chic top handle bag and cult trainers.
3. Fun and statement
Co-ords are the quickest way to look sleek and pulled together (but with minimal effort), so make like Chloe and opt for a punchy pairing and team with trainers or strappy mules depending on your mood.
4. Black and white
If you're looking for a sleek summer tea look, there's nothing chicer than cream and black, as this outfit proves. Team a LBSD (that's little black summer dress), with trainers or sandals and shoulder-robe a blazer.