Everyone who chooses to have a baby shower will feel differently about the experience, largely depending on how your pregnancy has treated you.
At its typical seven or eight month milestone, you might be full of energy and buzzing with excitement to celebrate your impending arrival with your friends and family. Alternatively, of course, you might be feeling enormous, overwhelmed, or sick as a dog.
Perhaps even all of the above at once, if you're truly lucky.
It's a day that's all about you and you might relish the chance to get dressed up for the occasion, or you might want to do something more low key.
By my own third trimester I had recovered from a wonderful run of severe morning sickness and did fancy a party – not least for the fact that I could actually eat the scones at the afternoon tea without hurling. I wore a Kitri dress (the Monica ribbed jersey midi has the most generous stretch-factor) and I even braved heels as I knew I didn't have to walk anywhere.
However you're feeling about the event, and however big or small your plans are, the key is to stay relaxed and put on something you will enjoy wearing. Here are a few ideas…
The casual brunch baby shower
Whether you're out for brunch, lunch or an afternoon tea, a floaty dress and block heel sandals is an ideal outfit combination.
Sustainable retailer Nobody's Child has a great maternity range, offering its signature floral and graphic prints on bump-accommodating cuts. Use your accessories to pick out the colours in the print.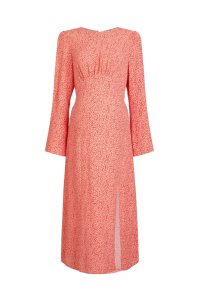 The glam dinner
Your team has booked a giant table for dinner at your favourite restaurant. The dress code is nice – let's call it mocktail hour for the mum-to-be.
Body-con dresses can look incredible on pregnant women, and might be just the right vibe for this occasion. Form-defining, yet totally stretchy and comfortable, there are so many out there to choose from. Just add statement earrings and some heels if you can be bothered and know you won't be on your feet all night.
The garden gathering gender reveal
In this scenario, it's a floral maxi dress for the win, so as not to give anything away. Whether you're holding a picnic in the park or hosting coffee and a cake that'll reveal all in your mum's garden, a printed dress will successfully translate.
H&M's 'MAMA' Maternity range has so many goodies, including this ethereal ruffled chiffon dress in two print options as well as classic black.
It would also be a great dress for anyone invited to a wedding this summer or autumn, whilst heavily pregnant.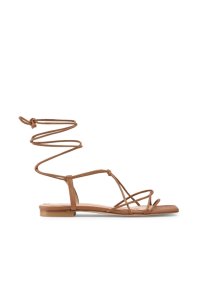 The pyjama party
If you've booked a swish cottage somewhere in the countryside, or if your plan is simply to gather your nearest and dearest for a sleepover in the living room, the pyjama party is obviously one of the easiest baby shower themes to tackle. You can still have some fun with your styling, though.
First, buy some classic, elasticated Marks & Spencer pyjamas (this ticking stripe short set is available in sizes 6-22). Next, add fluffy or feathered slippers and dramatic designer earrings. You've nailed the boudoir baby shower assignment, with maximal impact and minimal effort.