Confession time: I'm a holiday addict. Specifically one that involves sun, a good book and a trip to the beach. An ice-cold beer would be just *chef's kiss*. When I go on a beach holiday, I like to think of it as a sartorial holiday too – one that involves as little outfit planning as possible. So, I always make sure I take lots of outfit components that work in different combinations.
Whether that's my favourite linen shorts paired with a racer-back vest and open linen shirt, or the same vest and shirt worn with denim shorts or wide-leg trousers. And as soon as the shops start stocking linen – clue, they have already – I know I'll find it hard to resist a new summer outfit combo.
But not all holidays follow the same formula – you might be heading to Ibiza for a hen or to Cornwall for a surfing stay-cay. Whichever it is, it's time to start gearing up for the hot girl summer and with that of course comes picking the best fashion-forward outfits which factor in all your planned activities – but first, SPF 50! 
Which are the best outfit combinations to wear to the beach?
Naturally, any beach outfit can be as simple as swimwear, a hat and a good pair of sandals. But just as there's many different types of beach holidays, there's also a whole plethora of on-trend swimwear – from cut-out and asymmetric all-in-ones to cult seersucker bikinis and more straps than you can imagine (thank you, Love Island). Whatever you style, keep reading for cute outfit combinations that will suit all your shoreside needs…  
Striped jumper & shorts
The striped jumper has made a comeback as a summertime staple this year, and with the no-fuss nod to nautical style comes the perfect layer for a balmy brunch by the beach. This & Other Stories version has a relaxed collar which teams perfectly with these Arket shorts. Add a pair of Birkenstock clogs to keep it casual.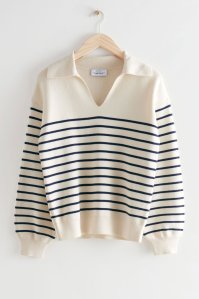 Beach outfit 1: Two-piece, bikini & heels
Perfect for a pool party or stopping off in town on the way to the sea – the two-piece is incredibly versatile. Go for a neutral linen like this gorgeous WAT The Brand set, or even a knit to elevate your look like this Missoni-esque shorts and vest combo from Pieces.
Layer over your bikini, like this square neck Monki one, for when the shore is in sight. Finish with colourful strappy heels, like these Stradivarius beauts, to make it look more beach club than beach snooze.  
Beach outfit 2: Printed slip dress & chunky sandals  
What holiday is complete without an evening stroll along the boardwalk? Pair your bronzed glow with a silky slip dress or a floral strappy number like this one from Free People. Pair with Teva's to keep it cool and a baguette bag to keep your hands free for holding a post-dinner ice cream. This Mango crochet style ticks all the boxes and screams summer holiday with its pop of colour.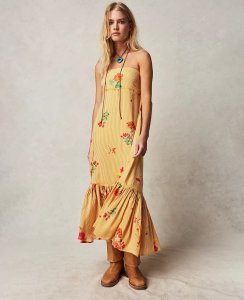 Beach outfit 3: Linen trousers, swimsuit & basket bag
Linen will always give you that instant holiday feeling. And whilst tailored trousers might've once seemed more suited to the boardroom, they have now wiggled their way firmly into beachwear. This outfit combo works perfectly from beach to bar, with a cut out swimsuit like this Oysho suit worn beneath.
Accessorise with this M&S basket bag (which is practical and looks chic) and statement sunnies. For quality linen, it's better to go a bit higher on the price like this Weekday pair. And the best part? You can leave the steamer at home – you're on holiday, so creases are acceptable!  
Beach outfit 4: Floaty white dress   
For when the burn is real. Think of this outfit option as the later-in-the-day dress, when the wet swimsuit comes off and you attempt to wash all the sand off you. Not only does the floaty beach dress give you some (probably) much needed cover, but it also transitions you from beach babe to cocktails at sunset.
This COS style nails the holiday vibe with puffed sleeves, and smocked, crinkled material. Stick with the basket theme but style your evening look with a crossbody bag, and up your flip-flop game with a chic canvas pair.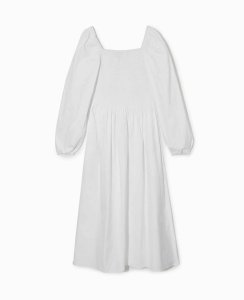 Beach outfit 5: Linen overshirt
Whether you wear it tucked into shorts for more of a city break look, or oversized as a cover-up with sandals – a linen shirt should be top of your summer holiday packing list. This With Nothing Underneath boyfriend style will keep you cool and covered, whilst remaining chic. Add a straw hat with ribbon detailing for the Bridgeton-by-Sea look.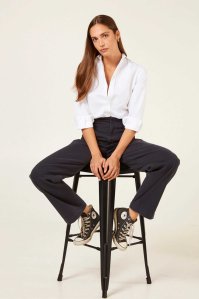 Beach outfit 6: Raincoat & rash guard
Holidays in the UK are now back on trend thanks to our rediscovering of beautiful local coastlines during lockdown. And whilst our beaches can have very lucky weather, it's good to dress for the probability that there might be showers.
A raincoat worn over this Perfect Moment swimsuit will have you shower-resistant to surf chic before you can run down to the sea. Add a fun pair of Arizona Love sandals and a cosy jumper for when the sun goes down.