It's that time of year where it's still too chilly to wear loafers and ballet flats despite the fact that at feels like the weather should be warming up.
I'm putting it out there now, I don't think it's possible to own too many pairs of boots. Hear me out: not only are boots incredibly versatile when it comes to different shapes and styles but there's also a boot for all comfort levels, whether you're spending the day walking or want a pair for your next night out.
Still not convinced? Well, I've put together the ultimate guide to all the boot styles you need to know about this season as well as how to style them for your winter wardrobe, winter and beyond. We've covered the It boot of the season and how to shop for boots if you have wider calves, too. And while my heaving wardrobe may beg to differ, I'm pretty sure by the end of this you'll agree, there's always room for just one more pair of boots. Happy shopping…
Which boots should I buy in 2022?
Biker & hiker boots
Chunky shapes have taken over all areas of the shoe world and boots are no exception. These statement stompers will look great paired with a printed midi dress to toughen up your outfit, or with a chunky jumper and washed denim for a dressed down feel.
Also, whether you opt for lace up hiker styles or oversized biker boots be sure to pay attention to the details: metal hardware like buckles and shoelace hooks will take your boots to the next level as will the addition of fun textures like shearling lining.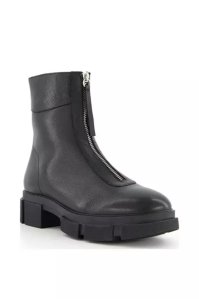 Chelsea boots
Arguably the most classic boot shape, Chelsea boots are identified by their slip-on style and handy elasticated side panel. These babies come into fashion season after season making them the perfect buy if you're trying to build a minimal capsule wardrobe, or, if you're looking to invest in a boot you can buy now and love forever.
To shop smart, go for real leather styles, like Ganni's chunky Chelsea boot, not only do they look great but when you consider the cost-per-wear you can get from more durable leather the higher price tag becomes a no-brainer.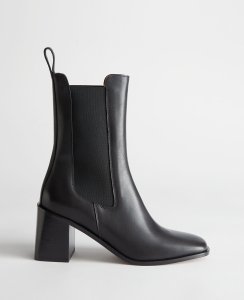 Ugg boots
Love them or hate them, Ugg boots are most definitely back. If, like me, you have sour memories from the first time they had everyone in a fashion chokehold don't fret, it's 2023, we're older and wiser and never will the sight of an Ugg boot sagging to the side plague us again (I hope!). Rather than the traditional ankle length, go for the ultra mini's or the mini lace up style for an instant update. A word of warning though, actual ugg boots sell out fast, so if you can't get your hands on a pair check out the best ugg boot dupes for some great alternatives.
This season it's all about styling your Ugg boots with unlikely outfit pairings. Wear them with an oversized blazer, straight legs jeans and sports style ankle socks for an easy day look or contrast them with a dark floral dress. If you want to go comfy, instead of leggings like the noughties, wear with a hoodie and loose fit joggers for a care-free feel. The styling possibilities are endless.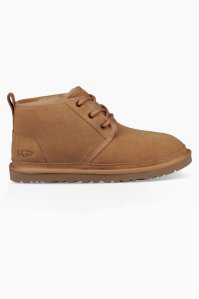 Heeled ankle boots
Incredibly versatile, heeled ankle boots come in many different forms making them a must have addition to your wardrobe. For a style that can easily be transformed from day to night, opt for a pointed toe. Not only will they give any outfit an elevated feel, but they also elongate your legs for a super flattering fit, particularly if you pair them with tights. On the hunt for an ankle boot that looks expensive? Square toed boots look super chic and nod to higher-priced designer styles.
And let's not forget the sock boot. These form fitting styles are the heeled boots sassy older sister, perfect for nights out or drinks with the girls. Always ensure they're super snug around the ankle when you buy them, so they don't wrinkle or roll down though the evening.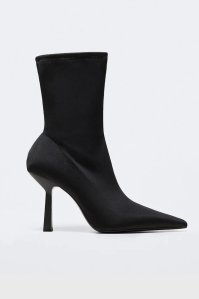 Cowboy boots
The return of the cowboy boot was something I never knew I needed until it arrived. Because, let's be honest, as much as we love the minimalist trend, sometimes we all need a reminder that fashion is all about fun: re-enter the cowboy boot which this season isn't reserved for basic black but instead comes in metallic finishes, bold colours, and box fresh white.
The best thing about these boots is that when you think they just won't work with an outfit they somehow do: worn with a denim mini skirt, yep. Worn with a printed dress, yep. They even work with sequins at a festival. The original cowboys should be proud of our fashion ingenuity.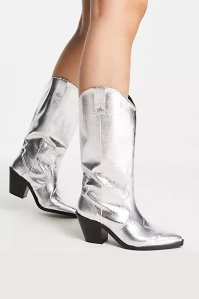 Knee-high boots
When the weather isn't playing ball you need a boot that'll have you covered, quite literally. To find the perfect fit of knee-high boot look for a style that finishes a couple of centimetres below your kneecap to ensure you aren't left with any uncomfortable rubbing. For my petite girls, ASOS has some great options specifically designed for shorter legs while Jones the Bootmaker offers both slim and wide calf sizes so you can tailor the fit to your needs.
Pair your boots with a shirt dress for the office or make them evening appropriate by going for a stiletto heeled style and wearing with a simple LBD – we have a list of outfits they look great with. Also, don't be afraid to play with textures, knee high boots look great in leather (and faux leather) as well as fabrics like suede – just don't forget your suede protectant to keep them looking their best!