An invite to a wedding is such a lovely honour, but when it comes to finding an appropriate outfit for the big day, working out what's stylish, comfortable and suits the ceremony and season is enough to send anyone into a flap.
When it comes to inspiration for party dressing and holiday looks, our first thoughts turn to our celeb-filled Instagram feeds (they always seem to be jetting off or at a party, don't they?), so why would wedding guest looks be any different?
These are the best dressed wedding guests of all time (IMHO), and why they deserve to be on your wedding dressing inspo board this summer…
Beyoncè at Gloria Carter's wedding
Beyoncè's mother-in-law Gloria Carter got married in New York and Queen Bey wore a stunning Dolce & Gabbana gown for the occasion – fans of The Kardashians will know that it's from the SS23 collection Kim designed with the brand.
I'd say the pale apricot shade is a risky choice for anyone who isn't Beyoncè – you can get away with such antics when you're a global superstar, but instead, opt for the same shape and sheer details in a colourful pastel or jewel tone.
Nicole Richie at Sofia Richie Grainge's wedding
We peaked early on in celebrity wedding land as Sofia Richie Grainge's South of France wedding back in April was arguably the ceremony of the year. The guests were impossibly chic in all-black and she wore a three Chanel dresses for the occasion.
It's her older sister Nicole that deserves some solo airtime though as the first gown she wore to celebrate the couple's nuptials was stunning. The moss green Alberta Ferretti frock featured sexy sheer panels and applique details, making a strong case for a colour-block chiffon maxi.
Emily Blunt at Amal and George Clooney's wedding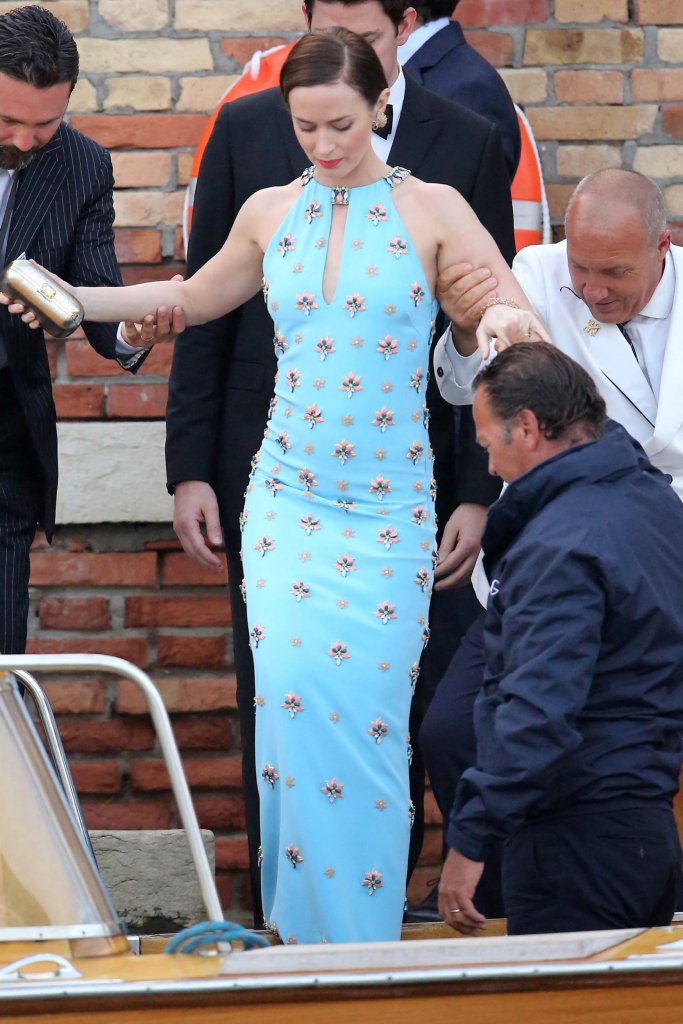 If you're an evening-only guest, you can definitely have a little more fun with your outfit and go for an embellished maxi or tulle mini. The turquoise number Emily Blunt wore for Amal and George Clooney's wedding is the perfect example. Cut-out? Check. Statement neckline? Check. Bold shade and chic embellished details? Check, check! It's formal and black-tie appropriate and will look great in the pictures.
Hailey Bieber at a friend's wedding
I'd always counsel you to ask one of the bridal party if black is appropriate for the particular wedding you're attending, but if it is, there'll be no chicer dress than a LBD. Hailey Bieber made a strong case for the minimal mini for a friend's wedding, which goes into the (unofficial) wedding guest hall of fame.
The best wedding guest looks can be worn again and again, so a LBD is a versatile winner.
Rochelle Humes at a friend's wedding
When celebrity stylist Melissa's Wardrobe got married in Mayfair, London, her friend TV presenter Rochelle Humes wore a striking lime maxi for the occasion, proving that neon shades should be on your wedding guest radar. The chances of another guest rocking up to the ceremony in the same shade are less likely than say a pale pink or floral number, so you can rest assured it'll be a safe (but equally bold) bet.
Kim Kardashian at Paris Hilton's wedding
See? All-black just works! Obviously Kim would have checked with her long-standing pal Paris Hilton before turning up to her wedding in a cut-out black gown, but it does make for a timeless and safe option.
Note the floaty cut and slinky fabric of Kim's dress, which is key if you're wearing black. Keeping the whole look 'light' in silhouette is a must.
Kendall Jenner at Hailey and Justin Bieber's wedding
Kendall opted for a slinky velvet gown to celebrate her BFF Hailey's wedding. The velvet cami dress with sheer panels is the perfect combination for a September wedding: the fabric nods to autumn but the colour and style suit the warm weather nicely, so it's worth thinking about whether your look is seasonally appropriate, too.
When you're wearing a statement dress, simple accessories are key, as EmRata knows. The model sported a plunging satin yellow gown for Marc Jacobs' wedding, and teamed it with minimal gold earrings, barely there heels and a small metallic clutch, letting her dress take centre stage.
Victoria Beckham at Sergio Ramos' wedding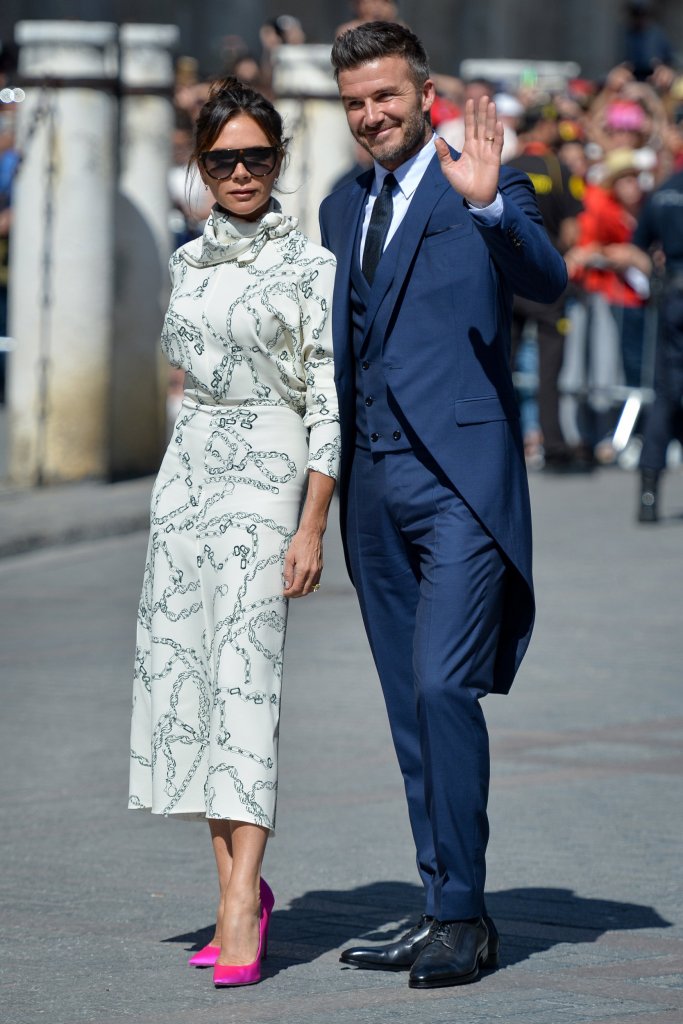 Wearing white at a wedding is obviously a no-no, but a white printed dress can often work. Victoria Beckham's chain-printed midi is a great example, as it doesn't look in any way like a traditional bridal gown, which would be the main concern for a guest wearing white.
Go for colour-pop accessories just like VB to keep the look fun and summery.
Kaia Gerber at Marc Jacobs' wedding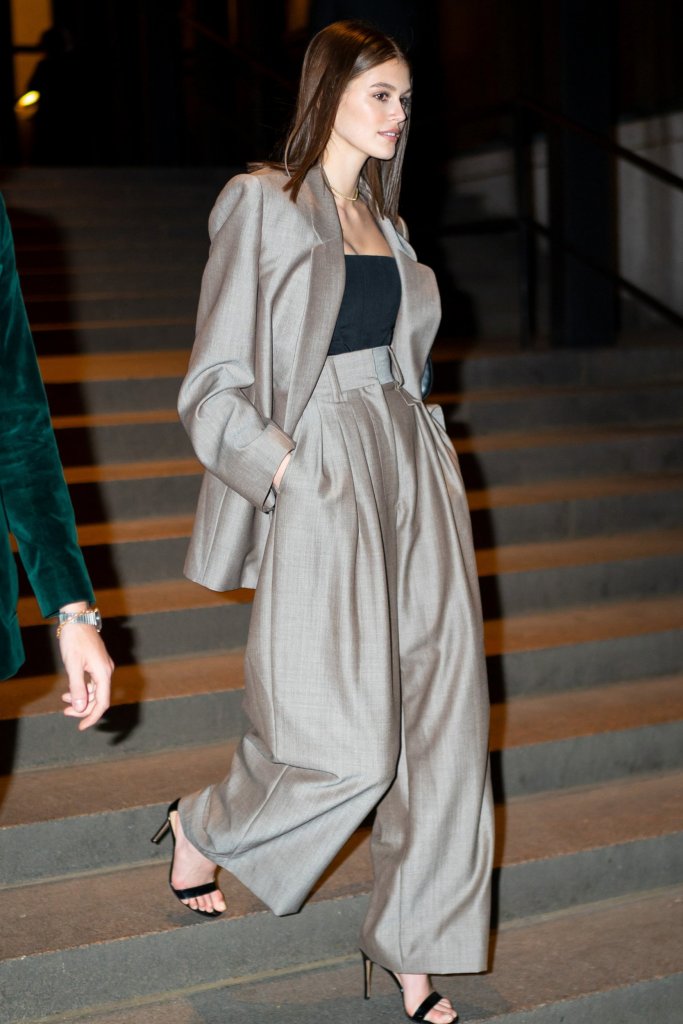 If you're not into dresses, trouser suits are chic option for weddings, but there are a few rules to note, and we can use the ever-stylish Kaia Gerber as the inspiration. Firstly, glam accessories are a must – think a shimmery bag and sky-high heels. Next, this shouldn't look like workwear, so a slinky top (or none at all) is the best option. Lastly, the suit itself should have an edge – Kaia's slouchy trousers and oversized blazer is the perfect example.