Hi fashion team,

I really want to wear heels more, but I'm not sure how. I'm 27 years old, but I still don't feel 'grown-up' enough to wear heels casually. How do I make the switch and ditch my trainers and pumps once in a while? I'd love to know what heels I need in my collection that I'll actually wear.

Jennifer from Witham
Lottie says:
This is something I really struggle with, too. For me, the fear of being uncomfortable always overrides my temptation to try out a heel – definitely in the daytime, but also for evening outfits.
Yes, there are beautiful heels that look amazing when you try them on (and when you're standing still). But what happens when you need to walk anywhere in them? The reality is, at least for me, that these heels end up staying in my wardrobe unworn. Aside from the occasional holiday evening outfit or extra special birthday party look, if there's even a hint of walking or commuting involved, I'll revert back to flats, trainers or boots every time.
From my own short survey I've conducted on the tube this week, I feel we're not alone. A heel sighting of any variety is rare. What I did see, however, were the occasional wedges, mules and low heels. A good place to start. But what's key, especially with your question in mind, is making sure your heels don't look too 'grown-up' and stuffy.
When it comes to squeezing my toes into a pair of stilettos (picture the closed and pointed toe, court style heels here) I'll never say never, but I know it'd only be on very limited occasions. For any more formal occasion, like a wedding or even a black tie event, I'll be looking to block heels or open toe sandals. Even then, there's the worry that my feet will be shredded by the end of the night, but I'm determined (with the occasional preventative plaster measures in place) to find a pair of heels I can trust and feel confident in.
So let me share my thoughts and findings with you, and hopefully we can both ditch our trainers and actually find some heels we want to wear now and again.
How do I shop for heels?
Do:
Look out for cushioned soles and extra padding underneath the balls of the feet.
Be realistic with your foot shape, and whether you'd be best with a narrow or wide fit.
Look at the model pics online – you can see if the heels are at a strange angle that's more likely to be painful, and if they have extra digging-in potential on the sides. Just because a heel is low, it still might hurt your toes in odd places.
Don't:
Fall for hard PU leather or plastic-looking fabrics that are a sure set way to get blisters, especially on open toe straps. Ouch.
Choose crazily high spindly thin stilettos. Even for the seasoned pros, they're far more likely to feel uncomfortable after a shorter amount of time. Instead turn to block heels for extra comfort or heels that go across the whole width of the shoe at the back, and give more subtle support.
Be afraid of colour. If you're worried heels feel grown-up, then a bright shoe will instantly feel fresher.
Let's start with heels for dressing up
Platform heels
My favourite combo for a mini dress is a platform heel, which works for summer and into autumn with tights too (added protection for preventing unwanted blisters!) There are the Versace platform heel dupes, if you're up for an XL heel, but also lower heel options if you'll be dancing all night long. If you're worried the toe cap or the heel may rub against your feet, try sticking a plaster to the inside of the shoe before wearing them for the first time.
Barely-there heels
The go-to shoe style for dressier outfits is barely-there heels. Again, there are sky-high options out there, but if you want to minimise your risk of blisters and aren't off clubbing, turn to a mid, chunkier heel.
Pick the right pair and they're anything but clompy, and definitely more comfortable than a stiletto. I tried on a pair of the Kurt Geiger Second Skin sandals in the fashion cupboard and was amazed at how cushion-y and comfortable they felt.
Christmas party heels
Everybody needs a pair of party heels in their collection that stand apart from the rest. Favourites from mine over the years include a pair of furry Topshop block heels in dusky pink and a pair of sparkly blue ones. This season it's all about sequins (and more is more!) so grab some shoes to match in metallics, velvets or diamantes. They'll be anything BUT grown-up and stuffy.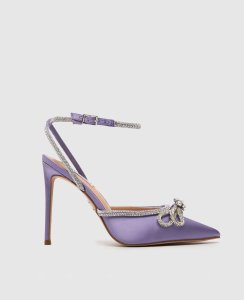 What about heels for wearing day to night?
Strappy heels
In summer, lace-up strappy heels are your fashion best-friend for a day to night outfit where you want to wear shoes that are subtle, and won't feel too grown-up or super dressed up, either. Go for a block heel for extra comfort in the day time, and make sure the straps are made from a soft material – you don't want plastic straps that dig in and don't stay tied up.
Block heels and boots
For wintery day to night heels, you'll likely be wanting to ditch anything open toe for styles that are more protective. That's where the heeled boot comes out to play. A winner for day to night outfits, especially tucked under flared jeans or with dresses. If you feel a pair of boots is cheating then turn to a platform heel – any neutral or monochrome shades in suede will work really well.
Can heels be casual enough for day time?
Wedges for work and weekends
One of my favourite looks from my tube sightings was perfect for a low-key summery work day, when you want to look put-together, but not corporate in any way either – a frayed denim midi skirt with a crisp white shirt and a pair of lilac espadrille wedges. Wedges have the risk of looking mature, so go for a colour pop to brighten up the look.
Mid heels for the office
Don't be afraid to pop on a mid heel under some wide leg trousers or a trouser suit. As the weather warms up look for strappy styles, and when it drops revert to closed toe options. Avoid any shiny patent leather or anything too clompy to save you from feeling too staid.
Mules and clogs for brunch and day drinks
Slip-on heels instantly feel more low-key than a fussy shoe, so try out mules for brunch and day drinking. If you're still feeling they look a bit try-hard, then start out by wearing a pair of these mules with jeans or wide leg trousers – a more subtle way to lift an outfit.
Here's my round up of the heels in my basket: