Our fashion content creator Lottie has just turned 28 and is ready to overhaul her wardrobe. Every month she'll be solving the ongoing dilemma of having nothing to wear once and for all, with forever pieces that don't cost a fortune. This week, she's tackling birthday dinner outfits that'll make you feel extra special (but you'll wear more than once!)
I've just turned 28 and while it's not a particularly notable milestone, I've felt a shift in the way I'm thinking about shopping. I've entered a new phase.
My new mantra is out with any mishmash clothes bought ad hoc that I never wear, and hello curation and coordination (with Vinted to help me on my way). A desire to look like I've got my life together, more than it actually is? Quite possibly.
There's something about turning 28 that brings the idea of being an adult into sharper focus. I've got friends starting new businesses, getting promotions, quitting jobs and starting new careers entirely. Some people are purchasing first houses, while others are setting off travelling. There are engagements, marriages, break-ups and new starts, people settling down and others out partying every weekend. It's all in the mix.
Navigating your twenties can be just like shopping in your favourite high street store: some people are happily at the checkout with a basket full of clothes, while others are trying on various outfits in the changing rooms. There are people searching for something specific as well as those wandering around the shop, still unsure about what's going to suit them best.
Nobody wants to leave the shop empty handed with nothing to show for it, but everyone's process for finding those fits and styles that'll work for them is different. There's a huge cross section of agendas at this age (and of course style choices to go with them).
Where am I at? Up until now, I've been guilty of going on impulsive shopping sprees, tackling every twist and turn of my twenties with sporadic clothes to match.
But as my third decade draws closer, my aim is to shop more considerably and savvily. I've got all sorts of events coming up, from family weddings and engagement parties, to weekends away, work events and big birthday celebrations, each and every one with inevitable wardrobe dilemmas – all of which I'll be sharing with you.
My wardrobe goals
I've made 28 my year to find clothes for any eventuality, that aren't only useful for now but will work for years ahead too. I don't have loads to spend, so it's all about finding pieces that are an investment in terms of quality and longevity, rather than draining my bank account.
Before joining the Eliza team, I was a freelance stylist and fashion assistant, working in a world of brand campaigns, editorial shoots and celebrity covers to create beautiful and aspirational imagery. I was surrounded by clothes that were stunning, but of course, I could rarely afford them.
Some of my favourite photoshoots involved styling people who weren't models, helping them find clothes that looked amazing, but also felt authentically them. It was on these shoots that I saw the importance of establishing individuality over transient trends, with clothes that actually made people smile.
There's so many different trends that takeover Insta and IRL, from minimalist dressers, monochrome aesthetics and The Row inspired looks, to Gen Z fashion favourites, cottagecore and colour head to toe, coastal grandmas and that Parisian chic.
I might pinch inspiration from each for my own personal style and shopping edits, but my ultimate goal is finding clothes that feel cohesive and I can wear lots of times – rather than diving straight into making a throw-away purchase.
My first dilemma: the dinner and drinks outing
For this first column, you find me facing the eternal dilemma of having nothing to wear for a night out. This time it's for a birthday dinner with one of my best friends (belated, but who doesn't like prolonging celebrations for as long as possible). Normally for evenings out I'll wear one of my favourite shirts with a pair of jeans and I won't think twice about wearing them on rotation.
But, birthday dinner outfits are an exception. I want something more memorable.
That said, if I'm going to buy something new, I want to wear it again. And not just in another years time, I want to be wearing it again next week.
Taking that fine balance between cost per wear and pizzazz into consideration, I've got two birthday dinner outfits competing for the top spot that I want to share with you: a co-ord or cowboy boots (worn with your favourite dress).
Revive a dress with cowboy boots
First up, the dress and cowboy boots. I've got lots of dresses in my wardrobe that I don't wear enough and I need something that'll update them. This winter it's got to be cowboy boots.
Transitioning from summer through to winter, keep those boots high up the leg, just below the knee for extra impact and in classic black for versatility. Cowboy boots might be having a big moment now but they're a forever investment, from festivals to fun dinners out.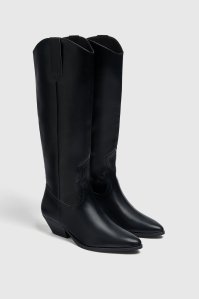 Find a keeper, the co-ord
In fierce competition is this silky viscose co-ord from Zara. This is the year of the co-ord after all (voted by me) and I'm loving this warm burgundy colour for autumn style.
Why? You've got an amazing outfit all in one. The high waisted floaty trousers will not only make your legs look extra long, they'll be comfy to wear too (bonus points when wearing to dinner).
Plus, you'll be able to wear the trousers with tees going forward for comfy workwear options and vice versa with the shirt for various jeans and a nice top going out combos.
There's nothing like a co-ord to make you feel together. And at 28, that's got to be the best place to start.