If you're not aware of who Matilda Djerf is, I'd put money on the fact you've come across at least one trend that she's responsible for blowing up. The Swedish mega-influencer has become instantly recognisable for her fluffy blonde '70s blow-out, relaxed Scandi street style and adorable dog Rufus.
I've lost count of the amount of Matilda Djerf outfit pics I've got pinned and saved for inspiration. While it's hard to pin down the exact recipe to her success, it's not hard to see why she's become one of the internet's main fashion darlings. Styling oversized silhouettes and staple pieces, Djerf is the pinnacle of cool girl Scandi dressing.
Matilda also has her namesake brand, Djerf Avenue, which contains a core collection alongside capsule collections such as the latest European Summer edit. If you're wanting to buy into the Djerf aesthetic, the pieces are gorgeous and good quality, but they are at the pricier end of the high street budget, with a top setting you back at least £70.
The good news is, you can find some very similar pieces for less on our high street. So, if you're wanting to achieve the Copencore look this summer and give your wardrobe a Scandi transformation, I've rounded up the Djerf Avenue cult products and the similar pieces you can shop now for less…
The oversized blazer
If there's one thing a Scandi girl can't live without in her closet, it's an oversized blazer. It could be 40 degrees outside, and the Copenhagen fashion crowd will still be styling it out in a black boxy suit jacket. This is the one item in your wardrobe it is always worth investing a bit extra in, so your blazer keeps its structure wear after wear, but there are some great affordable options on the high street.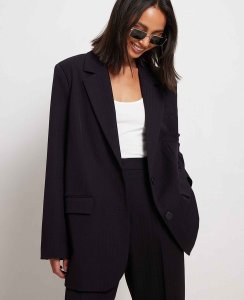 The soft tube top
The tube top is back and indulging our early 00s nostalgia to the max. Take a leaf out of the Scandi girl book/wardrobe and swap out a black tube top for a muted colour such as this biscuit-hued version, a soft lavender or baby blue.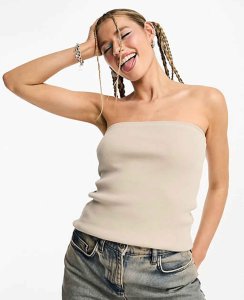 The cropped blazer
Not wanting to commit to a full blazer this season? A cropped version could be your gateway into the structured silhouette trend. A slightly oversized design with shoulder pads will stop the blazer hanging off you and instead creates a statement piece to build the outfit around. Throw it on over a white t-shirt and jeans or a matching skirt to instantly elevate your look.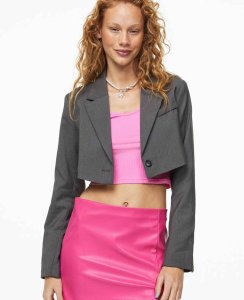 The blue stripe shorts
Cool, airy and comfortable, linen is overtaking denim as the trending fabric for shorts this summer. You can't beat the oversized, mens boxer-style of these blue striped shorts for lounging on the beach or taking a stroll through the city on a hot summer day. Style with chunky sandals and matching shirt or white tank for that off-duty model vibe.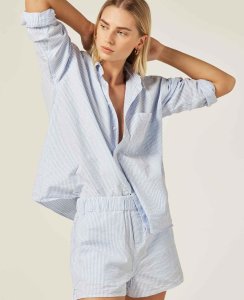 The midi slip dress
The satin slip dress is a must-have for your summer wardrobe. A versatile piece, this slip dress can be dressed down for a casual look (wear it over a t-shirt with trainers), or upgraded for the evening with a pair of strappy heels and an oversized blazer. You're likely to get the most wear out of a midi length, which looks great when styled with every type of shoe, from cowboy boots (a festival favourite) to chunky sandals.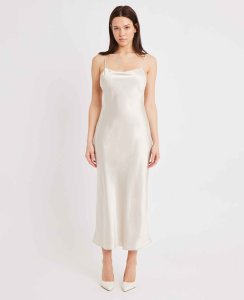 The wide-leg trousers
Wide-leg grey trousers are a Scandi staple that you can make work for all occasions. Pair them with a simple white tank top for an everyday look, and wear with a black turtleneck or oversized white shirt to the office.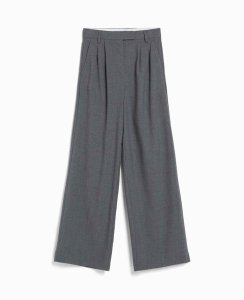 The tie-front top
The summer upgrade to your typical satin shirt, a delicate tie-top gives a chic and laid-back holiday vibe. Perfect for solving the 'jeans and a nice top' outfit dilemma, this style of top dresses up a pair of straight leg or flared jeans as well as giving major Woodstock vibes with a matching maxi skirt. Which brings me on to my next find…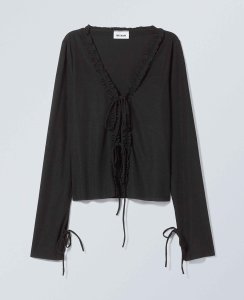 The maxi linen skirt
If you're looking to invest in a skirt for the summer, it's got to be a linen maxi. A true icon of the 90s wardrobe, the linen skirt lends an effortless and sophisticated style to any outfit and is quick and easy to style with a cropped top or oversized shirt. The linen material will help to keep you cool on hot days; wear with a flat sandal or strappy heels and avoid any shoes or boots that will look too clunky.