What's not to love about a super luxurious dressing gown this time of year? There are ultra-fluffy dressing gowns – perfect for snuggling up on the sofa after a long day at work – or silky printed robes for a touch more glam, whether you're channeling your inner Nigella Lawson on a Sunday morning wafting around your kitchen making brunch, or you like to get ready before a big night out in a jazzy robe.   
Even if you're looking for a practical towelling robe, you can still find styles that are functional and a little fancy, especially when the high street has some super soft styles all for under £75.  
I'll be adding one to my Christmas wish list this year, but if you simply can't wait till the big day, here's 6 of the best dressing gowns to order now for beating the chill or dressing up your favourite winter PJs:
Fluffy dressing gowns
When it's freezing there's nothing cosier than a huge, engulfing fluffy dressing gown. These robes look the snuggliest of all, from Hush's fluffy hooded dressing gown to M&S's soft borg-lined robe.  
Waffle bathrobes
If you're always dreaming of going on a spa day, create your own mini version at home with a luxurious waffle dressing gown.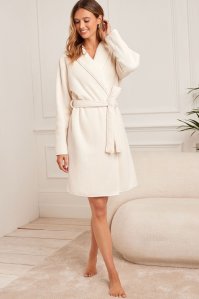 Toweling robes
A toweling robe is a timeless investment for your bathroom and if you're using one every day, you want to make sure it's the softest style you could possibly buy. These robes all have a premium feel to them, and M&S even offer personalisation if you're looking for Christmas present inspiration. 
Printed dressing gowns
Swish around in a gorgeous printed dressing gown to make a style statement from the comfort of your own home. I love the red scalloped piping on this Nobody's Child gown (and matching PJs) and I can vouch for the softness of One Hundred Stars robe, a family business with a beautiful selection of considered nightwear.
Classic dressing gowns
If prints aren't your thing and you're looking for a minimalist style of robe, then these are all classic dressing gowns in soft fabrics.
Silky robes
A silky dressing gown will compliment your silk nightwear and loungewear collection and are ideal for rolling up in a suitcase when you're packing for a romantic weekend away.