As your resident sustainable fashion queen, I like to keep my ear to the ground for the latest ethical brands to share with you, and I take pride in proving that sustainability can be stylish and even affordable at times, but boy oh boy, did I struggle with this piece.
In my circle of friends, I have never been known as the trainer girl. At one point the only pair I owned were solely for the gym and even then I bought them under duress, and to put it into context, I was the commuter you saw running over London Bridge in four inch heels most mornings! Since the pandemic, my habits have changed a heck of a lot and I would like to think that with time and age, I have grown to love the comfort and versatility of trainers. I now have quite an extensive collection of fashionable trainers which some may say are more about form over function, but hey, if it means I can finally wear comfortable footwear, then I'll take it! Suffice to say, my poor calves scream every single time I'm forced to wear a heel above three inches now.
As I evolve into becoming my truest-trainer-girl-self, finding eco-friendly trainer brands has become essential. Handily, there are a variety of brands out there that not only prioritise sustainability, ethics, and responsibility in their production processes, but they're super-stylish as well.
Here are the ones you need to know about: 
Veja
This French footwear brand is an OG in the sustainability space and has been making waves with its eco-friendly materials and ethical production practices. Its trainers are made with sustainable materials such as organic cotton, wild rubber from the Amazon rainforest and recycled plastic bottles. Additionally, Veja pays their workers fairly and uses eco-friendly packaging.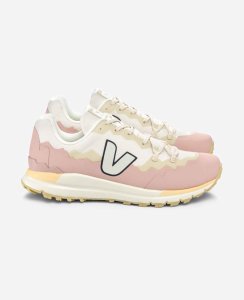 Allbirds
This brand is known for its use of merino wool and tree fibres to create their comfortable and sustainable trainers. Allbirds also use recycled materials for its shoelaces and insoles, with the packaging is made from 90% post-consumer recycled cardboard.
Most items in the collections are 100% vegan and plastic-free, and some are even made using a plant leather made with MIRUM® which is a sustainable leather alternative.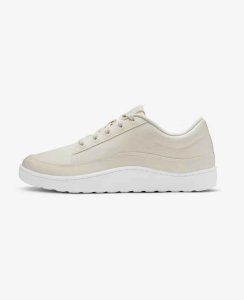 SAYE
This Spanish sneaker brand is known for its minimalist design and use of sustainable materials. Think of Saye's style as the sustainable version of the cult Adidas Sambas. SAYE trainers are made with eco-friendly materials such as organic cotton, recycled plastic bottles, and natural rubber, and they're carbon neutral with recycled materials used for their packaging.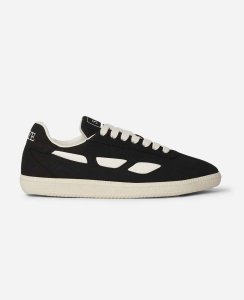 Cariuma
This Brazilian footwear brand creates eco-friendly trainers made with natural and sustainable materials such as bamboo, cork, and recycled plastics. Cariuma also uses ethical production practices and ensures fair wages and working conditions for their workers. The trainers come in a range of colours and styles, making them a trend-led and sustainable option for anyone in the market for new trainers.