Every good night out starts with a great outfit – and is there any better going-out style formula than jeans and a nice top? Sure, it might feel a little un-adventurous at times, but classic combinations are classic for a reason – and none more so than this iconic pairing.
For as long as I've been going out – whether it's for drinks, to a girl's dinner or for the occasional 2am dancefloor session, this outfit has been my feel-good failsafe. But if you're feeling rather uninspired when it comes to what to style with your denim, or finding yourself overwhelmed by the sheer number of going out tops to wear for any given night out, keep reading.
As a start, it's worth noting which jeans are your go-to for the evening. Whether you're a high-rise, straight leg kind of girl, embracing the return of the low-rise jeans, or love a 70s flare, there'll be going out tops to suit your favourite denims (and those to best avoid.) And whilst it might seem obvious, consider where you tend to go out; adding a diamanté crop top you've seen all over Instagram to your online basket might be tempting, but how often would you *actually* wear it?
With a few stylish going-out tops that you know will work with your jeans, you won't ever find yourself in a last-minute panic, staring at your closet full of clothes but with nothing to wear. And whilst there are endless top styles to choose from, I've rounded up the 8 best top styles to pair with your denim, meaning less time getting ready and more time at the bar. Chin chin.
The crop top
One of the quickest ways to jazz up your jeans for a night out is to play with proportions, so teaming your denim with a cropped top is a no-brainer. The high street is awash with crops in every variety; I'm quite partial to a sleeved option to keep me from feeling too exposed, like this Anthroplogie number. Na-kd also has lots of options.
Whichever variation you opt for, deciding which jeans to style your cropped top with is key; whilst low-rise jeans might be making a comeback, I'd suggest sticking to high or mid-rise jeans to avoid completely resurrecting Britney's style circa 2002.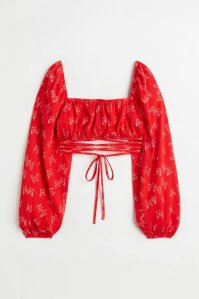 The top with statement sleeves
Add just the right amount of drama to your next going-out outfit with a puff sleeve top. The volume on top means sticking to a more streamlined denim cut works best; think straight leg, or even skinny jeans if that's your thing. If a full exaggerated sleeve feels a little too fussy for you, tone it down by opting for a balloon sleeve in silk for a sleeker, more subtle nod to the trend.
Keep the rest of your look simple – throw on a pair of strappy heeled sandals and minimal jewellery and let your sleeves do the talking.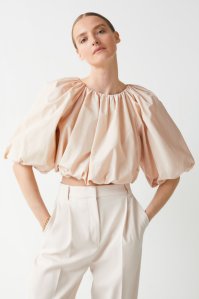 The low back top
If pulling on a pair of jeans feels a little too boring the next time you're headed out, a backless top is a quick-fire way to add an unexpected twist to your look – and just the right amount of skin. It'll definitely cause more than a few heads to turn, but it's the simplicity of this design that makes it a must-have in your wardrobe. Stick to a black or white style, which both look striking as a monochrome looked, paired with jeans in a matching hue.
To add a touch more drama to the look, add in a pair of statement earrings and voilá – jeans and a nice top never looked so chic.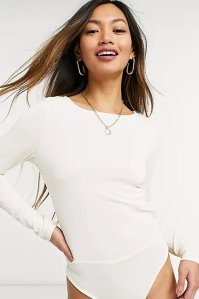 The bandeau top
Wow, teenage me loved a bandeau top with jeans, and whilst I bemoan the return of Y2K fashion daily, the resurgence of a strapless tube top *almost* makes up for low cut jeans coming back. The trick to keeping this style firmly in 2022 is to keep your look pared back; think a classic black bandeau with a pair of light wash jeans and a heeled mule, or a printed style with white jeans and a sleek bun.
And don't worry that this is a style solely reserved for warmer months; with your decolletage left open, an oversized blazer thrown on top works perfectly with your outfit proportions, leaving you ready to take this style into winter too.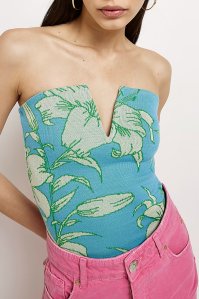 The pretty blouse
The humble blouse might seem a bit too mumsy paired with jeans for a night out, but it's a look that can look effortlessly cool with the right cut and styling. First up is finding the perfect blouse; a collarless style that lends itself to having an extra button or two undone is always a winner for going out tops, and no-one does them better than French cult brand, Sézane.
However, if one of their printed numbers is out of reach for your budget, there are plenty of high street options too – Reserved is often a treasure trove of good blouses. Best tucked into a flared pair of denims for a 70s feel, or a straight leg for a polished look; add in lashings of gold jewellery and a red lip for a Parisian girl feel.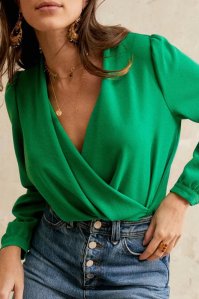 The elevated t-shirt
Jeans and a tee for a night out? Surely too casual, I hear you cry. But this isn't throwing on your everyday white tee with your jeans and hoping for the best; I'm talking about choosing a t-shirt with an elevated twist. Whether its completely rhinestone encrusted or has ruching at the waist and a dropped shoulder, these luxe tees exude effortless cool-girl style.
To keep your look elevated, I'd steer away from jeans that are too baggy or oversized; rather pair with a slim cut jean or a fitted bootcut and a pair of heels.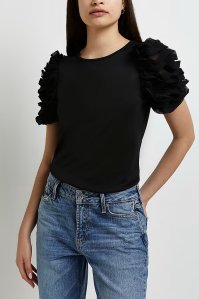 The cut-out top
Cut-outs are one of the biggest trends this season – but the good news is, they aren't going anywhere soon, so investing in a cut-out top for future nights out is worth it.
From full belly baring styles to more tame keyhole cut-outs revealing just an extra inch or two of skin, there's a style to suit everyone. And with a wide range of cut-out going-out tops on the high street, you can easily find the perfect match to your favourite pair of jeans.
The revealing style of a cut-out looks particularly fresh paired with a looser cut mid to low rise jean and a chunky heel.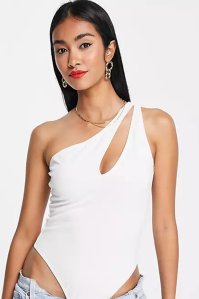 The slinky cami top
There's something undeniably sexy about the silkiness of cami contrasted with the roughness of a pair of jeans – not to mention, how effortless it looks. It's the kind of outfit you can throw together with a minute's notice, and still be the best dressed.
Another reason to keep a cami style top in your arsenal of going-out tops (besides the fact it can double as PJs), is that it's a style that will pair with just about every type of denim, whether high or low waisted, skinny or relaxed.
Opt for a lace trimmed style for a more feminine feel, alternatively I love the back-tie detail of this flowing Massimo Dutti design. Either way, a silk cami is the type of top you can never have enough of in your wardrobe.