An everyday handbag is one of the most – if not the most – hard working item you own. It's got to stand up to daily wear and tear, reliably carry all your essentials and seamlessly accompany whatever outfit you decide to wear.
Which brands do the best handbags
So, picking the right one is key to making sure you get your money's worth. Thankfully, the high street is the best it has ever been and it's never been easier to find affordable handbags that fit the bill. Here are the best handbags you can buy on the high street.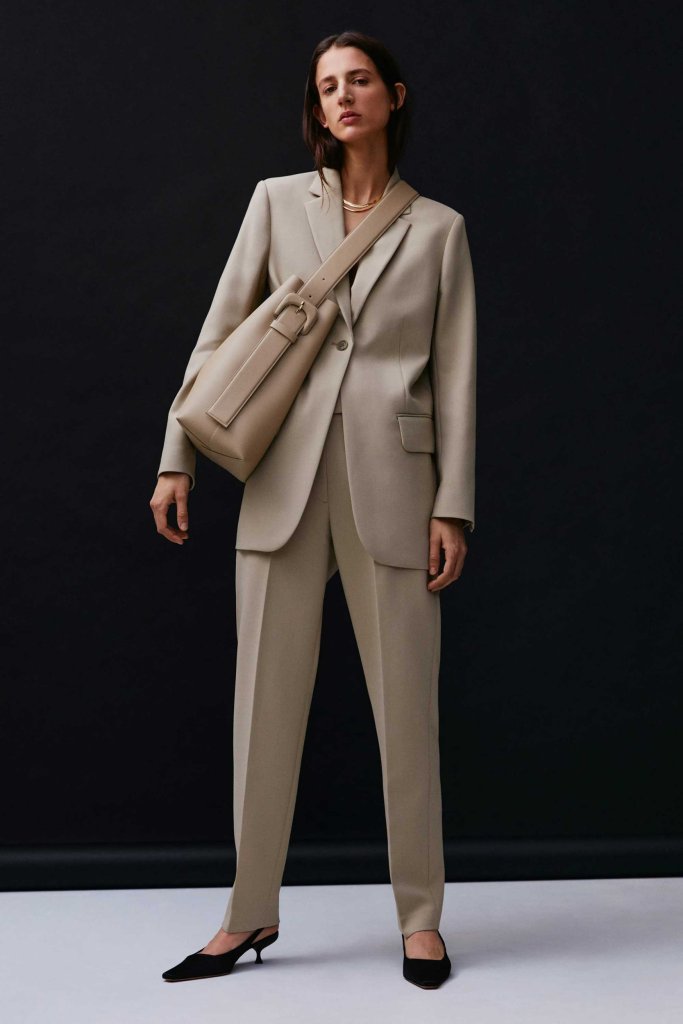 Best for expensive looking bags: COS
COS (which stands for Collection of Style, FYI) has established itself as a go-to for elevated essentials on the high street, and it does them faultlessly. If you're someone who favours minimalist design – clean lines, muted colours – which is high in both quality and functionality then this is the place for you to invest your hard-earned money. In fact, its bags are so beautifully simple and well-made they could easily be mistaken for certain high-end stealth luxury brands (see The Row, Mansur Gavriel).
The bum bag-esque leather crossbody bag, £89 has proved a repeat sell-out since it was first released last year. Taking the recent trend for bum bags worn crossbody and more than a little inspiration from the aforementioned The Row's cult 'Banana' bag, it combines chic design with practicality – it sits close to the body so is super secure if you're hopping on and off public transport or walking around busy streets and fits in all your essentials and more.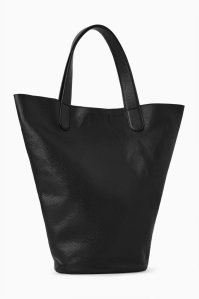 Best for affordable leather bags: Kin at John Lewis
Kin, an in-house brand at John Lewis, has proved incredibly popular since its launch in 2013. Catering to the busy woman who wants basics that aren't boring, it's inspired by both Scandinavian and Japanese design principles, and it shows in its bag offering: All of its designs are simple but far from dull with clean lines, minimal detailing and functional features, like roomy interiors and handy pockets.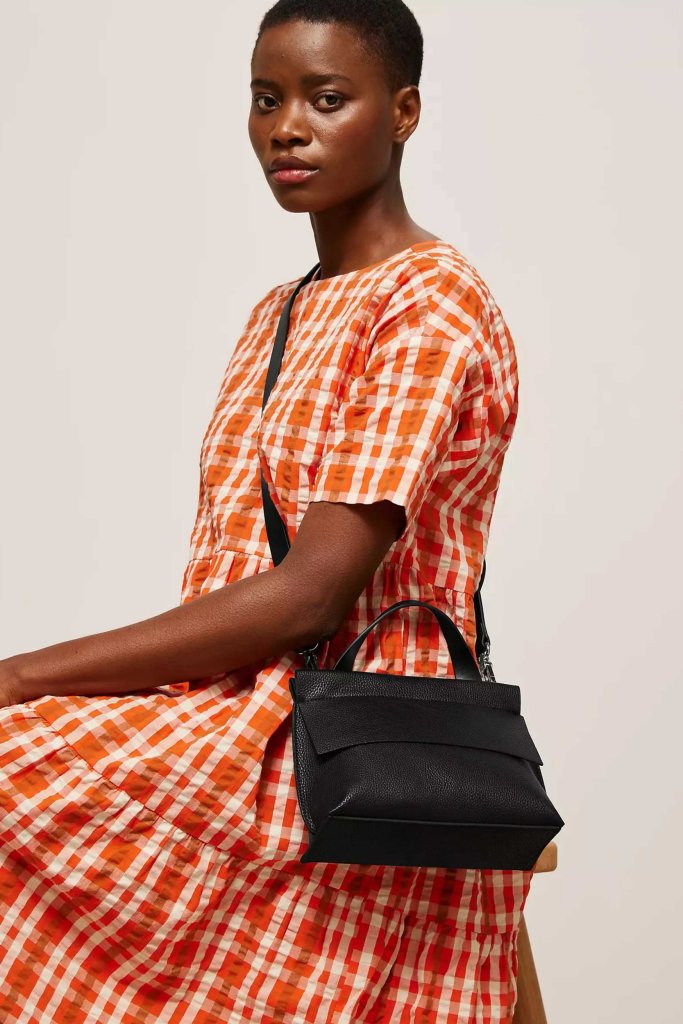 It's worth noting though that these aren't real leather bags so probably won't stand up to everyday wear and tear for as long as a 100% leather counterpart, but they are a great alternative if your budget isn't huge. The simple grab tote bag, £65 is a great size for everyday use – big enough to hold a laptop, charger and all the other work essentials with a secure central zipped compartment for your valuables, while looking stylish too.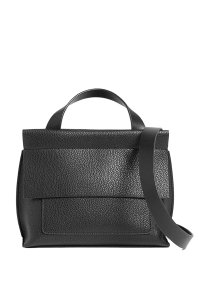 Best for staple handbag: Arket
Since its launch in 2017, Arket has cemented itself as the high street destination for directional design that doesn't break the bank. It doesn't operate on a trends-first basis – well-cut wardrobe staples are its bread and butter – but it does take note of the trends that move beyond one-season wonder status and into wear-forever status, reworking them to fit into an everyday capsule wardrobe.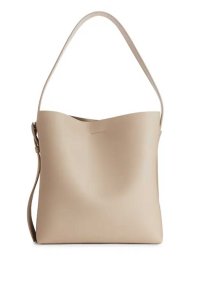 Best for leather totes: Zara
Try as you might, the siren call of Zara is hard to resist. No other brand can quite match the pace at which the Spanish giant gets new designs onto digital and physical rails, capturing the sartorial zeitgeist. But as with most things, everything in moderation – we know the impact of fast fashion, so the key is to make mindful purchases. Thankfully, its 100% leather bags are reliably good quality.
I have one – a classic black crossbody bag with metal detailing – that I bought in the sale 12 years ago, still use regularly and always receive compliments on. In fact, I periodically scour eBay for the same design in the hope I could get hold of a back-up should mine one day fall to pieces. But back to what Zara offers today; its spacious leather totes are always a worthy investment, especially if you're an everything-but-the-kitchen-sink kind of person (guilty). Some styles can even be personalised with your initials.
Best for practical handbags: Whistles
Whistles is the quiet big sister of the high street. The kind of sister whose clothes you always borrow. Trend-led but not threateningly so, its aesthetic is feminine and chic but practical, pieces that perform as well for work as they do for play.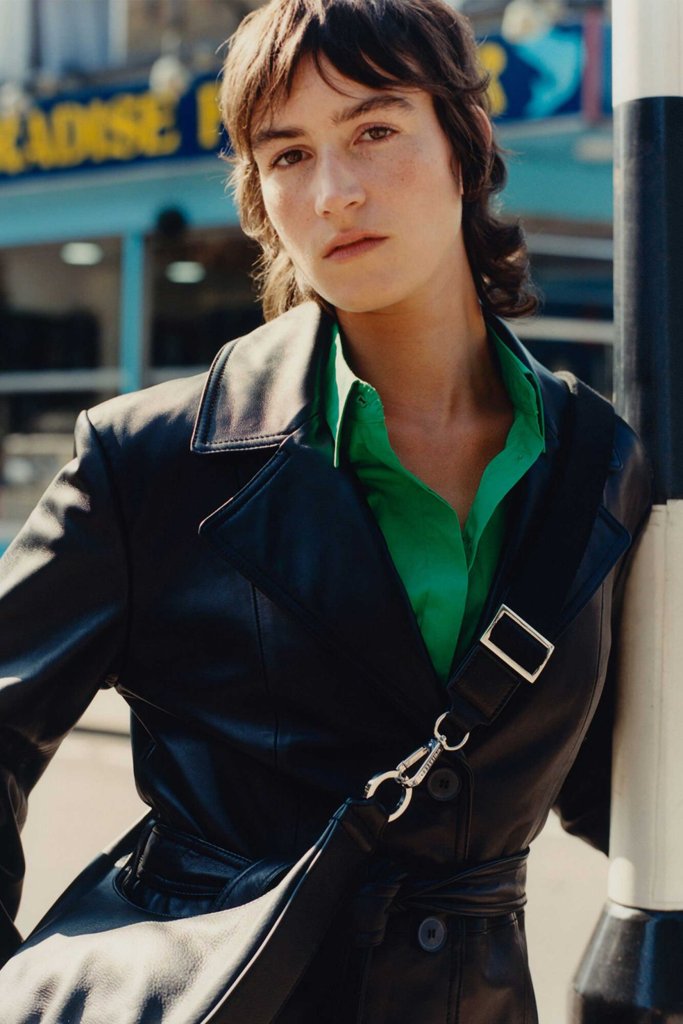 Its bags are no different. The Bibi bag is beloved for its compact but hardworking size, with two zipped compartments, one roomy for bigger items and one for smaller items, and sturdy strap, so much so that it regularly sells out. Available in an array of colours, and regularly reworked in new ones, there's a version for everyone.
Best on-trend handbags: & Other Stories
& Other Stories is easily one of the most exciting brands on the high street. With design studios in Paris, Stockholm and Los Angeles, it combines the fearless joy of the Scandi mentality with the feminine sophistication of French style and the trend-led confidence of LA to offer pieces that make a real impact and ensure getting dressed is fun. It's one of those shops where you know you'll find one great thing that could transform how you feel about your entire wardrobe, like a great statement blouse or the perfect pair of wear-anywhere jeans.
Its bags are the same, taking the best from each location to create an array of different styles. When it comes to everyday bags, the smooth leather tote bag, £100 is gloriously roomy – great if you like to just chuck in everything and anything you may need for the day ahead.