It's a truth universally acknowledged by all women that having stylish activewear *actually* improves your workout – in fact, I'm sure there must be scientific proof of it? Well, even if there isn't, I know that having an outfit that not only looks but feels good too, drastically increases both my motivation to work up a sweat, as well as my performance.
I'm certainly no Simon Biles, but my workouts are an important part of my day and – much like most other parts of my life – I dress to look the part. But that doesn't mean I like to spend big on my workout gear, and after trying numerous brands, the good news is, I've realised I don't need to. Of course, no-one wants leggings that go see through the moment you squat, or a sports bra that provides *zero* support on the treadmill, but high street brands' activewear offerings have evolved over the past few years and are a great option for affordable but quality workout gear.
Whether pilates, HIIT, spin classes or yoga is your workout of choice there are a few things you want to look out for when it comes to your activewear and it all comes down to the technology in the fabric. Is it moisture-wicking, breathable, and provides support but allows for comfort? This might sound like a tall order from a high street retailer, but I've found the brands that actually deliver on all of the above (along with stylish designs, obvs.)
So, whether you're looking to achieve a personal best or just like to dip your toe into a workout every now and then, keep scrolling for the 6 best activewear brands on the high street.
Oysho
If you're looking for choice when it come to your workout gear, Zara's sister brand, Oysho is a one-stop shop for everything from tennis skirts to cycling shorts (that come in different rises), sports bras to vest tops. It's no secret that the brand is a favourite in the eliza office, but their sportswear offering really is worth getting excited about – after all, the brand it's one of the brand's specialities.
Oysho's contemporary technology includes fabrics that provide UPF+40 protection (great for outdoor sports), allow for water vapour transmission (later sweat patches) and soft touch, compression materials that will hold you in in the right places but still be comfortable enough to move in. And did I mention the range of colours it comes in? It's all enough to make me want to get my flex on.
H&M
When it comes to high street activewear, it doesn't get much more affordable than H&M – but that doesn't mean their pieces won't keep up with you in the gym. If you're someone who gets their sweat on regularly, their multi-pack vests and sports bras are great value for money, whilst still providing all the fabric technology you'd expect from your workout gear.
It also has an array of stylish, trend-led items (would you expect anything else from H&M?) not to mention that more and more of the brand's offering is now made from recycled fabrics. *Adds to bag* and *books gym class.*
Arket
Arket might not be the first place that springs to mind when you're after affordable activewear, but it should be. Its range might be relatively small compared to other high street options, but true to the brands Scandi roots, it's minimalist chic at its best. Indeed, you won't find any colourful prints, or crazy cut-outs in their designs but just streamlined, simple cuts in neutrals or a bold block colour.
Most of the brand's styles are part of their trademarked Seamless collection, which combines recycled polyamide and virgin polyamide to create a stretchy piqué jersey material, ensuring stability and breathability. Best suited for workouts like yoga or walking, Arket's activewear might be aimed at low-impact activities, but it'll still make a big impression.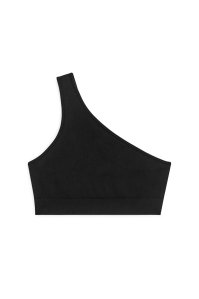 M&S
M&S's Goodmove range has only been around a couple of years but this highstreet stalwart's gym wear has a loyal following – and it's not hard to see why. The activewear is bold and fun (think prints like abstract florals and leopard print, and colours ranging from neon to pastel) but it's also technically very impressive. As expected, their fabrics are moisture wicking and quick drying, making their leggings and workout vests well-worth adding to bag.
However, it's the sports bras that really deserve your attention; they have a wide range to suit all workouts from light to extra high impact (and as you would expect from M&S, a full range of sizing too.) Their sports bra innovations include incorporating their Flexifit technology for added stretch and flexibility and working with scientists at the Asahi Research centre in Japan to develop a sports bra that reduces bounce by 25%. Pretty impressive for under £30 I'd say.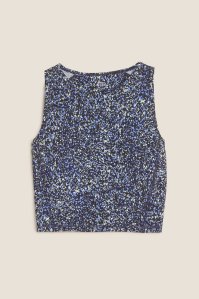 ASOS 4505
Everyone in the know is well-aware that most of the best buys on ASOS come from their in-house brands, and when it comes to affordable gym wear, the ASOS 4505 brand is no different.
With a pretty impressive range of performance fabrics, you'll be able to find an outfit for just about every workout (not to mention some pretty stylish athleisure wear if you just want to look the part.) But what really sets ASOS 4505 apart from other high street activewear brands, is their range of sizing and their variety of fits.
Besides the petite, mainline and curve ranges (which goes up to size 30), they also have an Hourglass range – cut to accommodate larger hips – and a Tall range (meaning no more unintentionally cropped leggings for me.) Not to mention ASOS 4505 has one of the best maternity activewear ranges I've come across. So, whatever your size, shape or workout schedule, you'll find gym gear you love.
Hush
If you find a fun, jazzy gym outfit motivates you to get out of bed rather than hit the snooze button again, look no further than Hush's activewear line. The leggings, sports bras and vests come in an array of bright colours and eye-catching prints (leopard print with contrast blue and orange piping anyone?) that deliver on substance as well as style.
Incorporating breathable, quick drying materials with stretch into every piece, much of the range is also made from sustainable fabrics, like Tencel, ECONYL regenerated nylon or recycled fabrics making Hush not only a stylish choice, but a responsible one too.