Google 'women's jeans' and you'll be met with over six billion results. Between different styles, rises and washes, finding the pair that's right for you is often confusing and time-consuming, whether you're doing it in real life or online.
So, we've compiled the ultimate guide to finding the best jeans, taking into account the best jeans for body shape and the most popular styles out there right now in a bid to decipher your denim dilemmas.
But, please, bear in mind that this is only a guide. When buying clothes, the most important aspect is how they make you feel. These aren't rules, just tips that will hopefully make finding that elusive perfect pair of jeans easier…
How do I find out my body shape?
Our bodies come in all shapes and sizes. There's no average or norm, no good or bad. Just differences. Identifying which body shape you have – or at least match most closely – is really helpful when buying clothes, especially jeans. With so many different styles out there, it allows you to immediately narrow down your search to the styles that best flatter your body's proportions. But don't dwell on whatever shape you're labelled as, it's purely a starting point in your search, an aid to guide you and hopefully save you time.
How do I find the right length jeans for my height?
It's key to take into account your height as this will become a factor when choosing what inseam measurement, sometimes referred to as length, to go for. The inseam is the measurement from the central crotch seam to the bottom of the leg, or opening. Some brands offer a variety of different inseam lengths, some offer only one.
Petite and tall sizing
If you're 5ft 3in or under you may find that petite ranges offer a better range of inseam lengths for you. Likewise, if you're 5ft 9in or over, tall ranges may give you more choice.
Still confused? Think about where you want your jeans to hit; do you want them to sit just above the ankle? Or do you want them to brush the top of your shoe? This will of course depend on style; for example, you may want a pair of flares that are long enough to cover four-inch heels, so your inseam requirement for those would be longer than for a pair of ankle-length skinny jeans.
Which jeans styles are best for my body shape and height?
Boyfriend / Girlfriend jeans
Boyfriend jeans are loose fitting and slouchy with straight cut legs. They usually sit lower on the hips and feature a turn-up at the hem – as if you had borrowed them from your boyfriend and they are slightly too big. Girlfriend jeans have the same relaxed look but sit slightly higher on the hips with slimmer, tapered legs. Because they add volume to your shape, the boyfriend style is best suited to body shapes that are narrower on the bottom, while curvier frames will find the slimmer-cut girlfriend style more flattering.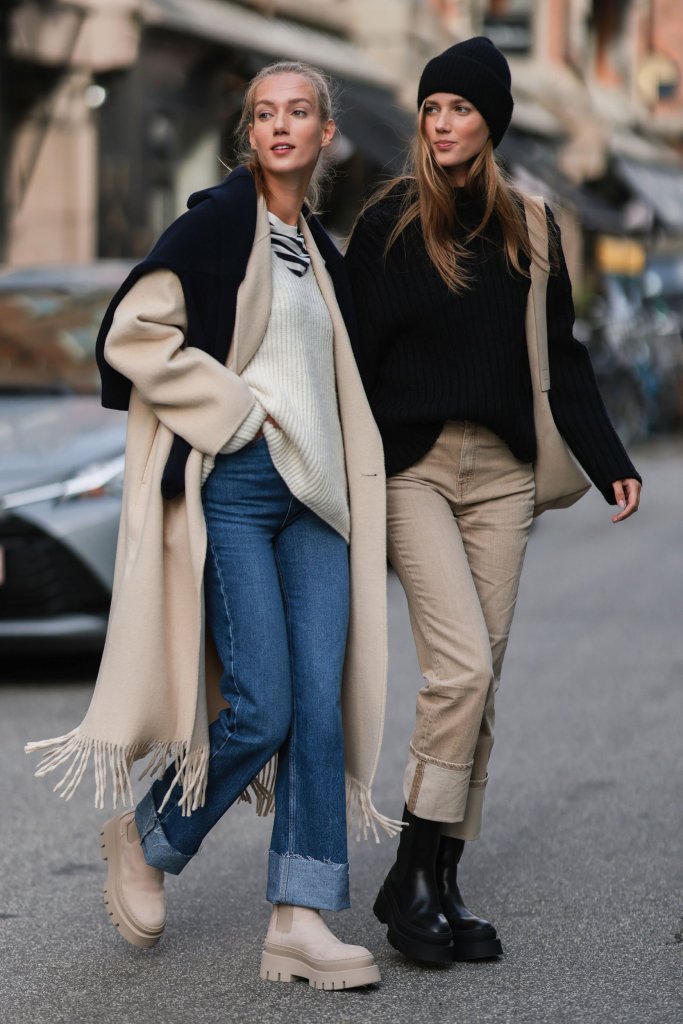 Wear with:
Slimmer fitting tops work best to balance out the silhouette.
Straight leg jeans
Straight leg jeans have legs that are cut the same width from the hip to the ankle. They usually have a high rise that accentuates the waist and can be cropped at the ankle or full-length. One of the easiest styles to wear, they are universally flattering. Just look to the Levi's 501 style, which are the classic straight leg jean.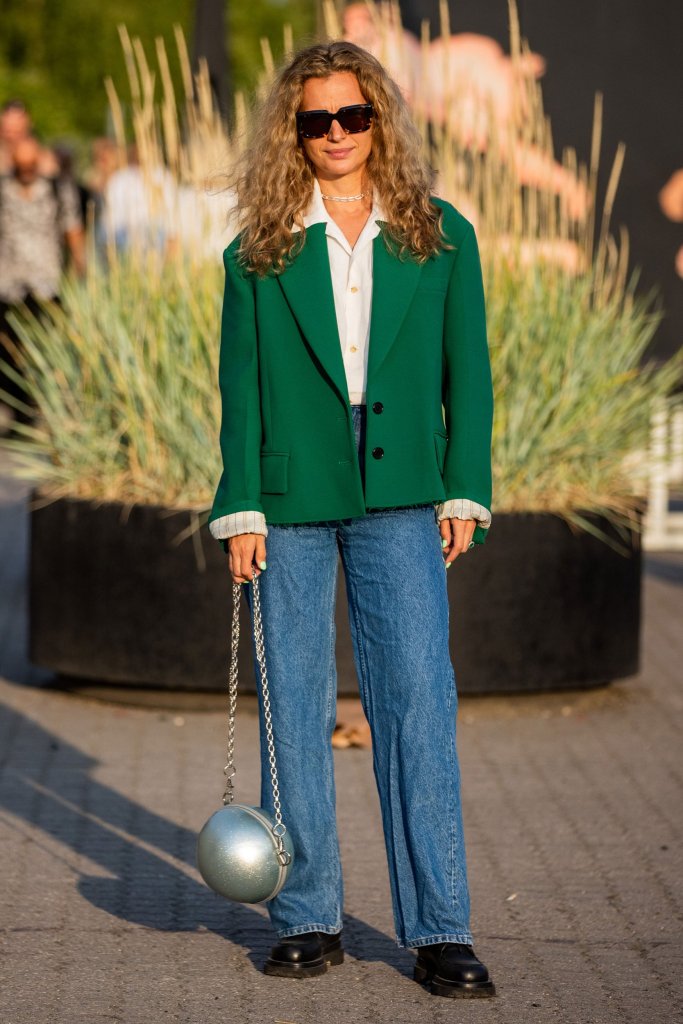 Wear with:
The unfussy style lends itself to being paired with all sorts of tops, from voluminous blouses to slim-fit tees and they're easily dressed up or down. Make the most of the high rise and show it off by tucking your top in.
Skinny jeans
The style we have seen the most of over the last 15 years. Skinny jeans are cut to be tight-fitting throughout the leg, much like leggings. As such, the denim usually contains elastane to maintain the tight fit and stop sagging. They can be low, mid or high rise.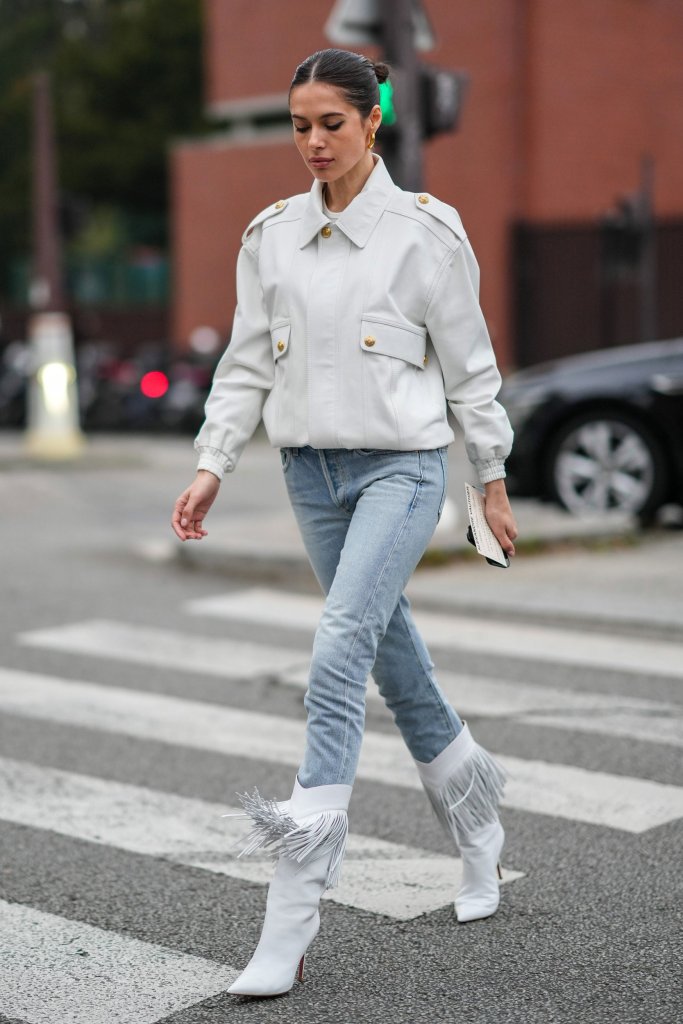 Wear with:
More voluminous tops work well as they balance out the silhouette. Their simplicity means they pair easily with all shoes.
Mom jeans
Mom jeans are defined by their high rise and have a looser fit around the bum, hips and thighs with loose but not baggy legs that taper to and are cut at the ankle. They have long back pockets that can elongate the bum. They're the style synonymous with mums of the late 80s and 90s, when they were favoured in a light stonewash, hence the name.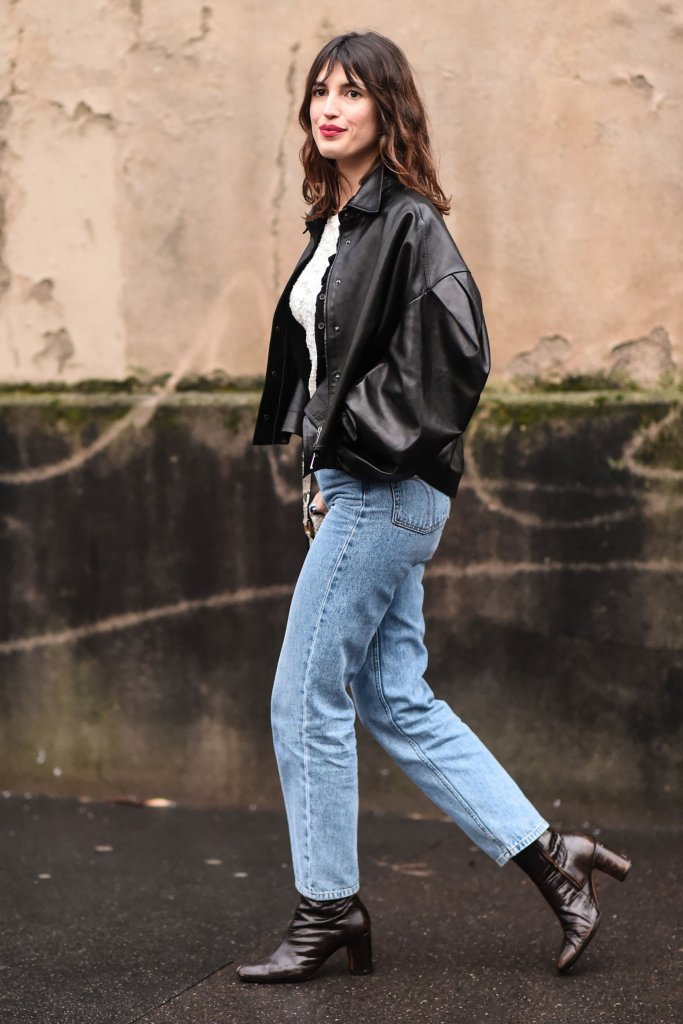 Wear with:
They work best when the high rise waist is visible – opt for cropped tops or keep tops tucked in so the waist definition can be seen. The ankle crop means they can be worn with any style of shoe.
Bootcut jeans
They're making a comeback. Bootcut jeans are cut slim through the hip and thigh with a slight flare from the knee. They can be low, mid or high rise.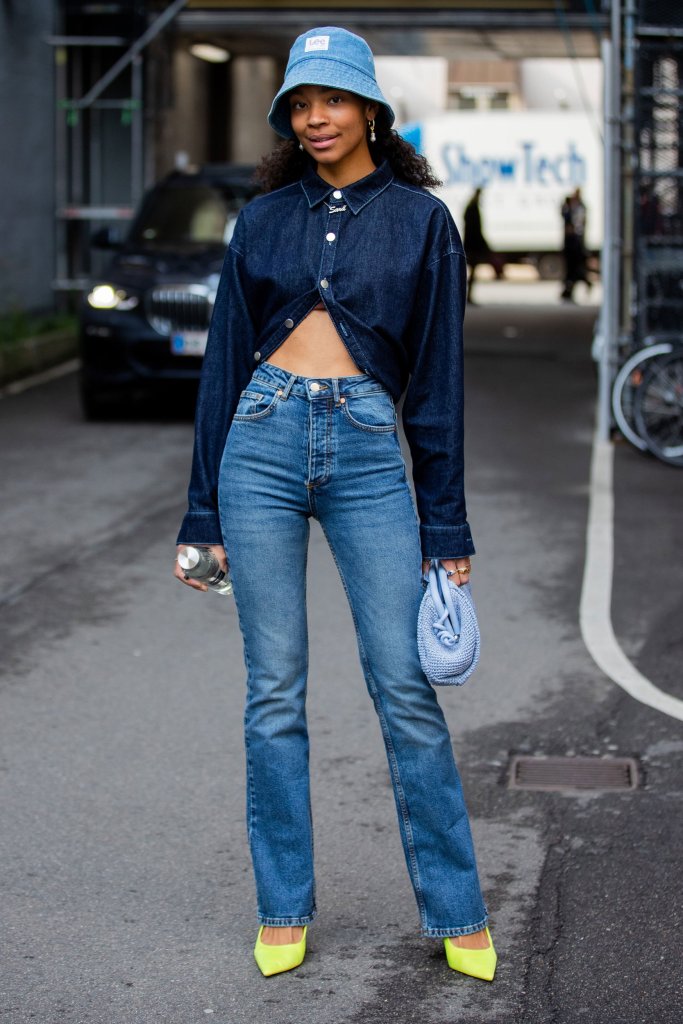 Wear with:
As they're full-length they work best with heels, low or high, as this allows the bootcut shape to be seen in all its glory.
Flared jeans
Flares, sometimes referred to as bell bottoms, are cut slim through the hip and thigh then flare out significantly from the knee to the leg opening, enough to cover your shoes.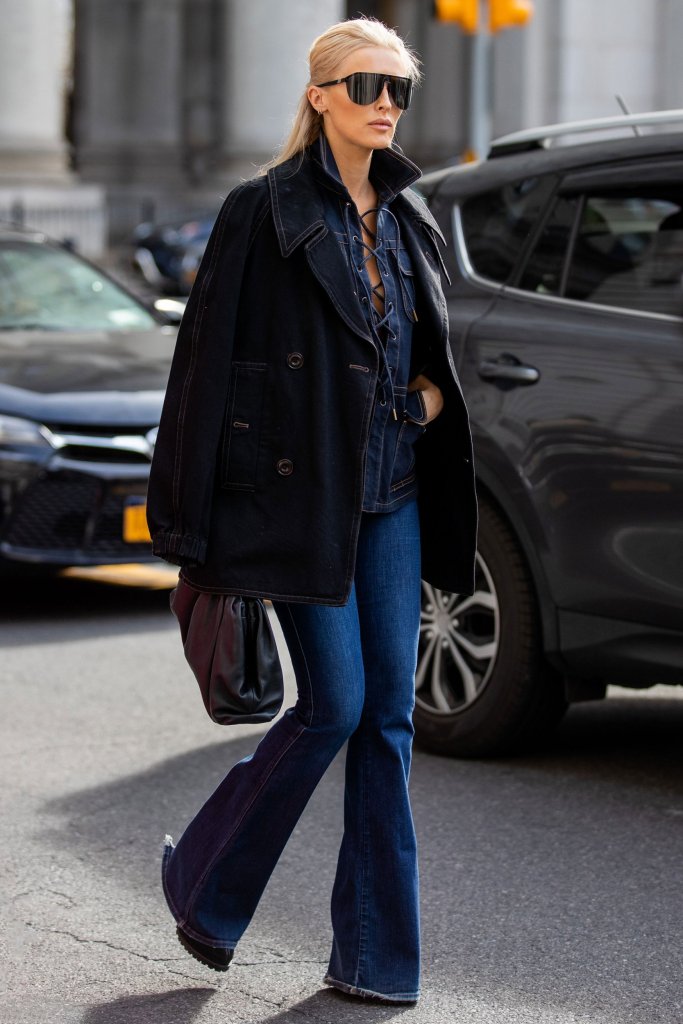 Wear with:
Flares are full-length and meant to graze the floor so unless you're tall, heels or heeled boots work best. Avoid tops with peplums or A-line shapes as this can create a confusing silhouette.
Kick flare jeans
The kick flare is like a traditional flare but cropped just above or at the ankle. It can also be called a cropped flare, cropped bootcut or mini flare. The style is not as dramatic as a flare and more universally flattering than a traditional bootcut thanks to its ankle crop. It works best when paired with a mid or high rise.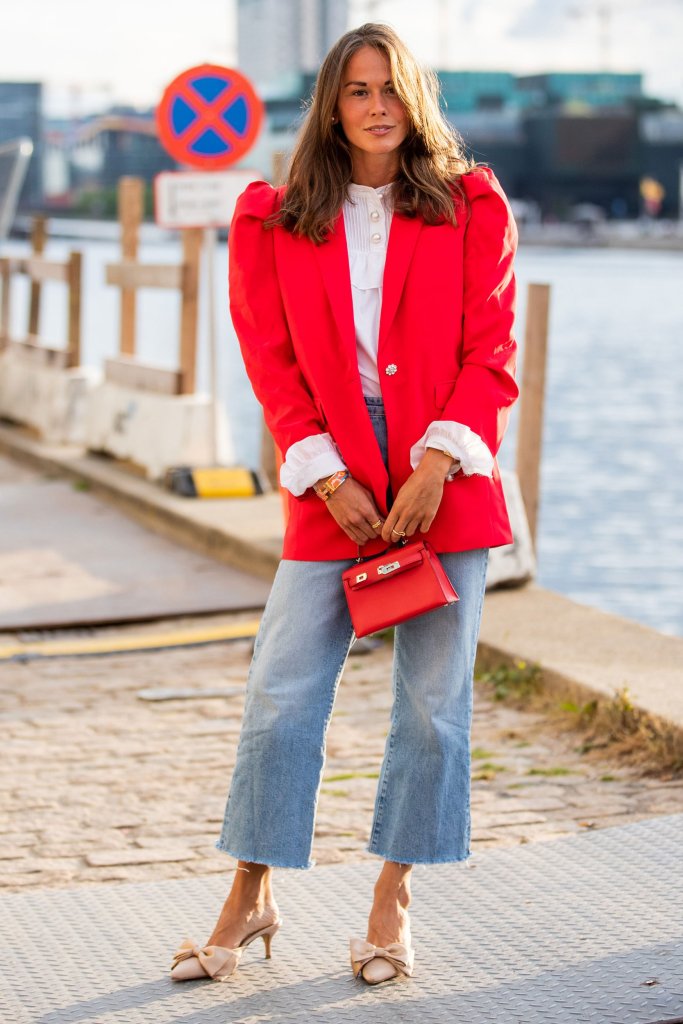 Wear with:
One of the easiest styles to wear, they can be worn with pretty much anything, and the ankle crop lends itself to showing off statement shoes.
Wide leg jeans
Wide leg jeans are cut wide throughout the leg, sometimes getting gradually wider as the leg goes on. They can be full-length or cropped and are most flattering when combined with a high rise waist to provide some definition.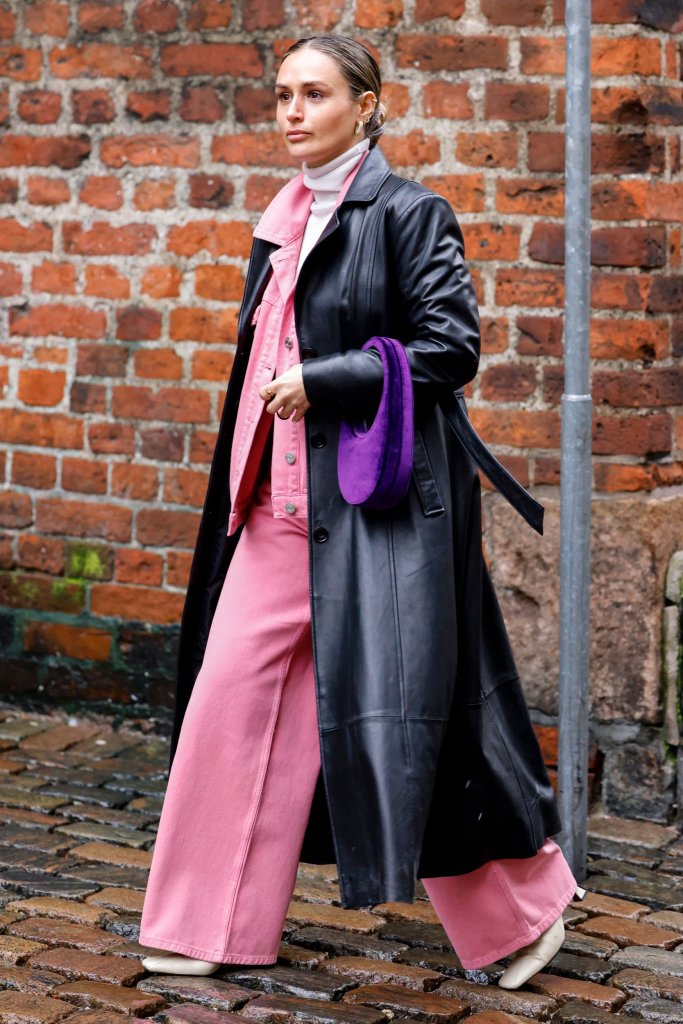 Wear with:
The wide leg is a versatile style that lends itself to both slim fitting and looser tops. Adding a belt at the waist is a great way to add some definition.
Low rise, mid rise or high rise jeans – what do they mean?
The rise is the distance from the crotch to the top of the waistband.
Low rise generally measures 7 or 8 inches from crotch to waist, so sit 2 or 3 inches below the belly button.
Mid-rise generally measures eight or nine inches from crotch to waist, so sit just beneath the belly button.
High-rise generally measures 9 or 10 inches from crotch to waist, so sit at or slightly above the belly button.
For some styles the rise is a crucial feature. Mom jeans, for example, will always have a high rise. For others, like skinny jeans, the rise isn't a defining feature so it's down to your personal preference whether you opt for a low, mid or high rise version. But be aware, it can affect what size you take so be sure to measure your waist at the appropriate section.
Jeans shopping tips
Know your measurements. Measure your waist size and work out your preferred inseam. Different brands use different sizing systems so you need to be prepared to check out size guides and cross-reference with your measurements to find the best fit.
Think about composition. Some people like 100% cotton denim with no stretch, others like a little elastane for comfort. It's personal preference but establishing your preferred composition is a good filter to add to your search.
Consider colours. The wash of jeans makes a huge difference to how and when you can wear them so think about what colour will serve you best. The fit may be spot on, but if the colour doesn't work for you, they're not worth it.
Remember, alterations are an option. Many brands offer free alterations but if they don't head to your local dry cleaners – shortening legs and taking in waistbands are quick and easy fixes that could turn an almost perfect pair of jeans into the perfect pair of jeans.
Dress for easy access. If you're heading to the high street, wear a comfortable, simple outfit that's quick and easy to take off and put back on as you'll be in and out of changing rooms.