Is it me, or has it felt like we've just skipped straight past autumn to winter in the last few days? With the sudden need to wrap up, knitwear is high on my radar.
I've become something of a knitwear connoisseur. I'm constantly a little colder than everyone else around me, so my knit-drobe is choc bloc with gems, though it's very rare I spend over £80 on one. The high street is a jumper haven this season, and there are some excellent styles around that look and feel way more expensive than their price tags suggest.
Chunky styles are super chic for winter, but while we're not quite there yet temperature-wise (although I beg to differ), lightweight styles that you can layer over shirts and under trench coats, are perfect for right now.
99% of my own knit-drobe has come from the following fashion editor-approved high street labels. These are the stores to rely on for stylish new season knits…
& Other Stories for quirky details
Best for: talking point knits
For a few seasons, & Other Stories has been re-releasing its popular cute cardigan which features a range of sweet gold button options, from strawberries and bumblebees, to dinosaurs and croissants.
I can bet you've spotted it on Instagram, and it's easy to see why, since it looks just as good over printed dresses as it does a T-shirt and smart trousers, without looking cumbersome or too wintry. Since each style is revamped after it sells out, add your favourite one to your basket now.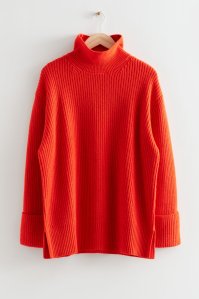 M&S for timeless cashmere
Best for: easy-to-care-for cashmere
There's a reason fashion editors always recommend knitwear from M&S: it's luxe but without the hefty price tag, and it sells its classic crew neck and v-neck cashmere knits year round, offering everything from bold brights to versatile neutrals.
The true USP though, is that all the brand's cashmere is machine-washable, so no ridiculous dry-cleaning bills either. Easy to look after and stylish? Get signed up.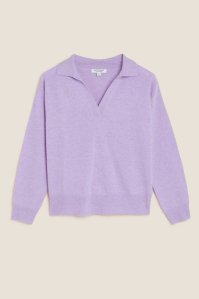 Warehouse for bright shades
Best for: bold lesser-spotted designs
For those who want something a little less ubiquitous, look to Warehouse. Its knitwear offering is great, and flies pretty under the radar since its dresses and tailoring take the hero spotlight.
Fine knits are exactly what autumn calls for, and this ribbed color block one will look great under a blazer with jeans and white ankle boots. Most importantly, Warehouse's knitwear looks modern – no one wants a frumpy cardi.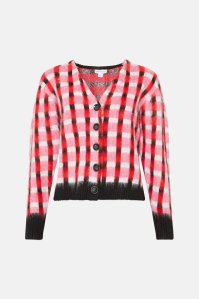 Uniqlo for chic basics
Best for: neutrals that you'll wear for years
Basic doesn't need to be boring, and often, the most worn pieces in our wardrobes are in the classic shades and silhouettes that transcend trends: think a camel polo neck or a navy wool crew neck, both of which Uniqlo do so well.
Ok, they're not about to be the most exciting things in your wardrobe, but when you need a cosy layer that works with any outfit, these are the ones you'll turn to.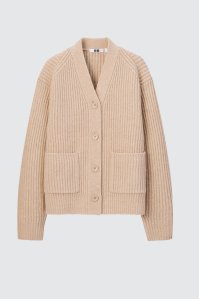 Mango for fashion-forward knits
Best for: outfit-updating styles
Striped knits have been the influencers' style of choice since last autumn, and their reign shows no signs of letting up. Mango was one of the first high street labels to jump on the trend which was pioneered by high-end labels like Totême. Such an It piece has the ability to transform an older outfit, and Mango is great for such items.
Kermit the Frog-esque green jumpers, oversized collared knits and those striped jumpers will add a new touch to your looks, the perfect new season freshen-up.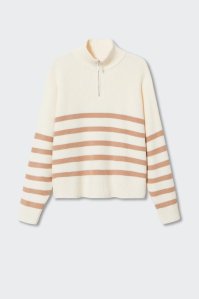 Kitri for statement styles
Best for: scene-stealing knits
Small British label Kitri is renowned for its It knits. The brand operates by a waste-reducing pre-order concept, where it essentially makes to order. It means that when the pre-order opens up for a particularly eye-catching piece, you'd better be quick, especially since you'll have to see it all over Instagram in the coming months – the statement styles are perfect picture fodder.
Let yours steal the limelight by pairing it with blue jeans, white trainers and minimal jewellery.