Did loungewear even exist prior to two years ago? Okay, I'm sure it did but it wasn't a part of our daily vocabulary. And it certainly wasn't a whole dedicated section in our wardrobes. But the way we dress has changed, and personally, I'm here for it. Whilst I love dressing up, and jeans and a blazer will always be my go-to look, my best loungewear is also on regular rotation – and not only when I'm working from home. 
Come summer though, your loungewear wardrobe needs a rethink, since the heavy jersey styles that are the best over winter are far too heavy for right now. I've figured out exactly what off-duty summer style heroes are worth buying – and how to incorporate them into my everyday wardrobe. Because good loungewear should go beyond being only for your work-from-home wardrobe – it should fit in seamlessly with the rest of your clothing.  
Which are the comfiest pieces to add to my loungewear collection?
Whether it's an oversized sweatshirt with your straight-leg jeans, or a loungewear crop top layered under a blazer, these pieces are not only made for comfort but have serious style credentials, too.   
Full tracksuits and leggings might not cut it in summer, though. When the weather's hot, we're looking to sweat shorts and sweat skirts with crop tops, biker shorts with oversized tees, and jersey dresses to keep us cool and comfy.
1. A crop top
Admittedly, at first a crop top sounds like the antithesis to loungewear. After all, who wants to lounge around with their stomach exposed and straps digging into you? But when you look at the new crop (sorry) of loungewear styles out there for summer, you'll see crop tops that are as comfortable as they are cute.
Which style of crop top is most comfortable?
And as a major plus point – it means no bra required, which is pretty much the pinnacle of comfort. To ensure no digging or discomfort, opt for cotton styles with some elastane for stretch. A thicker band will provide some support for your boobs, if you need it.
What should I wear with a crop top?
And don't be shy to wear your crops out of the house. It's the perfect layering piece, under everything from blazers to cardigans, dressed down with leggings or styled up with high-waisted jeans.
Which brands do the best crop tops?
The High Street is full of on-trend and comfortable styles, but my favourites come from cult activewear brand Adanola and Kim Kardashian's loungewear brand Skims.
2. Lounge shorts
You might be tempted to limit your loungewear wardrobe to cooler weather pieces, but don't underestimate the importance of some lighter pieces in your loungewear wardrobe. After all, no matter the weather, when you are taking it easy you'll be glad to have something comfy – and cool – to relax in.
And the UK is prone to a lot of heatwaves in the summers these days, so you'll appreciate having a few pairs of shorts to slip into when tracksuit bottoms and leggings just won't cut it.
Which style of shorts should I go for?
Introducing lounge shorts: ideally elasticated, cotton shorts, that can only be described as akin to pyjama shorts, that you'd also happily wear out of the house. Like most loungewear, the ideal lounge shorts won't be fitted or clingy but they will be quite short in length to balance out the shape.
What should I wear with shorts for lounging around in?
And even if they look like your boyfriend's boxers, they can still be styled up. Pair them with a tank and denim jacket, add in some sliders and you've got the cool girl aesthetic down. Or, go for a lightweight nylon or cotton pair with a matching shirt like With Nothing Underneath or PE Nation's.
3. Leggings
I would never have thought I'd wear leggings outside of the gym. These days? They're one of my most-worn items – and when you consider how versatile (not to mention comfortable) they are, it's not surprising.
Even though leggings are a winter staple, you can still rock them in summer — especially since most leggings are designed for working out and are therefore made from sweat-wicking lightweight materials. Just style them with a crop top and some sliders, and you're good to go.
What should I wear with leggings?
For off-duty weekend style, pair them with an oversized sweatshirt and a pair of New Balance trainers. But leggings can also be easily dressed up – paired with a striped knit or an oversized blazer, they look as good as they are comfortable to wear.
Which material should I go for when shopping for leggings?
Finding the perfect pair of black leggings is, however, quite a feat – whilst it might be tempting to buy the cheapest pair, I can guarantee you they'll most likely sag after one wear or be see-through (or both.) Try to avoid any designs with polyester in – rather opt for nylon or cotton leggings with a small percentage of elastane for stretch, and for the most flattering fit, choose a full-length style that elongates the leg.
Which brands do the best leggings?
They're quite an investment but for leggings that fit like a dream and will last for seasons, Skims leggings can't be beaten. But if the price tag is a bit much for you, for more affordable options that still fit the bill, look at M&S and Arket.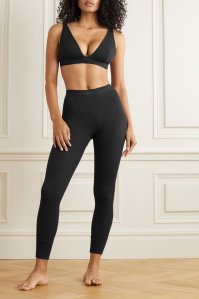 Oversized sweatshirt
Besides its coziness appeal, the sweatshirt has become something of a fashion staple.
Which style of sweatshirt is best for lounging around in?
And whilst a plain style is great for lounging around in at home, if you want a sweatshirt that you can style out of the house, a collegiate inspired design – a là Princess Diana – is the way to go.
What should I wear with a sweatshirt?
Pair it with leggings and cycling shorts for the ultimate 90s princess style. And don't be afraid to wear it with jeans for a more elevated look; just opt for a half tuck into high-waisted jeans for a more polished look.
Which fit should I go for when sweatshirt shopping?
Oversized is definitely the way to go for an effortlessly cool style and you'll be spoilt for choice on the High Street. ASOS has some great options, as does Stradivarius and H&M. If you fancy splashing out a little more for a designer logo, you'll be spoilt for choice at Adanola, P.E Nation and Rotate Birger Christensen.
3. Sweatpants
No loungewear wardrobe would be complete without a stylish pair of tracksuit bottoms. Because whilst leggings are comfortable, nothing can beat the coziness of a pair of joggers.
Which style of joggers is best for lounging in?
If you're looking to purchase a new pair, it's worth looking for a style that's slightly oversized with a high-waisted fit – it means they'll be comfortable enough to lounge in but still look smart.
I'm a fan of a cuffed jogger – they look as stylish paired with a white tee and trainers as they do with chunky sandals and matching sweatshirt. And if you're feeling sartorially brave, you can even dress them up with heels and a blazer – yes really.
Which brands do the best sweatpants?
Arket's colourful array of cuffed joggers are making me want one of each, and John Lewis' Anyday range are an affordable alternative. For summer, we love Stripe & Stare's lightweight joggers or Lululemon's loose track pants.