Who else proudly claims the 'lazy dresser' title? I know I do, and there's no harder working duo than the classic trouser suit. The styling potential is unlimited and it is the fail safe master of nailing all occasions. I always recommend this wardrobe essential to everyone I know no matter the style preference, size, height or age! It's also the easiest way to look like you've made a lot of effort when really you've made very little. The suit does all the talking…
I also have to stress that this co-ord can be worn all year round, it just needs a change of fabric or colour to keep things relevant.
Shopping tips and styling tricks for trouser suits if you're petire
The black cropped trouser suit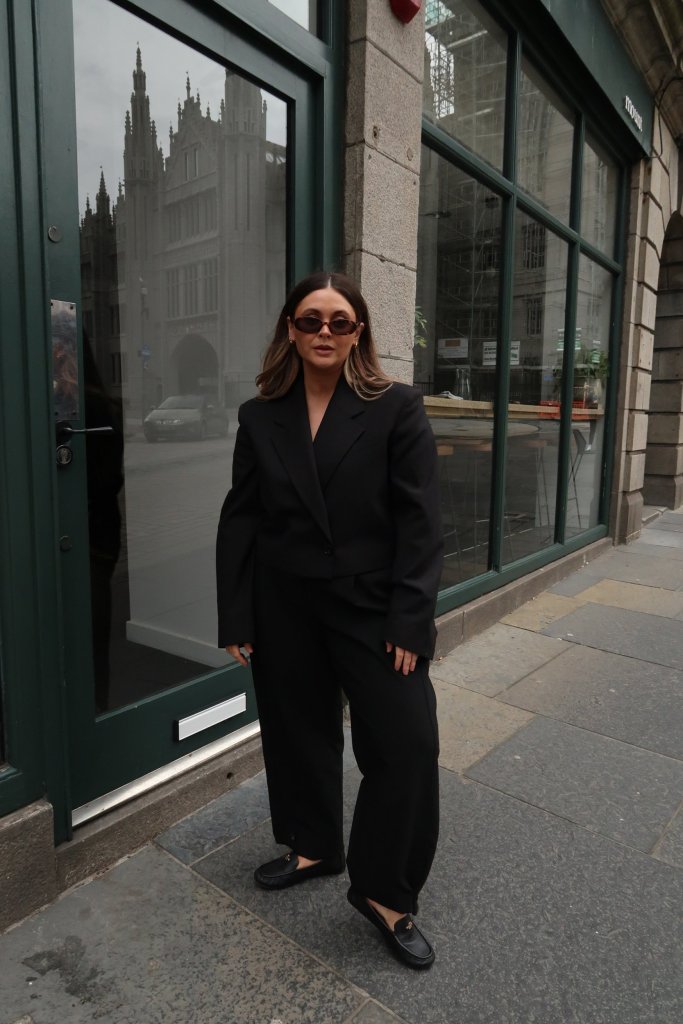 My top tip for tip-toeing into the trouser suit trend is to go with a colour or shade you feel comfortable with. Personally it's always going to be fashion's chicest colour: black. It also means it's going to last forever in your wardrobe and will allow you the flexibility to dress it up or down.
My second tip is to go for a leg-lengthening cut, like this cropped blazer, which cuts you off at your smallest part (the waist), which when paired with high-waisted trousers will give the appearance of longer-looking legs. I like to wear balloon-style trousers with a blazer to give a more unexpected silhouette that adds interest.
The white linen suit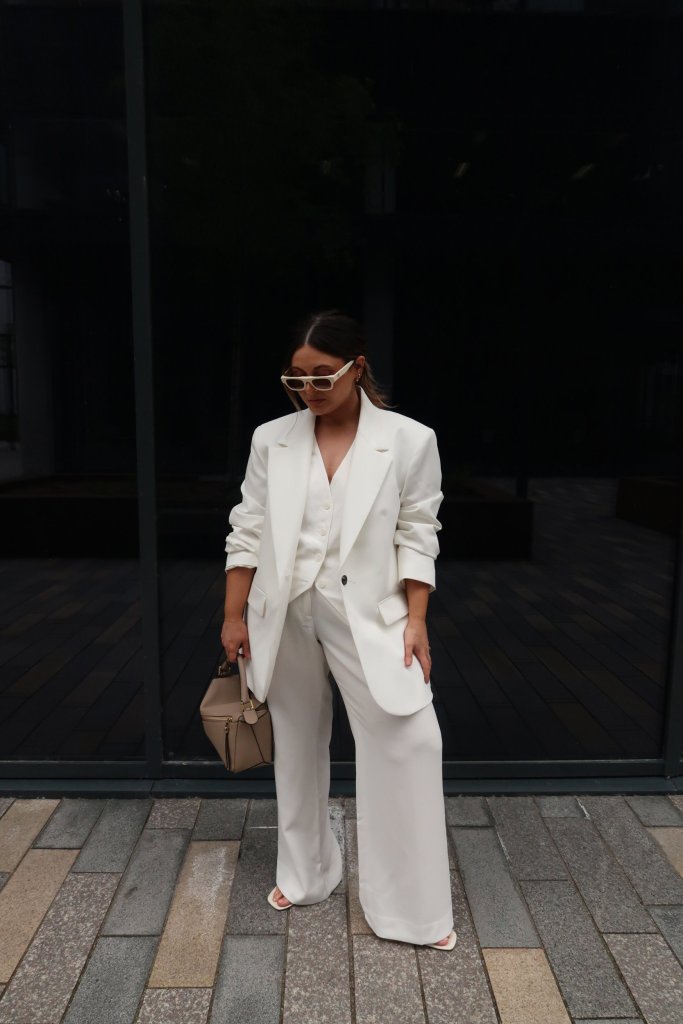 Say. No. More. This is the summer equivalent of the winter LBD. Every girl I know who styles a white suit absolutely stands out for all the right reasons. I adore the white suit and always will – it's such an easy way to look expensive. The *only* time I wouldn't recommend wearing this power number would be as a wedding guest, eek, can you imagine?!
If you love one for winter, it's a great idea to switch to a linen version during the summer months. Not only is white the iconic summer colour, when teamed with a linen fabric it's a real hot weather saviour – I love tailoring and don't really want to give it up during summer, so I find a linen or lighter cotton blend works perfectly. Top marks if you save your white suit for the last day of your holiday – tanned skin girlies will know what I mean!
The asymmetric suit
Okay, now this is fun, right? A somewhat unusual twist, but I happen to stan an asymmetric blazer/suit combo thanks to its clever illusion that expert stylists always use to their advantage.
Firstly, it helps to elevate your styling game compared to that traditional trouser suit look – see it as a premium edge that isn't too overly try hard. This asymmetric look is usually matched with an oversized proportion which, IMHO, also makes a garment look more expensive.
COS and Arket usually do this design trick on their more expertly-crafted pieces, but now you know the secret, you can start looking out for it everywhere!
As I'm petite, if I'm going for an unusual design on the blazer, I'll traditionally balance this out with a simplistic trouser design: a leg-lengthening flare will always be my go-to.
The pinstripe three-piece suit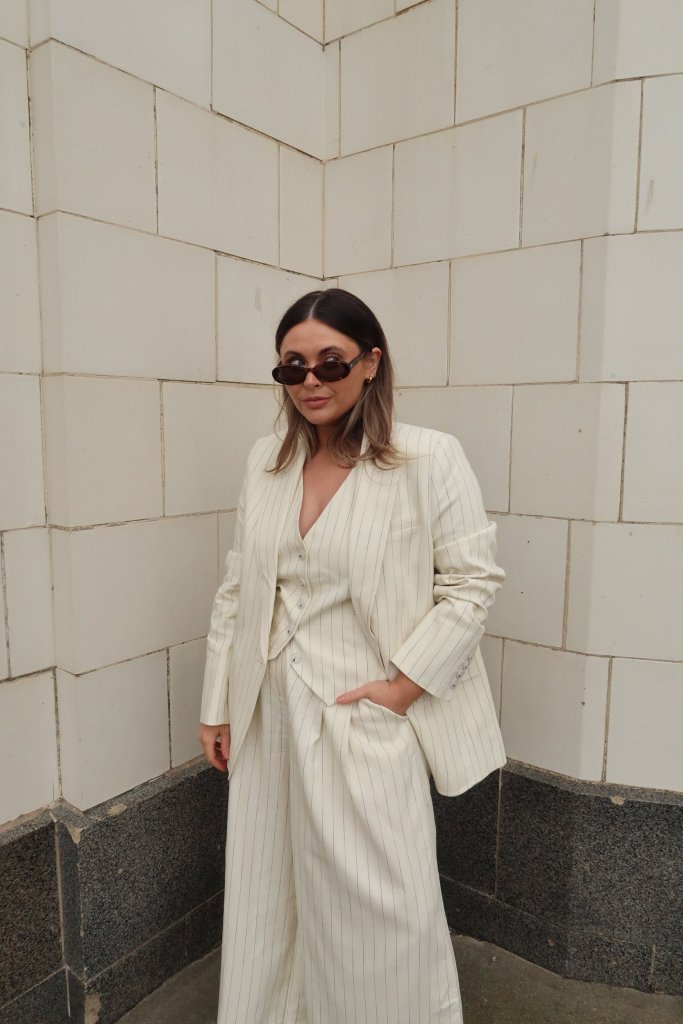 Stripes are everywhere once again this summer, so if you are looking for an investment suit that'll stand the test of time and stand out in a crowd, a good option would be the humble pinstripe.
A pinstripe is the perfect optical illusion for petite girlies as the subtle vertical lines will forever draw the eye from head to toe, giving those precious inches upon inches. It also goes without saying that often strong patterns can drown our frames, which is why if you would like to play with pattern, a pinstripe is the easiest and most flattering look to style up.
If you're going to be investing in one key look this season, hands down it's got to be the trouser suit. The most multitasking, hardworking and flexible styling piece you will ever own. The only issue is, like me, you'll start needing one in every colour, pattern, cut and fit…