As a self-confessed dress lover, I used to really shy away from jeans. It's taken me a few years but they've slowly become a wardrobe staple. Despite it still being tricky territory for my body shape, I've become way more comfortable shopping for jeans since. I'm somewhat in-between sizes: I'm a size 16-18, have big hips and thighs so there is a lot room for disaster, particularly as we're deep in the midst of a rigid-mom-and-straight-leg-jean-love-in.
I personally could spend all day trying on jeans, but the reality is that it's quite tricky to find denim in store when you're over a size 16 as the stock isn't as vast. It's really nice to try the different styles in person to get a feel for what you like, what feels good on the body and how you'd like to style them, so I headed to my favourite haunts and a few new to my radar.
I hit the high street on a Sunday morning to see what I could find, and you might be interested to know that I found some gems, and in some unexpected places. Here are my joint first place winners…
Where should you shop for plus-size jeans on the high street?
M&S
The first place I knew I wanted to hit up was M&S because one thing they will do is cater to my thighs. I went into the store wearing the brand's Sienna straight leg jeans with the exposed button up fly from last season – the ones it carries now come in different shades: a dark indigo, medium blue, dark blue and black. If you're looking for a straight leg jean with a bit of stretch, these are perfect. That 2% elastane means they are super wearable and comfortable, but beware they can stretch out, so I'd recommend sizing down one.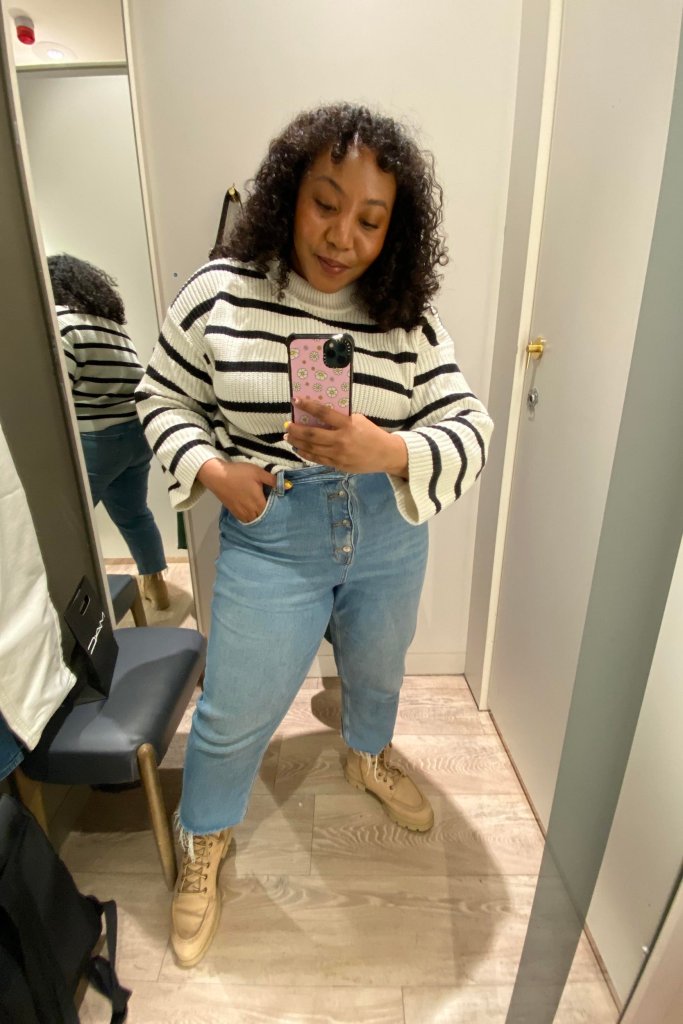 I was on the hunt for the wide leg jean I'd seen a few people on Instagram wearing. Now this pair in particular were the 18 long, so I knew they were already going to be too long for me (I'm 5'1") so I ordered them online to come to me at home in the petite length. They are perfect! Such a retro vibe, and they make me look taller. These are my new favourite pair.
Now, I mentioned my hips and thighs. If like me you need a bit of extra room in your jeans, the mom jean is the perfect style for you. I wanted to try them in white, and I absolutely love them – they're so comfortable.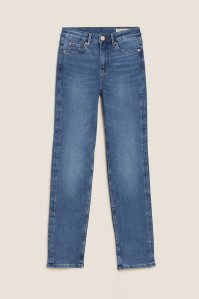 River Island
After spending a decent amount of time in M&S, I went into River Island just to see the lay of the land – I've had a few people tell me that they get their jeans from there so I was very curious.
I found this dark indigo wash pair which fit like a dream. This pair comes in a rigid denim with a teeny amount of stretch, but the fit was phenomenal and the quality was impeccable – you just know you'll get a lot of wear out of a sturdy pair of denim like this.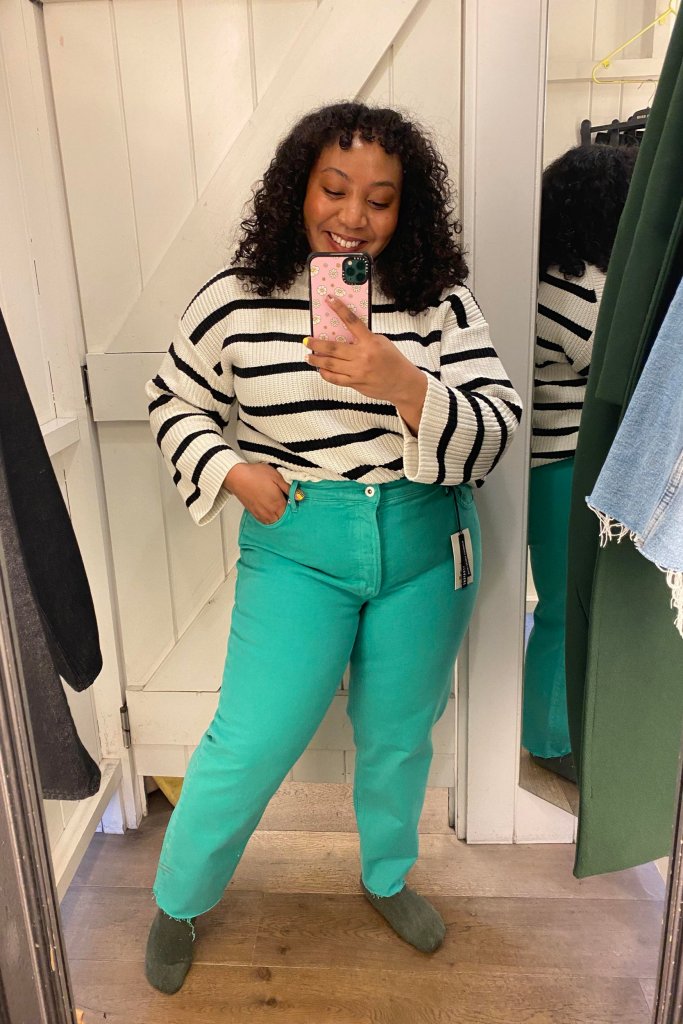 Then I had to find a bit of colour, of course! I'm so glad I came across this Bottega-green raw hem, high-waisted style because that colour is just too good to pass up. I'm wearing the 18R. If you're looking to add a pair of jeans to your summer wardrobe that aren't just your bog-standard blue shade, then this is definitely something I'd recommend looking into.