Ever since Tôteme blew the fashion girlies away with its heavenly striped knits, I wanted to see what was out there for me – someone who doesn't shy away from neutrals, is always keen to see what new twists on a trend are out there and is a curvy size 16.
That minimal Parisian chic vibe is always in fashion, and while I have no problem with a Breton, I just thought to myself, let's try and find a stripe with a bit of added serotonin, shall we? Now that combo is right up my street.  
When it comes to shopping for stripes on the high street, I've always felt like a lot of the options available were very neutral, and there certainly were no horizontal stripes in sight. Back in the day, stripes for anyone with a tummy felt like an absolute no, but we're here to have fun and break the fashion rules, aren't we?
On that note, I stormed the streets looking for a fun twist on an old classic and I was pleasantly surprised. Let me show you what the high street has in store this spring for stripes…
Striped sweater, £35.99, Mango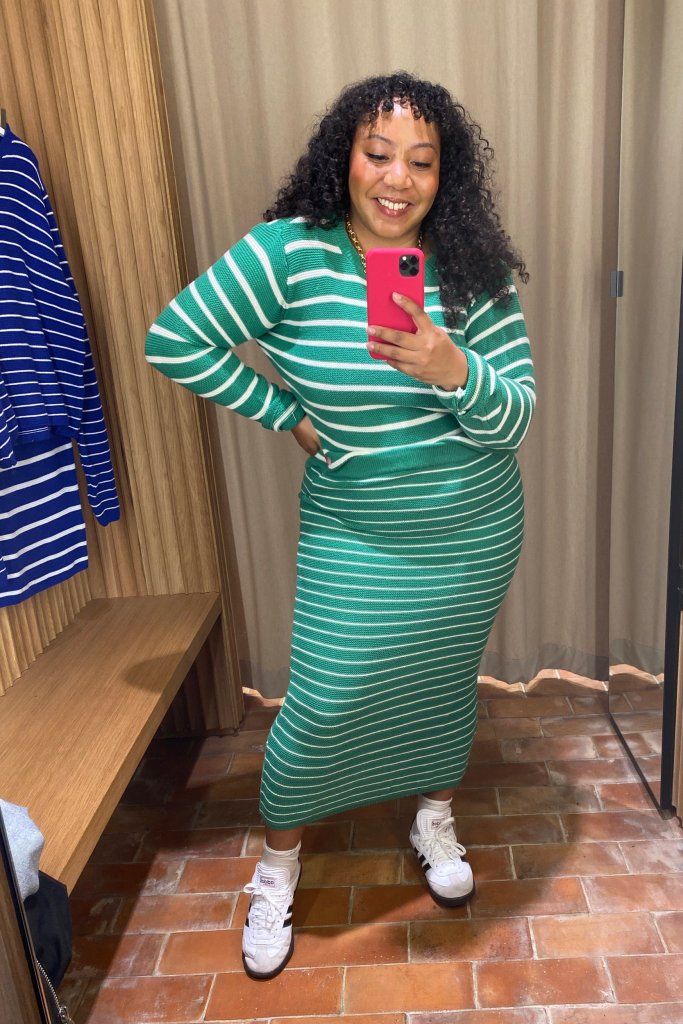 I've been delighted with Mango ever since it incorporated its plus size offering (up to a 4XL) into the main range. It's not the full range, however, and it's not all available in its stores, but that's a conversation for another day. That aside, this striped set is divine and you know how much I love a co-ord. I tried both the green and blue-striped sets in store and they're perfect to mix and match. I'm really into the way it's been styled .on the website with one of the different-coloured pieces tied around the waist to break up the look
Striped knit dress, £49.99, Mango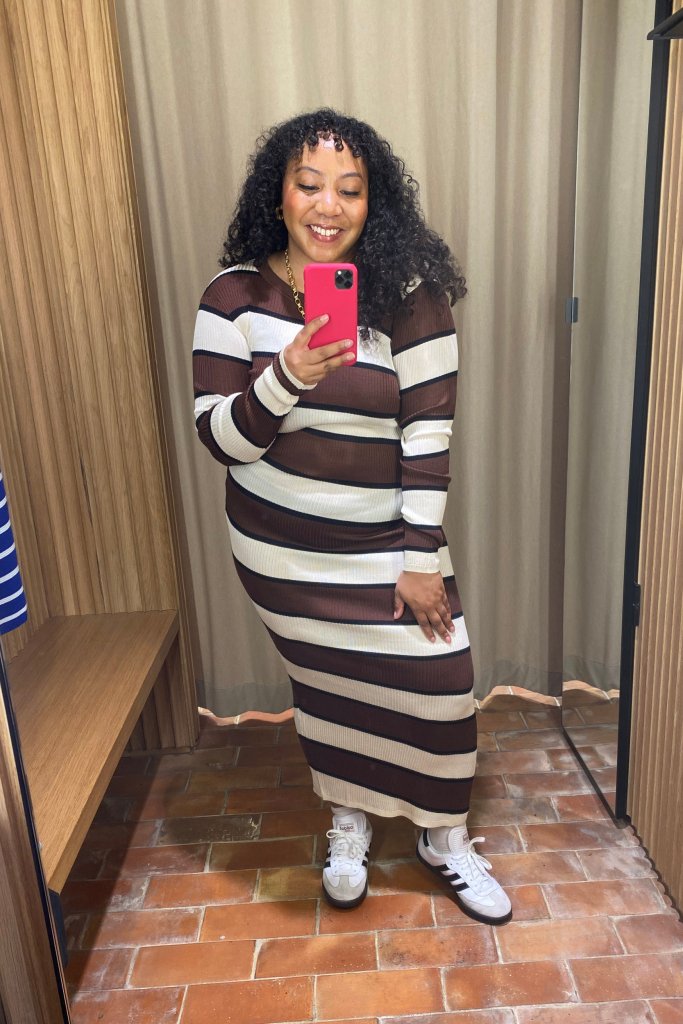 This striped knit dress is such a great spin on a timeless piece. It's still neutral in colour, and easy and comfortable to just throw on, but the stripes are asymmetrical and wrap around the body in a really beautiful way. You could keep it very casual with trainers as I have, but I think loafers and cute socks would be really fun with this look as well. Or take it into evening with heeled boots and gold jewellery. Very chic.
Striped cardigan, £69, Autograph M&S
You can never go wrong with a cardigan. Even when the weather warms up, it'll prove itself to be the perfect layering piece. I loved the relaxed fit of this Autograph one and it has both thin and thick stripes for something a bit bolder than your traditional striped cardigan. The tortoiseshell buttons give it an elevated finish, too. It's ideal for the office as it has a smart shape – just team with camel trousers and loafers.
Jersey striped top, £29.50, Autograph M&S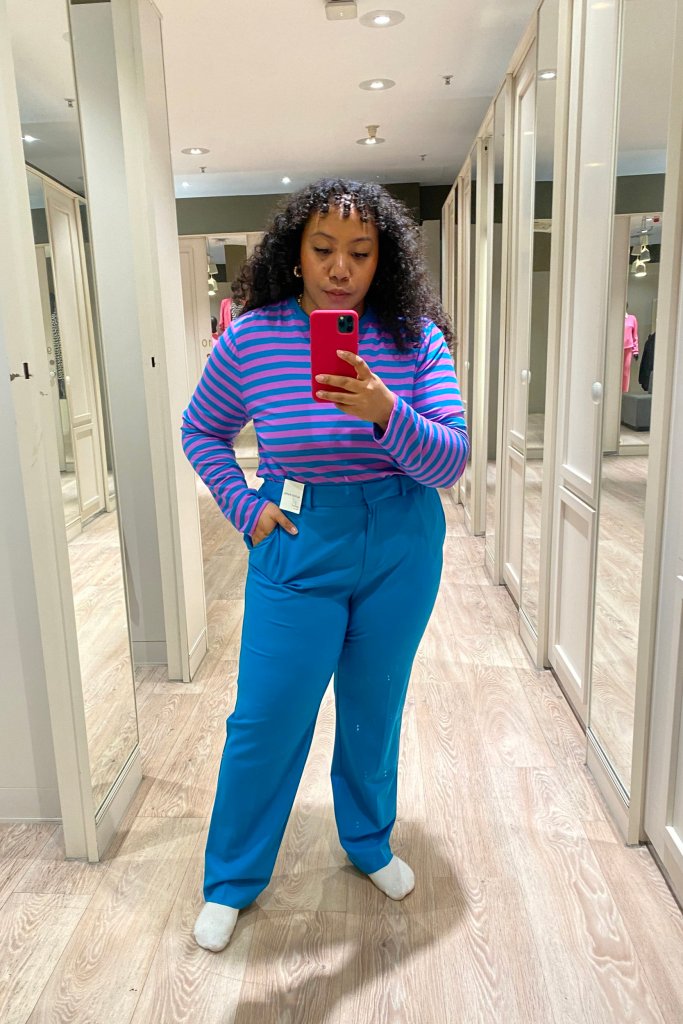 Speaking of layering, we all know that a striped top is a wardrobe staple and my faves at M&S have come up trumps with these. They come in so many great colour combinations – I'd be shocked if you didn't find a colourway that's perfect for you.
Striped top, £35, Autograph M&S
I've been really drawn to blue at the moment – it's a big trend this season so this might be because it's everywhere! I found a couple of striped tops in the Autograph collection that are just perfection so I had to style them up!
Ribbed side slit top, £85, & Other Stories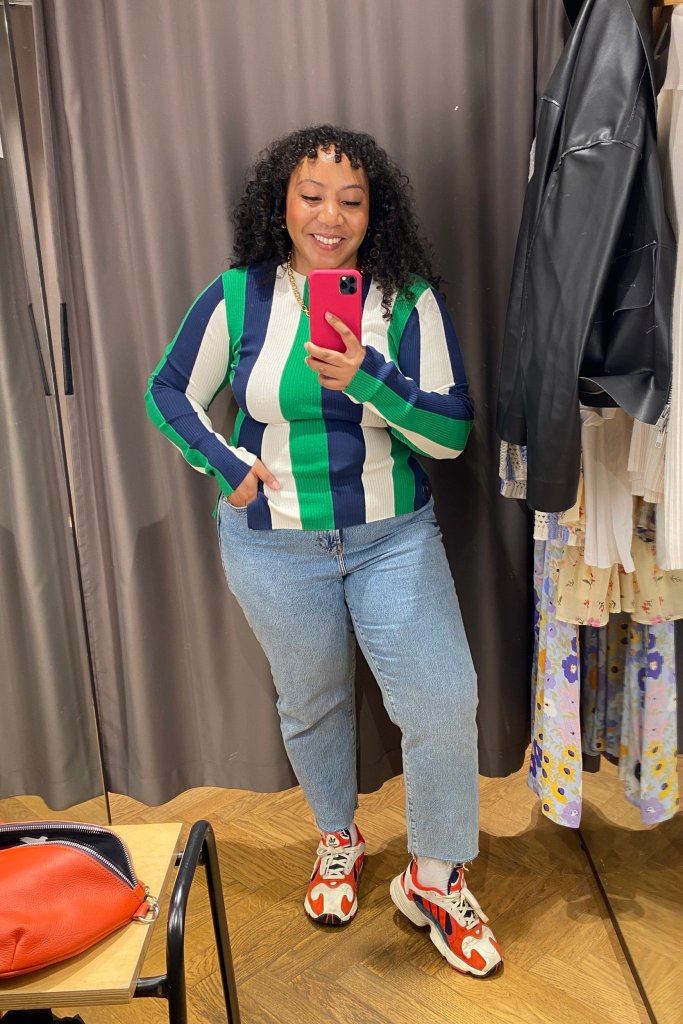 I headed to & Other Stories as I knew they would have something I'd like. They do that classic French-girl style to a tee, but of course I was looking for something that felt a bit more 'me'. I loved this fitted ribbed top with its punchy navy-and-green combination.
The thick stripe is something a bit different, same with the colourway, and I felt like it gave it a cool retro vibe, I think this would look great with wide leg or flared trousers and oversized glasses for a '70s feel.
And there we have it! Stripes are well and truly having their moment and I am here for it! There are countless ways to get stuck into the trend and loads of colours to choose from! You can go vertical, you can go horizontal, you can go monochrome if you like, but you know me, I'll always opt for a bit of colour. Hopefully that's given you a little bit of inspiration as we head into spring, now go forth and earn your stripes!