The summer season is on the horizon, the holidays are booked! You're about to be bus, club, another club, bus, plane, next place – and you of course want to look good and feel good doing it! Swimsuit season used to be a time of year that had me stressed out and struggling. Plus-size bathing suits have always been about tummy control and ruching in all the wrong places and weird skirts… but no more! I'm here to show you some absolutely sensational options.
As of right now I have absolutely zero set plans to sit on a beach but I have about four swimsuits in my basket… it's called manifesting. Let's get to it…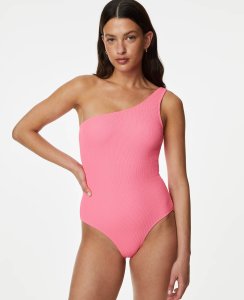 The best swimwear for size 16+ in stock now
For the Hunza G fans
If you've been a fan of a crinkle cut swimsuit a la Hunza G then you must, must, must get your hands on a youswim. The brand first stormed the scene with its one-size swimsuit, then it recognised that even with the incredible flexible fit of those first sets, there was still a need for a wider size range. There's now Stretch I, which fit sizes 6-16 and Stretch II, for sizes 18-28. The one-pieces come in a range of colours. My favourite? 'Cosmic', which is a gorgeous raspberry shade. This is such a great all-round swimwear brand that feels like it has something for everyone in terms of colour and cut.
For the high street devotee
When I need something that's going to fit and is going to last, I know I can count on M&S. This one shoulder in a bubblegum pink is perfect for those of us in our Barbie era. And will look even more gorgeous with a tan. This swimsuit has lots of stretch, I'd recommend sizing down due to the one shoulder if you want a bit more support, and a bit of padding. Just imagine this layered under a flowy white kaftan and a wide brim straw hat with oversized sunnies. Everything!
For the Ibiza girl
I know you're out there! The Ibiza girls, the festival girls, if you want a little showstopper then I've got the brand for you. Think bold colours, lots of shine, sparkle and stretch – Maribela is a gorgeous, bespoke brand that does handmade-to-order swimsuits. I fell hard for this black and white split one-piece that could also double up as a body for going out-out. Their bikini and one-piece styles also vary for coverage, if you want a regular full coverage bottom, high-rise or thong style.
For a sportswear vibe
I love this set from Light LDN, founded by author and body-confidence advocate Alex Light. The cut gives it that cool sportswear-luxe vibe and the high waist makes it super-comfortable to wear. The brand's size range runs from a size 6-30, which is absolutely brilliant. The fabric's made from 78% recycled plastics from sea waste, so it just goes to show that small brands are really out here doing the thing.
For the bold cut-out queen
If you're bold, you're brave, you're a risk-taker with your tan lines, then this swimsuit from City Chic is for you. I'm a lilac lover myself, and I really love the cutouts in this one-piece. As I've mentioned before, plus-size swimwear can be a bit dull and make you feel overly covered up, but sometimes you want to be fun and playful with colour and shape – this piece does just that.
For those who fancy a print clash
I simply wouldn't be me if I didn't recommend something with a good print and I believe I've found it! I'm crushing hard on this Never Fully Dressed Sunset Tropics Mae swimsuit. It's got such a bold print but the muted colours also give it a bit of a retro, pared-back feel. I'm still humming along to the Daisy Jones and the Six album as we speak. This one piece is a simple cut with a tropical sunset all-over print. The straps are adjustable as well so is great if you need extra support, and it is breast-feeding friendly.
Now you've got your swimsuits, go forth! Now you know what you're wearing, you can book a holiday so I can live vicariously through you – whether you're just drinking cocktails while the sun sets or having a jetski moment, at least you and I know you're gonna look good doing it. Don't forget your SPF!