Hi fashion team, I need some help. I have tons of events this spring – a baby shower, three 30th birthday parties, my own birthday party and a wedding – and I really want some nice dresses to wear. I love Reformation – dress goals – but I really can't afford it, especially because I need a few for these different events. Where can I get dresses just like Reformation's but without the £££ price tag?'

Leah from Hayes
I can relate to this, Leah. If I could wear out out dresses from one brand for every single event, I'd pick Reformation without a doubt. I have a printed green one that I bought in the Net-a-Porter sale a few seasons ago that I wore to so many weddings I had to put it in storage for a bit because all the photos looked the same.
The properly sustainable label just gets dresses right, so I get why it would be top on your radar. They tick every box: sexy, modern, classic, fun and versatile, but with that comes that steep price tag that sadly doesn't work for my new season budget, either.
But that isn't the last word in it. I've worked out what Reformation does best and have trained myself to keep my eyes peeled when I'm shopping for even a hint of the brand's signatures at a more affordable store, and they should help you when you dress shop for events, too.
What makes Reformation dresses so good?
First up: the materials. Reformation excels at using recycled materials and really leads the way when it comes to fashion-forward designs that are truly sustainable. Silk, linen and viscose all feature heavily in its new season collection (just in time for wedding season) and are part of the reason the brand's designs look and feel so great to wear.
Those figure-skimming fabrics are what has Reformation's frocks looking so expensive, but thankfully the high street offers both in abundance this time of year, it's all about looking for the right cuts. Which brings me to my next point…
The cuts are the next most important thing. The brand offers both wide supportive straps as well as 90s-esque spaghetti straps, plus strapless, halter neck and low back designs (just like Skims' infamous maxi which we found great dupes for too), so its sheer vast offering is one of the reasons for its popularity as there's something for everyone.
Its fitted bodices tend to give way to flared skirts that make for a flattering cut. That thigh high slit up the right leg is a Reformation signature that's been adopted by a host of high street brands. It's a genius addition: it adds a modern feel to long dresses, and makes form-fitting styles a little easier to walk in, so it's a design detail worth looking for.
Lastly, the prints. Unique, quirky patterns are a favourite of the brand, as are luxe jewel shades for party season and pretty pastels for summer. It's synonymous with tonal floral prints – think pretty ditsy styles that are equal parts cool and feminine. Luckily for us, they're copied up and down the high street.
Find dresses that tick all three of these points, and you have the ultimate Reformation dress dupes. Here are the places I've found that nail them:
Where to get the best Reformation dress dupes on the high street
& Other Stories
& Other Stories is infamously great at dresses, and given it excels at classic-with-a-twist fashion, it's no surprise it has Reformation dress dupes (timeless dress shapes in fun colours and chic prints) down pat. It brings out a different puff-sleeved midi each season, and this oatmeal number would look great with gold heels and a glitzy bag for a fancy dinner.
It's the printed green number that I spotted that ticked every box, though: quirky print? Thigh high split? Long puff sleeves? Slinky viscose material? This could easily pass for Reformation.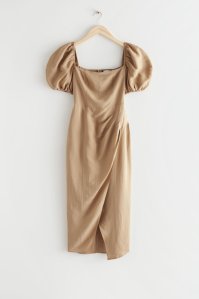 Nobody's Child
British label Nobody's Child should be one of the first on your hit list. Its vast offering spans printed day dresses (perfect for a baby shower), and silky low-back midi's that'll take you to a birthday dinner and beyond.
They're versatile (just like those Reformation dresses) and well made, so you'll be able to wear them again and again with a change of accessories, and with cost-per-wear a key focus as we look to save money, you'll be glad you found these dupes.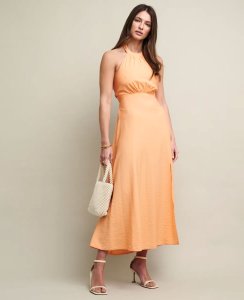 Omnes
We're big fans of Omnes here at Eliza: its star category is slinky dresses, and much like our beloved Reformation, it releases a signature flattering style in a ton of colours and prints.
Omnes' hero is the Riviera: a slinky bias cut dress with an updated cowl neck and strappy back: it's sexy enough to wear on a glam night out, but modest enough that it works for a wedding with a blazer and strappy mules. No mean feat.
Mango
Mango is great year-round – its accessories game is unrivalled on the high street. This season, it's nailed the casual sexy vibe Reformation is renowned for: just look at this pink satin midi dress.
Mango's price points are also ideal for a piece that feels special – which is what you want for a big birthday celebration – and will be a little less ubiquitous than Zara's party dresses, too.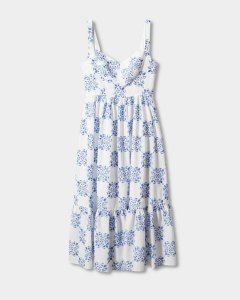 Kitri
How cute would these Kitri printed dresses be with black boots or Veja trainers for a baby shower? They look smart and dressy but feel effortless and casual – ideal for a day of events where lots of pics will be taken.
After Reformation, it has unique prints down, and these three options will gain you extra style points among your friendship group, too. The prices are a little steeper than the others on the list, but rest assured the quality and design speaks for itself.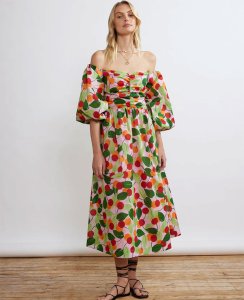 Abercrombie & Fitch
Is it just us or are A&F reaching back out to their OG millenial audience with these new season dresses? Big A&F logos and younger 'fits have been replaced with grown-up dresses and separates for special occasions and holidays.
Take their red crepe midi dress with a high slit and their pretty vintage floral linen dress as perfect examples – we saw them and instantly thought of Reformation dress dupes.