As much as I love the art of fashion, from following the latest trends to putting together a capsule wardrobe, I've never been one to sacrifice comfort for style. Blister-causing stilettos, jeans that I can't comfortably devour a pizza in or a strapless top I need to keep hoisting up just don't feature in my wardrobe. So, you can imagine that the trend of wearing stylish silk pyjamas everywhere but the bedroom is right up my alley.
Whether it's down to the post-pandemic blurring of lines between home and the outside world, or fashion's current love affair with all matching sets, wearing your nightwear out and about is a look we can't get enough of.
The trend was popularized by premium brands like Olivia von Halle's printed styles and Sleeper's party perfect feather adorned PJs; and whilst swoon-worthy brands like these are high on my wish list, their designs cost a *little* bit more than I can justify. But the high street and more affordable brands are taking note and coming out with their own silk jammie sets worthy of a festive night out. 
But what exactly makes a PJ set suitable to out from under the duvets? Silk or satin sets instantly look more luxe and out-of-the-house appropriate than your regular cotton jammies and prints are a great way to elevate a set to going-out status; the more outlandish and fun, the better I say. If an eye-catching print is a little too much for your style sensibilities, a plain silk pair (minus any piping or monogramming that screams 'bedtime!') can look equally as chic.
When it comes to styling your silk pyjamas, starting with the right fit is also key to achieving an effortless but still put together look; opt for a top long enough to be able to tuck in and pyjama trousers that are fitted on the waist but looser on the legs.
Accessories are key when wearing your new jammies out and about; stick to minimalist, sleek jewellery like gold hoops or layers of necklaces to elevate your look.
A smart bag will also amp up your outfit; avoid casual totes and rather opt for a structured leather bag in the day, and an embellished or metallic mini bag in the evening. And whilst you might expect to need to throw heels on, they do look equally as good with trainers or even a flat leather sandal. And the best part of the whole look? Once you're home, you're already ready for bed.
Chelsea Peers
If you're after bold, playful printed PJs, Chelsea Peers should be your first port of call. Described as a 'modern loungewear brand,' it has some of the best printed pyjama's I've found at an affordable price point. Think bright green leopard adorned sets, mustard jammies with contrasting zebras, and navy giraffe printed styles – their PJs are all about standing out (without breaking the bank.)
Perfect for off duty-days where you still want to look put together, or for dressing up on a girls night out, you'll be surprised how versatile such a statement set can be. Fanciful prints aside, their range goes up to a size 28 and they have maternity styles – both rarities when it comes to chic pyjamas.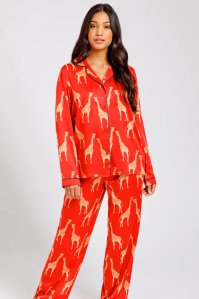 Arket
Arket is one of the high street brands that you know will always deliver on a trend, in the coolest way possible. True to the brands pared-back aesthetic, you won't find any wild prints or embellished nightwear, but rather stylish neutral styles.
There are gorgeous 100% silk pyjamas; cut for an oversized fit, they're perfect for achieving that effortless cool-girl aesthetic – just add heels and hoops for a night out. For a more casual look, layer the shirt worn open over a simple vest (incidentally, a basic that Arket also nails) and your favourite trainers.
LilySilk
As the name suggests, LilySilk should be top of your list if you're after a set of silk pyjamas. Whilst their price points are a little more on the spenny side, for 100% mulberry silk, they're *actually* great value for money.
The brand has printed styles available, but it's their plain silk sets that I think are worth adding to your basket. Coming in a variety of colours, and slightly differing styles, you can even size customize the sizing of your set for an extra £20, ensuring the perfect fit – whether it's for a night on the town or a very chic night in. And the best part? Despite their fancy fabric, they're machine washable. Sold.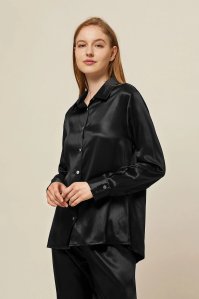 Zara
Zara's lingerie collection always blurs the line between underwear and outerwear, so it's no surprise that their current pyjama collection could easily pass as daywear too.
For example, their satin pyjama trousers have cargo detail patch pockets, or there's a silk-blend set with a wide sleeve collared shirt that despite it's nightwear label, wouldn't look amiss in a meeting.
Wear the matching sets for ultimate cool-girl vibes, but if you're looking to get maximum cost per wear, experiment with mixing in your current separates, from denim to cashmere jumpers.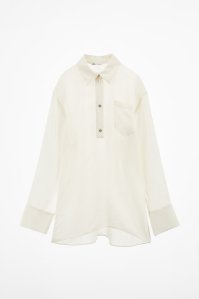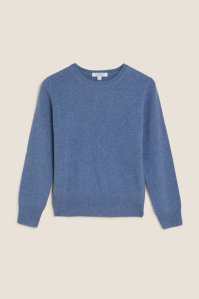 ASOS Design
ASOS Design is one of my high street go-to's for anything trend led; and their elevated PJs are a great example of why. They tend to sell out fast (just like anything good on the ASOS site) so there isn't a huge selection but the prints and detail on the styles available make these affordable sets look much more expensive than they really are.
Contrasting hems like on this retro set and the double-breasted design of this style elevate these sets, making them both great options for a night out.
Pair with a colourful embellished kitten heel for a head turning look in the evenings, or if you're feeling brave dress your PJs up for the office with a pair of heeled mules.
Nadine Merabi
If you're after a pair of extra-fancy PJs to wear out for a special occasion, whether it's your hen do, the festive season or a big birthday celebration, Nadine Merabi's feather adorned sets should be firmly on your radar.
Coming in 8 different colours, they're designed in satin with elevated details like diamanté encrusted buttons – jammies don't come much more boujee than this.
Whilst I'd be styling a set with a pair of sky-high silver platforms, if you're more of a flats girl, you'll be happy to know a pair of jazzy pointed flats will look just as stylish. And whilst you don't really need much more accessorizing (after all you'll be out in head-to-toe satin, feathers and crystals), a pair of statement earrings is the perfect finishing touch if you're of the more-is-more attitude.