The favourite figure-hugging style beloved of it-girls like Kate Moss, Paris Hilton and Lindsay Lohan, skinny jeans booted out bootcuts and took over millennial wardrobes. Once a versatile denim staple, skinnies could be glammed up with heels for a night out or tucked into biker boots for a festival.
Fast-forward to 2021 however, and Gen Z ignited a TikTok take-down of the millennial style. The take-away being skinny jeans are so unbelievably unflattering, they should be ripped up and burned. Ouch.
Are skinny jeans in style in 2022?
Turns out in 2022, everyone wants to know whether or not skinny jeans are still in style. For me, the answer completely revolves around how you style them.
Don't get me wrong, I love wide leg and straight leg jeans. They're flattering, comfortable and are instantly more allied to the chic influencers on our Instagram feeds. But I can't get rid of my skinny jeans either.
I was born in the middle ground between Gen Z and millennials and that's where I'll remain…a skinny jeans mediator.
Which colour and cut of skinny jeans are the most flattering?
Whether in darker or lighter rinses, I like my denim to have some structure, as well as a bit of stretch, as it gives your jeans a more luxe feel. Yes, straight and wide-leg styles are having a moment, but skinnies will forever be a versatile jean, ready to style straight into your work wardrobe or dress up for going out.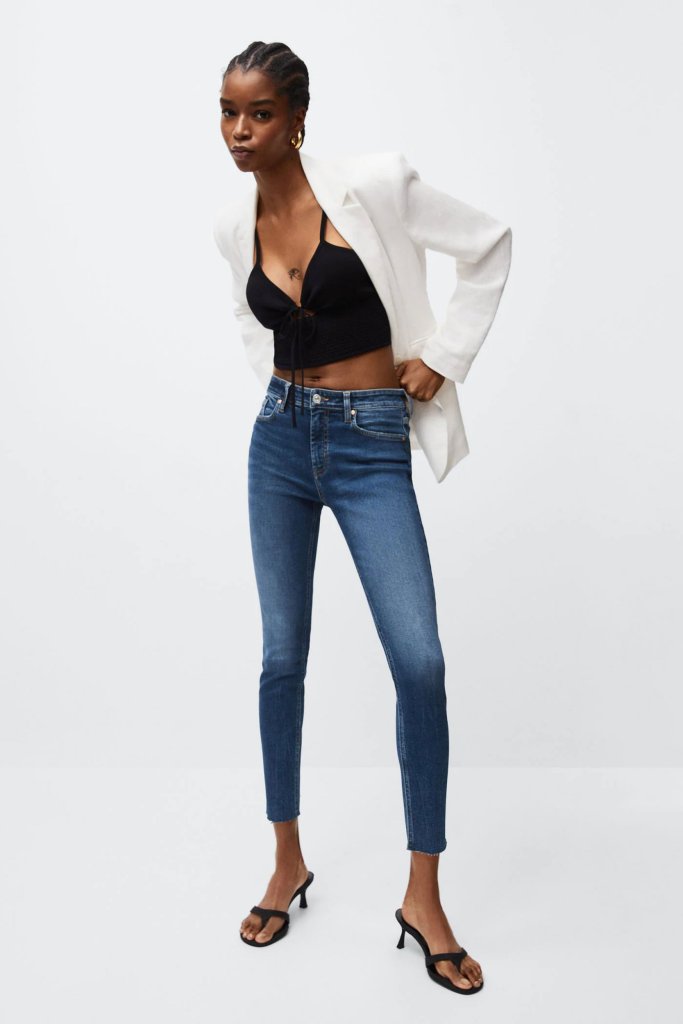 How do I style skinny jeans?
There are more options than you think when it comes to how to styling them. I like to tuck mine into boots à la Celine with a roll-neck or blouse, adding an oversized blazer on top, a styling trick that's easy with the slim-fit style.
For summer, switch to ballet flats or loafers to nail that chic Parisian vibe. If you're after something a bit edgier, tuck your skinnies into a pair of stompy boots or studded ankle boots with a slouchy logo tee.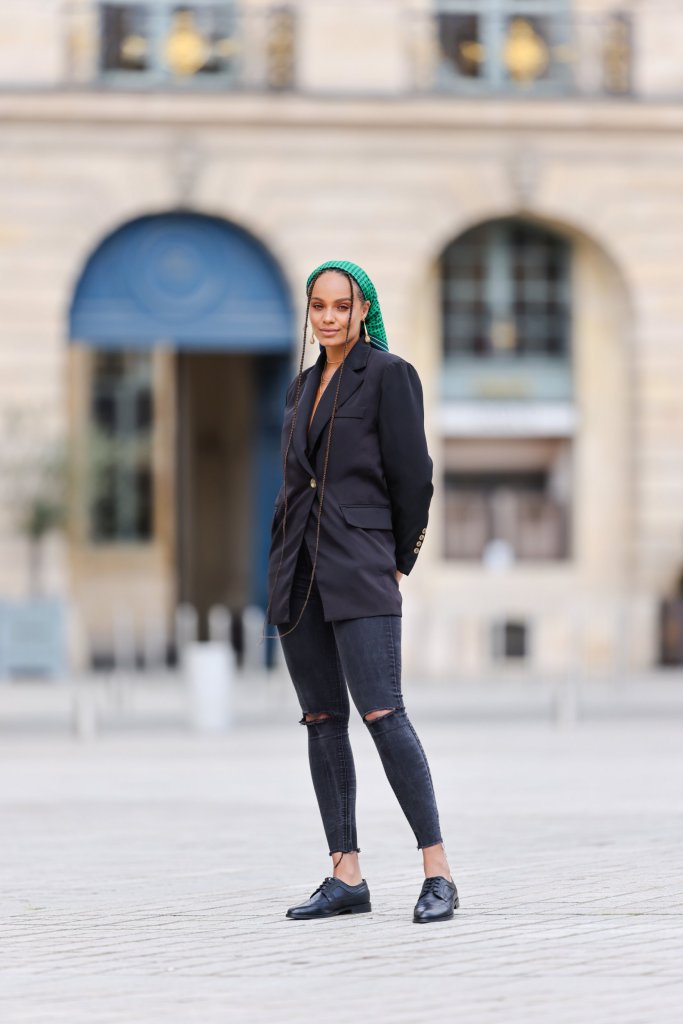 For every day ease, simply pair your skinnies with some trainers or sandals – just make sure they're cropped above the ankle and not bunching at your feet. Then, to balance out the skinny shape on the bottom, try oversized layers on top or statement accessories. Think shirts with frills and puff sleeves, XXL bags, or stand-out sunnies.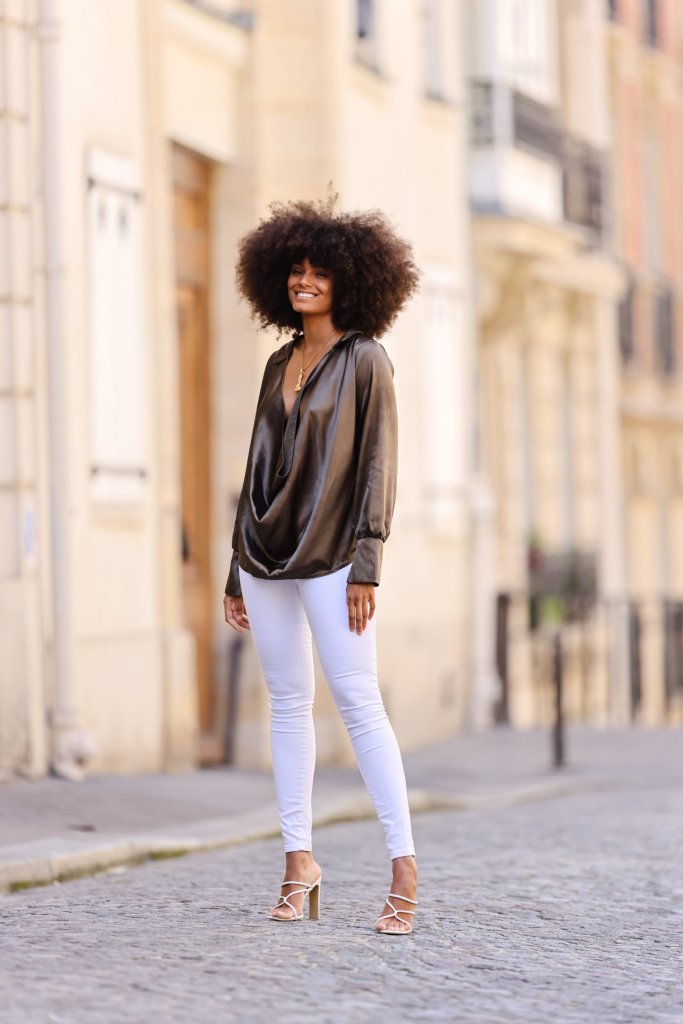 What to wear with skinny jeans
Skinny jeans aren't topping the denim hierarchy right now, but they've not disappeared forever. Whether you invest in a new pair, or dig some out from the bottom of your wardrobe, it's all about what you wear with them. Here are the many ways you can look modern and stylish in yours:
1. Oversized blazer with loafers
This has been a great year for blazers and an oversized style will balance out a pair of skinnies. Switch slim-fitting shirts for more relaxed styles. Then, pair with a belt, loafers and bag (the gold accents all adding an edge to the look).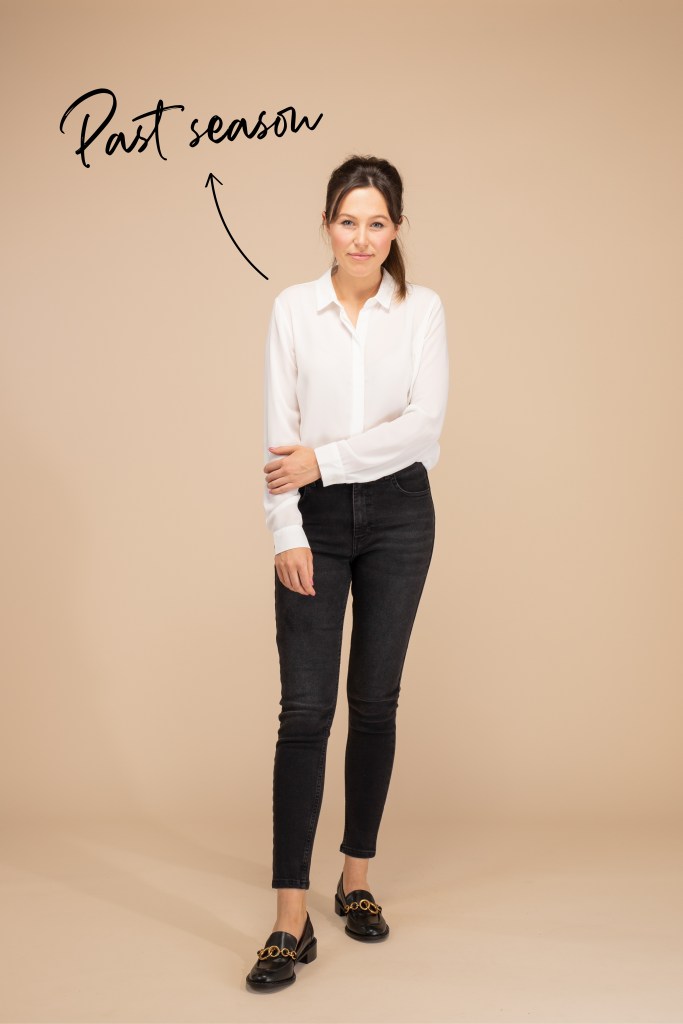 2. Slouchy cardigan with slip-on shoes
We love a colour pop for a summery look, and pairing skinny jeans with a pastel slouchy cardigan and a candy-pink bag nails the vibe. The more oversized and cuddly the cardigan is, the better.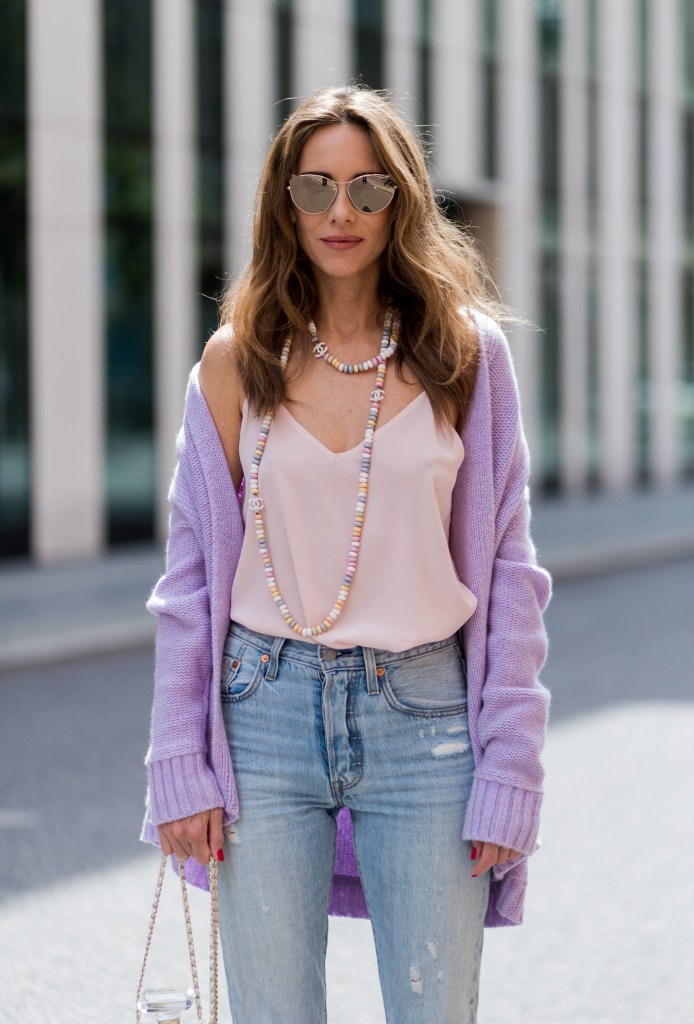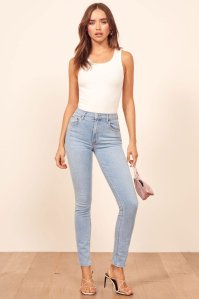 3. Oversized shirt with trainers
For oversized shirting, Arket is unrivalled. The denim twill adds a more laid-back feel, and the curved hemline will sit relaxed over a pair of skinnies. Throw on some trainers and a pair of trusty Levi's skinny jeans, with a subtle rip and relaxed fit, and you have a low-key look for everyday.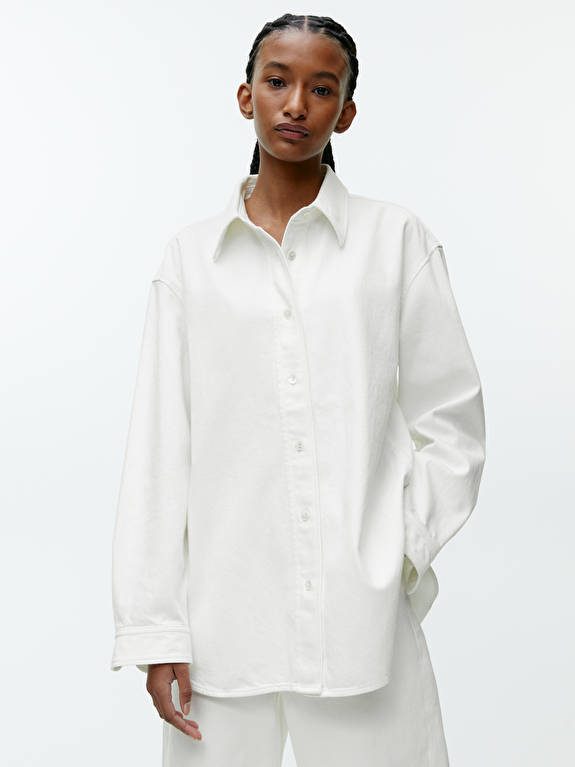 4. Smart top with strappy shoes
Style up a going-out look with a crisp longline blazer. If vest tops and bodies aren't your thing, then try a shoulder-pad tee instead. It'll also help to balance out the proportions of the high-rise skinny jeans.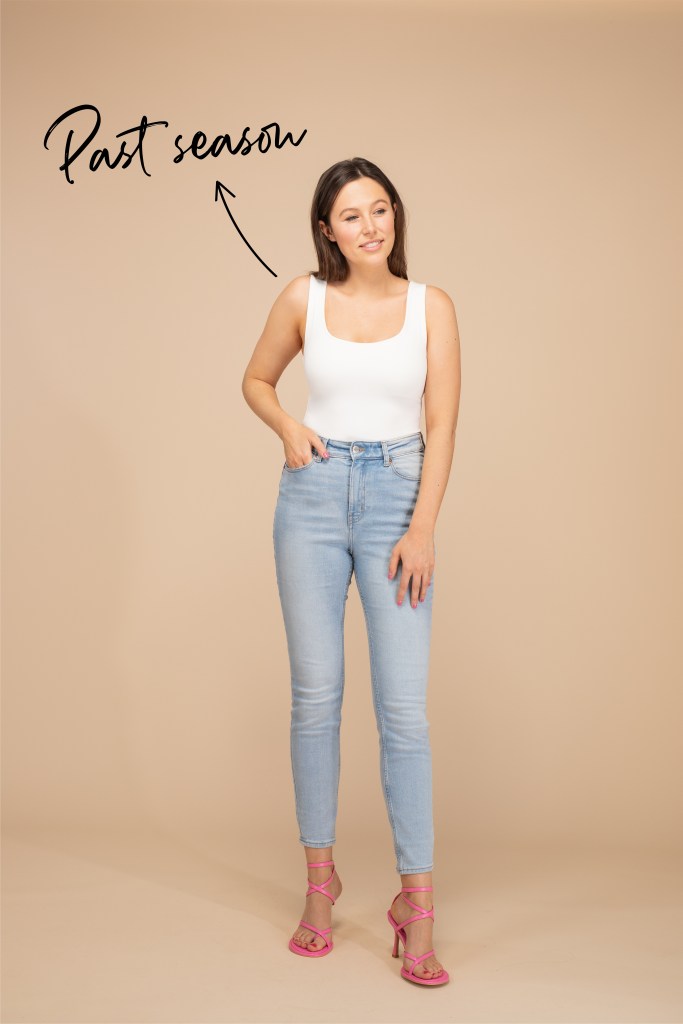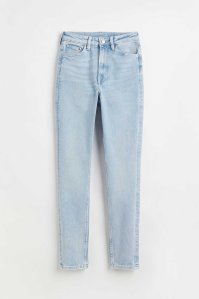 5. Blouse with statement heels
The jeans-and-a-nice-top outfit is loved for a reason. A tie-front blouse is perfect for wearing with skinny jeans, as you can offset the tight fit of your jeans with a more striking shape on top. 
For a night out, add heels (I love the tougher leather look of these ones), and elevate your outfit with gold jewellery and a stand-out bag.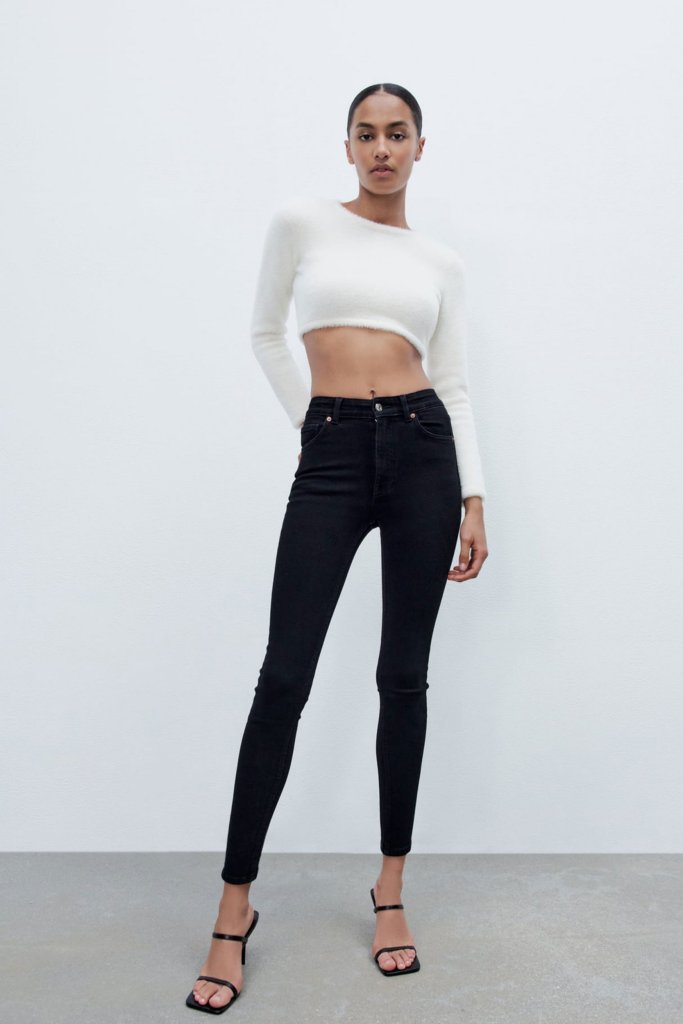 6. Smart layers with stompy boots
Skinny jeans and stompy boots are an ultimate combo, and make a great base for layering up on top, from puff sleeve blouses (with knitted vests and oversized jumpers in colder weather) and belted coats.
Not only is it a smart look (especially with a crisp new pair of black rinse jeans), but it's also really comfy for everyday wear, as a well-made stretchy denim fabric will snuggly hug your legs all day long.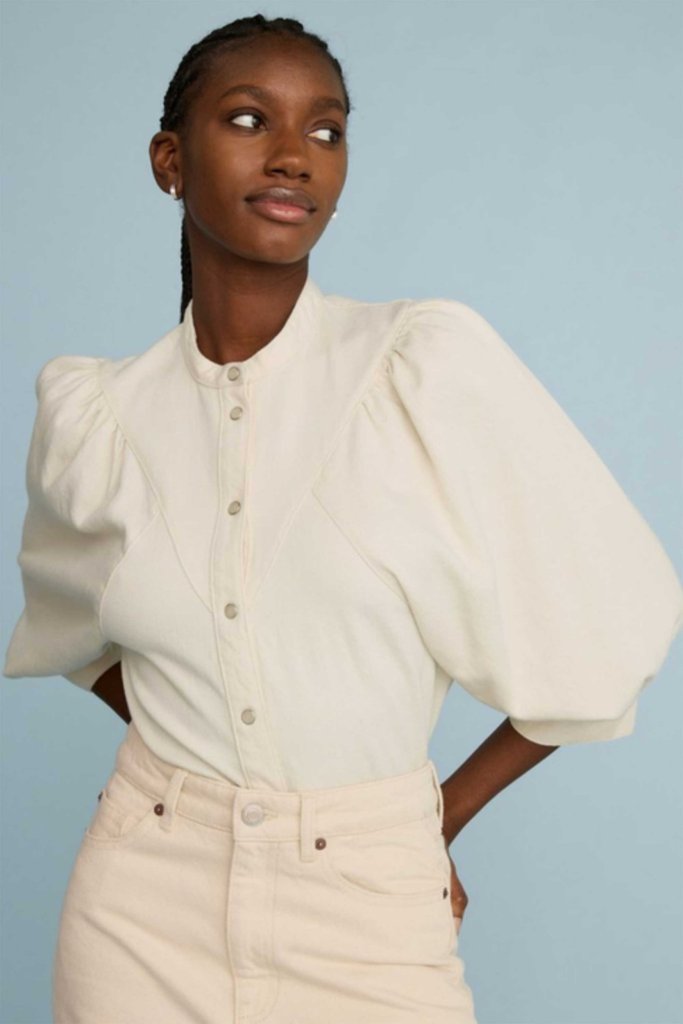 7. Summery ruffles and sandals
For a summer outfit, pair raw hem denim with soft tan leather sandals. Instead of a tight fitting top, try a pretty ruffled blouse half tucked in, balancing out the skinny fit of the jeans.
Cinch your waist with a tan belt, and co-ordinate with some cool sunnies: I love a fun coloured lens.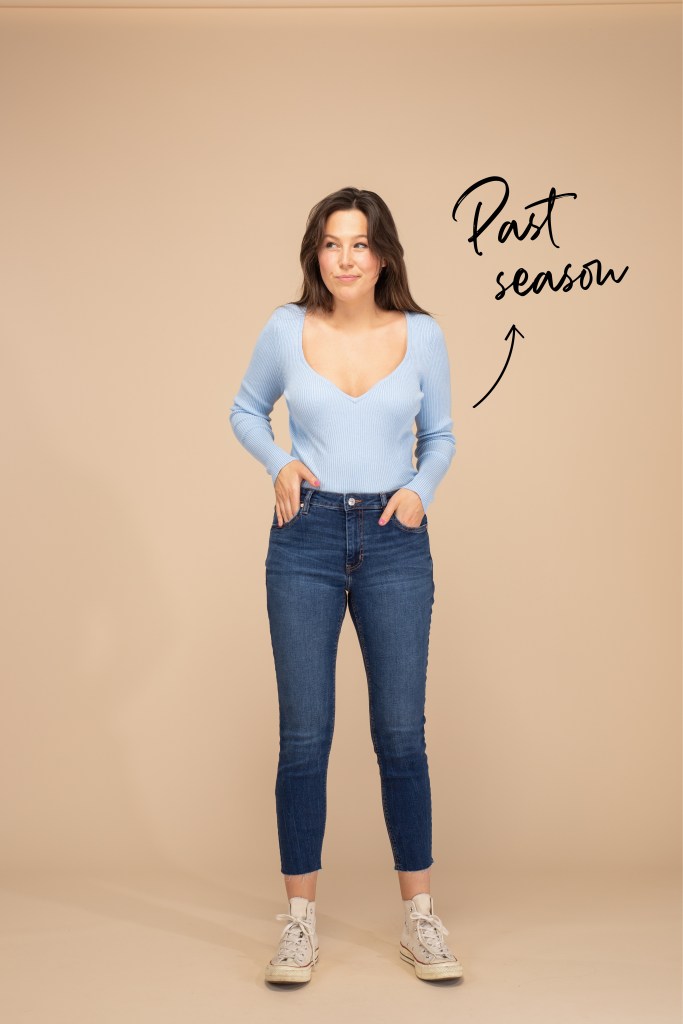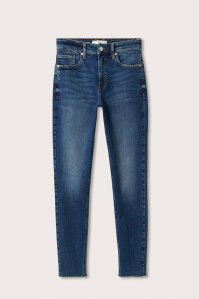 8. Logo tees with studded boots
Denim fades but this look never will. It's a classic. Treat yourself to a pair of gorgeous studded boots, an investment logo tee which is arguably the go-to formula for wearing skinny jeans.
If you're conscious of the jeans' skinny fit, find a t-shirt that's made from good quality cotton and has a relaxed, slightly oversized fit so you can wear it over the jeans, with just a neat little tuck at the front.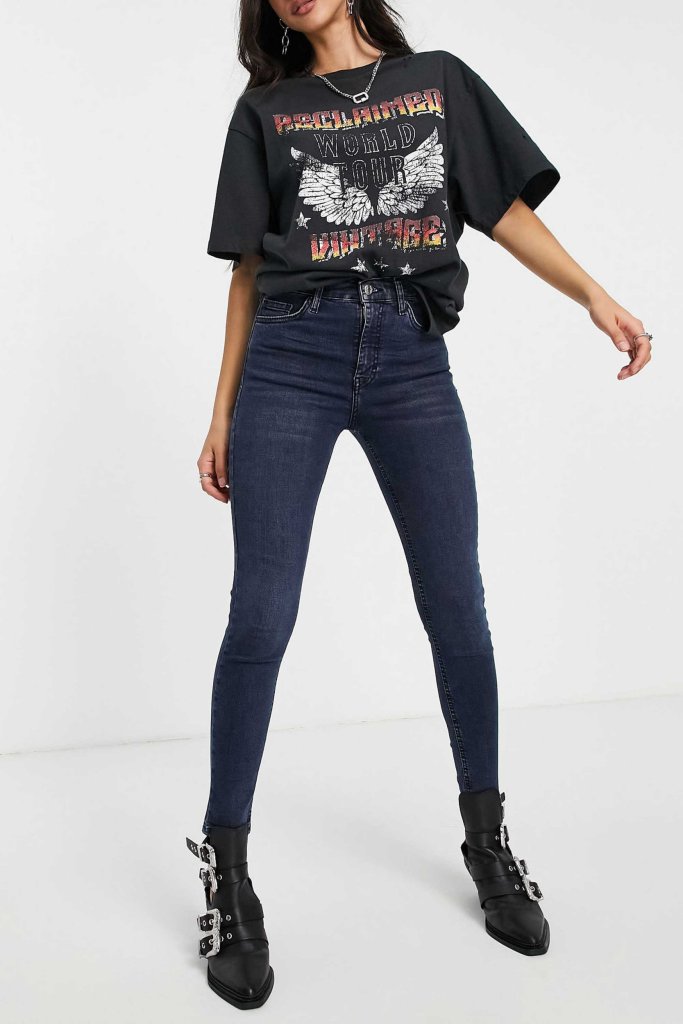 9. T-shirt and cowboy boots
I'm obsessed with Cowboy boots for this season and this pair is perfect for strutting around in. To really showcase them, they've got to be paired with some great skinny jeans that'll seamlessly tuck into them. Keep it simple by wearing a Weekday white tee, and throw on some simple jewellery.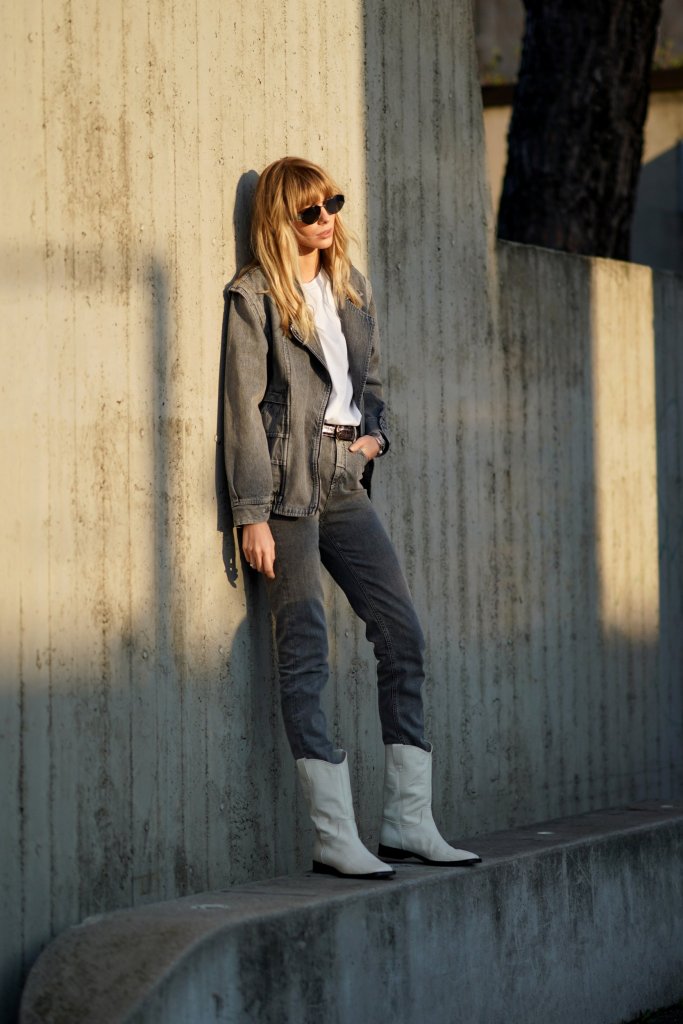 10. Blazer and knee-high boots
In colder weather, skinny jeans are perfect for tucking into knee-high boots, especially in dark rinses which will always elevate a look. Throw on an oversized blazer for extra chicness, and co-ordinate your accessories to complete the outfit. I love this JW Pei bag. It's an Instagram favourite and it's easy to see why: with a modern shape but classic neutral hue, it feels timeless, and is versatile enough to wear every day.