Thanks to spending far more time at home in more recent years than we'd ever have imagined, this led to many unexpected moments; Zoom job interviews, working out in our living rooms (thanks, Joe Wicks) and going so far as to consider wearing our pyjamas outside. This is how the trend for 'nice' pyjamas took off.
If we're working from home and spending longer periods inside, of course we want to be comfortable. But we also wanted to feel put-together too. I know I do. And from high-end to high street, brands got on board. So now you can find a range of pyjamas and loungewear that are super comfy and minimum effort, but still make it look like you spent ages getting ready. It's a win-win, right? There's no going back.  
Which brands do the best affordable and stylish pyjamas?
Now that summer is here, your pyjamas will need a rethink anyway, so I've put together a list of my favourite places to buy chic pyjamas that you'll want to wear all season long. You can even wear some of them outside too – I won't judge. 
H&M is one of my go-tos right now for amazing minimal pieces that are versatile – not least because I'm trying to shop consciously. It's important for me that an item will last, so I ask myself how much wear I can get out of it. And even though H&M is on the cheaper end of the scale, don't mistake this for meaning it's not worth buying. One category they're excelling in is nightwear and loungewear, and it's especially great for minimal items that can double as daywear.  
H&M
Best for: PJs and loungewear that can double as daywear
Its pyjama sets with long trousers and sleeves are as lightweight as they are luxurious, and the tops could even be worn as a blouse with trousers and heels (I do this quite often).
For something fancier, go for its satin slip: It's light and airy so it's ideal for warmer nights and – thanks to the still-popular slip dress trend – can be worn outside the house, too.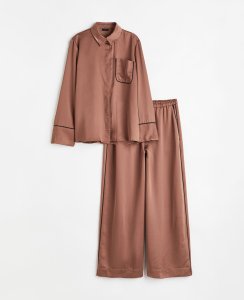 Mango
Best for: good quality, luxurious-feeling PJ sets
It's nice to feel expensive – even if that's not always reflective of reality. Mango is somewhere that can help you achieve this with their beautiful range of chic, luxurious pyjama sets. Their pieces are relatively simple but the fabrics and styles are anything but basic.
On the rare occasion it gets very hot in the UK, you want your PJs to be as breathable as possible and Mango has you covered with its cami and shorts sets. Again, with this floral set, the shirt can be worn separately in the daytime – wear it over denim shorts and with sandals for a cute holiday outfit.
Similarly, its printed cotton sets: even if you prefer to sleep in something with less material, this is a great set to pull on during the day if you're working from home as the shirt has that blouse-y look that won't raise any eyebrows on a Zoom call.
Urban Outfitters
Best for: unique but versatile basics 
One thing I think Urban Outfitters does really well is its pyjamas and loungewear. Known for their edgier and more unusual designs, you can find some really fun and unique pieces that are still very versatile.
Its elasticated shorts are light, breathable and extra comfy, and the tops are another example of something that would look great outside the house too – pair it with denim cut-offs for a look that's perfect for a summer festival.
Urban is also great for more romantic nightwear. I love their bralettes and babydoll. They're some of the most reasonably priced items at Urban and they're unbeatable in terms of value for money and comfort.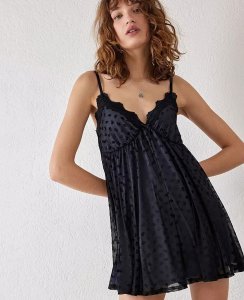 River Island
Best for: colourful, patterned sets  
River Island's pyjama sets are some of the best on the High Street as they're so reasonably priced. And unlike some other brands, their selection is well refined and not too overwhelming. Their designs are also super fun, so if you like to make a statement then these could be right up your alley.
Staying in is kind of the new going out these days and this set would be a fun option for a girls' night in in front of the telly with a stash of snacks. Who said staying in had to look boring?
I'd wear them for lounging around the house on a weekend morning as it's all about comfort for me when I'm having some down time. The loose, flowy fit is perfect for a warm summer evening but the bold patterns make it look put-together and elevated. At this point, it's a wonder that any of us ever decide to put on actual clothes…