If outfits had their own playlists, white summer dresses would be feel-good summer hits. There's a reason we go back to them year after year. Wearing a white summer dress makes you want to get in the sunshine, and for me is a sign that summer's fully en route.
Whether you're commuting in a heatwave, packing for a beach holiday, or looking for a stylish outfit to wear to Wimbledon and summer events, when it comes to summer occasions, this season is all about the perfect white dress. No fuss, frills, nor florals in sight, there's something about monochrome dressing that instantly feels chic.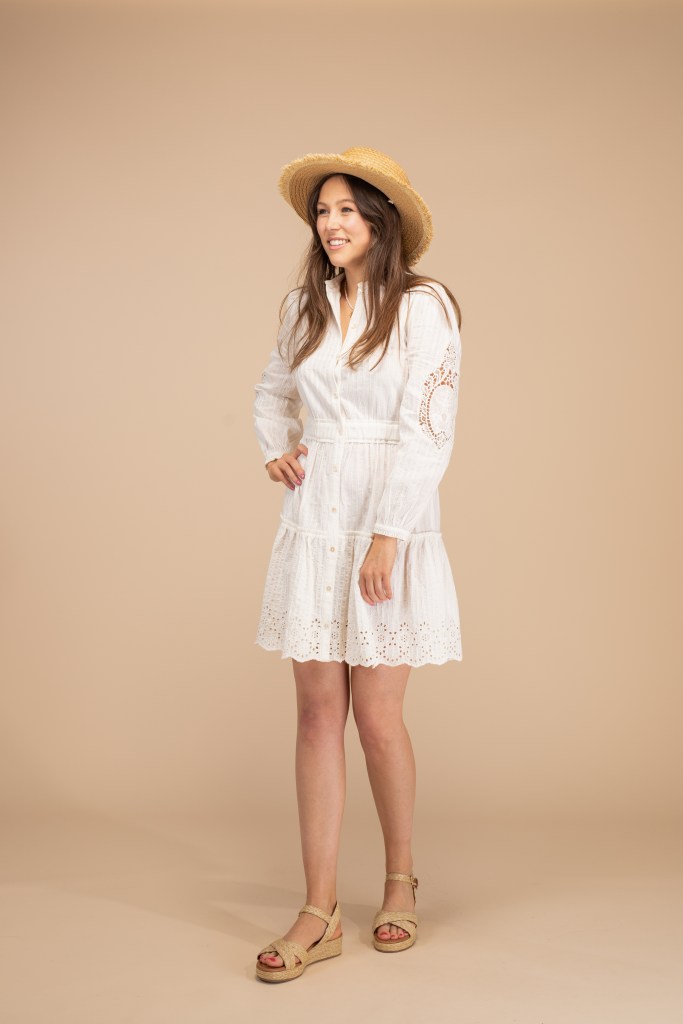 The thought of a white summer dress might have you reaching straight for the vanish. (Don't ever sit on a magazine in white jeans, I learnt the hard way!) Make-up, fake-tan, unwanted spillages… keeping stains away is annoying to say the least. But, my verdict is white dresses are worth the risk. Especially if you stick to washing machine-friendly fabrics that you can soak once in a while if need be (durable linens and heavier cottons are your friends here).
There's also the dilemma of looking a bit bridal in a white dress, especially now there are so many good wedding options on the high street (yes, really!). But if you're worried, pick a white dress that has a more playful design. From cut outs to puff sleeves, Broderie to laid back floaty styles, there's a white dress for every summer occasion.
For a summer event
A white dress makes the perfect amount of statement at a summer event. Striking? Yes! Effortless? Tick. All thanks to a classic monochrome colour palette that will be forever stylish. To keep the outfit choice smart enough for event-dressing, look to styles with some structure and linings (avoiding anything too flimsy, floaty or see-through).
In this edit, I've included boxy shapes, voluminous skirts, midi hemlines, and even a tux dress, all of which are stylish options for Wimbledon, too.
For a dressed-up dinner (and drinks!)
If your latest shopping spree has had you eyeing up some evening dresses, or you're looking for holiday evening outfit ideas, make sure a white dress is top of your list. They're timeless. Whether you choose a midi with a plunging neck-line, or an ultra mini to show off your legs, these white dresses make for a slinkier edit, with embroidery, sequins, and a bit of summer shimmer in the mix.
Love Island's infamous white parties aren't everyone's vibe, so steer clear of anything too shiny (I'm talking clingy polyester) if you're after a dress you'll want to wear more than once.
For a day in the city
White dresses are a surprisingly great option for summer dressing in the city, whether you need a brunch and shopping trip outfit on the weekend, are on a city break abroad, or are just heading to the office. Why? You know you'll look smart, they're easy to style up and accessorise, and they'll look just as good with white trainers as they would heeled mules and summer sandals.
The best shapes will cover you enough that you can breeze on and off a bus or the tube with no bother (think shirt dresses, or midi length linen wrap dresses), but will be floaty and relaxed enough to keep you cool at the same time if the weather starts hotting up.
For a summer break
If you've got a laidback day in the sunshine ahead (dreamy!) a white summer dress is always a good option. I love pretty broderie dresses for breaks away, but if you're more of a minimalist dresser and are looking for something more classic, you could try a white shirt dress, especially in soft and lightweight cottons (no linings necessary here!)
Another option to buy this summer would be a white crochet dress which is the beach cover up of the moment, ready to layer straight over some of this seasons most flattering swimsuits.