The key to any great Christmas Day outfit is to strike a balance between comfort and joy. The comfort needs to come in the fit – skirts with elasticated waistbands, voluminous blouses and roomy dresses are all permitted for the most delicious feast of the year. And the joy? That comes from loading on the sparkle, picking tactile fabrics and having fun with colour. 
Whether you're heading out to a restaurant to celebrate with friends, embracing the present-opening chaos with children, or relaxing in front of It's A Wonderful Life with a glass of champagne at your parents' house, I've got a style solution here for every festive scenario.
The suede skirt
I would happily wear this exact outfit to Christmas at my mum's house. A statement mini skirt, black jumper, knee-high boots and tights is a perfect combination, especially in a homely scenario where you will be kicking your shoes off as soon as you arrive. TV presenter Louise Roe has opted for tan suede, but the outfit combination would work just as well with patent and even embellished minis.
The ultimate evening dress
Perhaps your lot gets all dressed up and heads to a restaurant for your Christmas lunch. Maybe you're going for drinks at a nice bar after the competitive board gaming has fizzled out. Whatever the situation, an off-shoulder cocktail dress such as writer Susie Lau's Self Portrait number would bring the wow factor just nicely.
All-over velvet
Something about the softness of a velvet or corduroy dress feels right for Christmas Day. Layer up a pinafore style with a metallic lamé blouse, or find a loose cut with a frilly blouson sleeve and just add tights. Influencer Karina Marriott pairs her pink cord dress from cult label Johanna Sands with a festive red lip.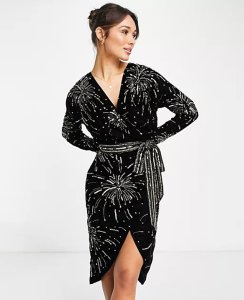 The trophy jacket
If you're off to a more casual Christmas setting, layering up with an embellished jacket is a fast way to make it look like you've made more of an effort than you really have. Writer Camille Charriere wore this sequined black jacket to the ballet, and upped the ante on her whole monochrome look.
Festive leather
Who said leather wasn't a Christmassy fabric? Author Candice Brathwaite proves there are endless ways to wear it beyond the standard biker jacket; here it works as a softly ruffled olive green dress, with puff sleeves. Other options to consider for your Christmas dressing list could be burgundy leather skirts, black leather peplum blouses or navy leather pinafores.
The knit and sequins
The combination of a cosy jumper and a dazzling sequin skirt would look off in all sorts of scenarios, but not on Christmas Day. Somehow the jumper-and-jazz formula works, balancing exactly the aforementioned comfort and joy elements.
Influencer Zena Shah has gone tonal, matching a forest green jumper with an embellished collar to a lime sequined skirt. Break the look up for myriad styling options that will take you all the way through Betwixmas to New Year's Eve.