Come snow days, you'll be piling on all the layers and wearing your puffiest coat with your warmest boots just to stay cosy and dry, but in the meantime, while we can look chic, it's all about mastering what works with what.
See it as a puzzle. One piece (coat) might look like it slots in nicely with another (jeans), then when you find another piece that looks like it works alongside (boots), you realise you need to go back to the drawing board as they don't slot together seamlessly. We can end up looking out of proportion or feeling uncomfortable, and a good winter outfit will be as functional as it is flattering and fashionable.
This is how best to pair a coat, jeans, boots outfit for the most stylish, flattering look.
Read more on winter outfit ideas:
Which coats and jeans work with which boots?
Outfit 1
Coat: Boxy short coat
Jeans: Slim leg jeans
Boots: Knee-high boots
Since it's notoriously tricky to find roomy knee high boots, the slimmer you can go with your jeans, the better. A slim-fit pair means you'll avoided dreaded baggy knees at the top of your boots and will balance out proportions.
I'd always choose a smarter structured boot if you're planning to tuck them in as it adds much more polish than a slouchy style would.
Coat-wise, a short coat – think a pea or boxy shape – looks great with a streamlined bottom half.
Outfit 2
Coat: Belted coat
Jeans: Slim leg
Boots: Cowboy boots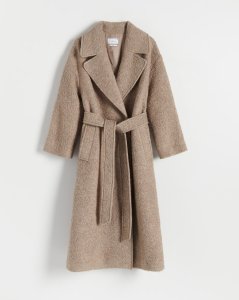 As much as you might think cowboy boots are knee-high so technically fall under the first category, a) you're correct, but also, b) the vibe is completely different. Western styles take centre stage thanks to an eye-catching design, so unlike the minimal knee high boots, they need a plain coat as the ideal partner. A belted long wool number is ideal.
Outfit 3
Coat: Short wool coat
Jeans: Straight leg jeans
Boots: Heeled boots
A feminine/masculine mash-up always adds interest to an otherwise simple coat, jeans, boots outfit, which is why sleek, glossy heeled boots look so good with slouchy jeans.
A short wool coat is an easy way to elevate a jeans, chunky knit and boots look, adding a modern AW23 edge that still works if the weather warms up a little.
Outfit 4
Coat: Puffer coat
Jeans: Cropped jeans
Boots: Chunky ankle boots
With a chunky puffer, it's all about balance. I'd avoid anything oversized on the bottom half as your frame can easily be swamped in fabric otherwise. Unless you have a shorter puffer that cinches in at the waist and pulls your silhouette in (in which case, tailored trousers work well), stick to cropped slim jeans.
Boots-wise, a chunky ankle pair that are high enough that there's no gap between the hem and top of the boot work best.
Outfit 5
Coat: Quilted coat
Jeans: Mom jeans
Boots: Chelsea boots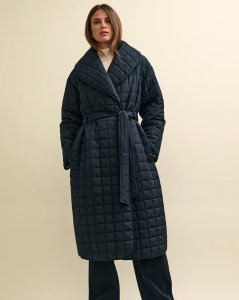 Ever since that Frankie Shop quilted jacket entered the chat, the high street has been working overtime creating dupes in a range of colours and shapes. Naturally, they speak to a casual ensemble, and since they're typically shorter in length and quite boxy, mom jeans – the perfect loose-slim middle ground – work best alongside. A smart pair of Chelsea boots suit the laidback vibe.
Outfit 6
Coat: Aviator coat
Jeans: Boyfriend jeans
Boots: Ugg boots
Uggs are *the* boot of the season, and while they might be a Marmite choice, there's no denying they look great with boyfriend style jeans and an aviator coat – it's the It girl look for winter.
The proportions here might seem odd, but see this as a casual off-duty I-just-threw-all-this-on look and you'll understand the vision. Top style marks for blue jeans with a slit in the hem.
Layer up with one of our favourite chunky knits:
Outfit 7
Coat: Faux fur coat
Jeans: Slim leg jeans
Boots: Heeled ankle boots
I'd argue that the glamour that a faux fur coat brings should be extended to everything else in your look, which means smart (slim leg, dark blue, no rips) jeans and heeled boots.
A vintage-esque kitten style is super-chic for this season, but personally, I'd go for this high Zara pair. They look so expensive IRL and would look great with an LBD for a fancy dinner.