Dr. Martens boots are instantly recognisable thanks to their tough chunky treads, iconic yellow stitching and rebellious aesthetic, but what do you do if you don't want to fork out £150 on one pair of boots? You find the best Dr Martens dupes, of course.
Drizzly days, soggy pavements and cosy coats coming out of storage mean one thing for your winter shoe-drobe, it's officially boots' season.
Dr. Martens know a thing or two about boots that'll stand the test of time, trends and tackling that unpredictable winter weather. Yes, there are platform boots for dressing up and knee-high boots for adding extra glam to your daily looks, but when it comes to a stylish (and reliable) everyday boots option, it's always a pair of lace up biker boots or stompy chelsea boots for me.
Buying a pair of Dr. Martens boots is an investment, but one many of us in the Eliza office can vouch for as a good one as they're timeless and hard-wearing designs. However, if the iconic Dr. Martens' aesthetic isn't quite for you and you're looking for boots that are unbranded – or if you'd simply like a cheaper alternative – then the high street has all your favourite boot needs covered. These boots might not have a designer label or price tag, but they're insta-worthy and sturdy enough to see you through lots of winters to come.
We've been boots shopping for you and found our favourites…
Lace up boots
One of Dr. Martens' originals, these 1460 Pascal DMs were first designed in 1960 and have been an iconic style ever since, made from a grained Virginia leather that instantly feels lived in.
The M&S pair of lace-up boots are a solid alternative – not only have they got a chunky tread like the original DMs, they also have clever insole technology for extra comfort and a side zip that'll make getting them on and off even easier (there's no need to worry about laces every time.) River Island's boots also have that distinctive worn grain effect, which makes them look more expensive. Read Nicole's guide on where to buy boots for wider calves next for more lace up boot options too.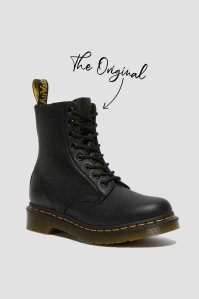 Chelsea boots
Chunky Chelsea boots are a versatile winter boots option, as you can easily slip them on and know you'll be comfy and warm for a day on your feet all day long.
For half the price (or even less), Asos, Office and Zara have some great alternatives to the classic DM style. Wear them with skinny jeans tucked in or straight leg jeans just skimming over the top of the boot for an everyday winter look you can rely on rain or shine.
Patent boots
Add a glossy finish to your chunky boots for a more polished look. This pair from H&M are made from their premium leather and even have stitching similar to the original DMs – for half the price.
Tall lace-up boots
If you're a fan of the knee-high boots trend but are looking to add more of an edge to your look, then these extra high lace up DM boots have some attitude. At £219 they are an expensive buy, but you could save over £150 with some of these dupes…
Fur lined boots
Out of all the Dr. Martens boots, I'm tempted by these Leonore faux fur lined Chelsea boots the most for keeping my feet toasty on winter walks and weekends away, but spending £169 is sadly out of my price range. This pair from John Lewis are the best dupes I can find at a more accessible price point, saving you £50 for when it starts to get really freezing and you're bring out all your thermals and cosy scarves.
Zip boots
Switch out laces for a statement zip and platform soles like the classic Sinclair DMs, but instead of spending £189 (and wiping out your whole new wardrobe spend), you've got these boot options all for under £50. Check out Eliza's tights guide next to see how you could style them with dresses and skirts for winter.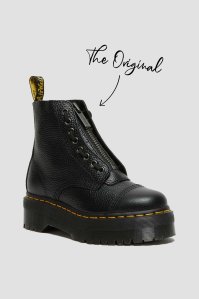 Colourful boots
If you're looking for something a bit different then step away from classic black boots and style a colourful pair of biker boots into your winter wardrobe instead, or look to khaki boots for a chic and neutral alternative.