It's my fourth week in Paris and when I'm not playing 'Avalon in Paris' as an honorary Parisian, eyeing up perfectly laminated croissants (seriously, it's a skill) or climbing up steep stairs (pray for me), I'm people-watching stylishly clad women and wondering where they bought 'x' from.
I've always been obsessed with Paris but most of all I adore the sense of style Parisian women exude – it's effortless. From the 'I just woke up like this' hair, to their taste in clothes. 
I thought I knew a thing or two about French women's style, but my eyes have opened to what that truly means. It's less about the clichés and things we associate with French style (think Breton tops and berets), and more about timeless pieces that can be interchanged and thrown together to create polished looks.
There's a reason Paris edits are so popular. French style has become a blueprint for pared-back fashion we can all aspire to no matter our budget. Whether you're going full-on designer, thrifting or shopping on the high street, you can achieve the cool girl French look – and although I'm not a cool girl, I'm definitely in my French girl era.
Autumn is when the Paris aesthetic is strongest and many of this year's trends fit seamlessly into the Paris aesthetic. Keep scrolling to see the ultimate French capsule wardrobe edit featuring some of my favourite pieces…
Ballerina flats
Ballerina flats are having a real moment lately. Although they divide opinion, the Parisians coined them as their footwear of choice many moons ago thanks to the Chanel two-toned flat. They're chic, comfortable and the perfect foray into enclosed footwear after we've retired our summer sandals (sad times). They undoubtedly make every outfit appear more feminine as they're dainty and streamlined. If you're looking for the Chanel look for (far, far less) French retailer Jonak has an almost identical style as part of their current collection.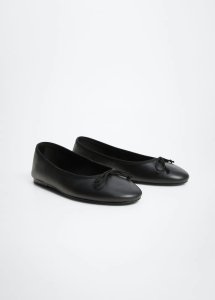 White Canvas Trainers
I'm not sure the clog memo has been adopted by Parisians just yet but the next best thing in terms of comfort is trainers. Although canvas trainers may not seem like the most exciting footwear option, they're the ones I see the most on women in Paris – sometimes with a little colourful accent in the way of contrast branding. Canvas trainers paired with casual jeans and a t-shirt look is a staple uniform here, but they look equally chic with dresses. There's a Veja store just around the corner from me and it's popular with locals as well as tourists.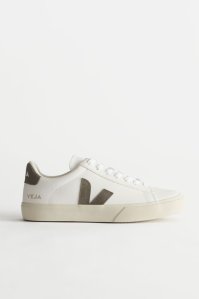 Accessories
Whether it's a thin silk scarf delicately wrapped around the neck or a mammoth blanket scarf to contend with the dropping temperatures, French women's accessories are always on point. Woollen scarfs are huge this season (both in size and popularity). They're practical and also a nod to that effortless luxe, 'Oh, I just threw this over my shoulder' vibe. I've seen French women styling scarves most with one loop around the neck and draping it lengthways over a coat. They're also chic with a full monochromatic look. Look how stylish Chloe looks here on her latest venture to Paris!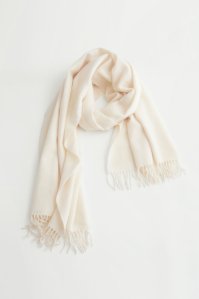 Loafers
Chunky loafers are another hot trend cementing their status as a forever staple. It's the Prada effect! I was quite surprised to see how women in Paris are embracing this trend but it makes perfect sense: they're classic and like the oversized men's blazer, it brings an element of androgyny to outfits which seems to be a current theme with Parisian dressing. Worn with sheer tights and short skirts or jumper dresses, they are quickly being inherited by French women.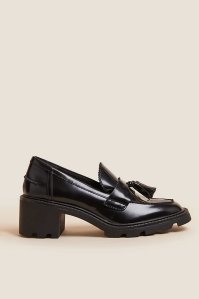 Denim
Denim is synonymous with a French style. French women almost always sport high-waisted jeans that are slightly tapered in the leg, although, denim is celebrated in so many ways here – from wide-leg jeans and denim jackets to cut-offs in the summer and midi skirts (one of my recent personal favourites).
Worn with everything from ballet flats to canvas trainers and dicker boots, denim is the ultimate staple to start with when building your French capsule wardrobe. Levis is the most celebrated brand in France, and as an owner of the highly coveted vintage Levi 501s, I can tell you the & Other Stories XOXO jeans are a dead ringer IRL, in cut and colour!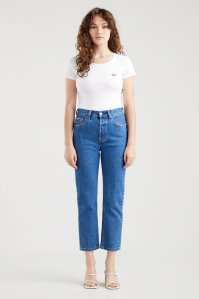 Tailored Trousers
Tailoring is the most esteemed uniform in Paris. Although French women love their straight-leg jeans, they're also big fans of tailored looks – be it a blazer, trousers, or sometimes both. We've seen the rise of tailored trousers over the past years.
Brands like the Frankie Shop have cornered the market and even Rue Saint-Claude, with not one but two shops on the same road, which goes to show the popularity of this uniform and no trip to Paris is complete without a wander around their aesthetic showroom. The popularity of tailored trousers is a win-win because sometimes jeans will simply not suffice on comfort levels if you know what I mean? From flesh-coloured chinos to wide-leg beige trousers, they can be worn from day to night.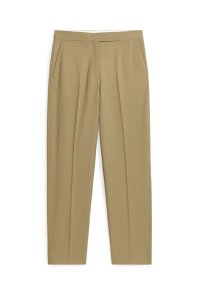 T-shirt
The t-shirt is a staple of many but it's the holy grail of Parisian style which is why so many brands from Rouje to Petit Bateau are all about producing the ultimate t-shirt. Well, the Breton originates from Brittany, after all – it's the most typical Parisian dress code, after the Beret. These t-shirts look particularly good in a jeans t-shirt look.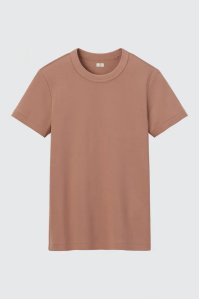 Trench Coats
Ah, the trench coat. Perhaps the number one Parisian style staple for a French capsule wardrobe. Both men and women wear them here so well. There's nothing it won't suit either – from power suits underneath, to jeans and a white tee. It just works.
Due to Totême (again, they can do no wrong), car coats are becoming increasingly popular and Arket have many timeless styles that are similar to the ones you'd pick up at a sleek consignment store. They don't have to be designer or boast a hefty price tag, so long as they're a teeny bit oversized, hit mid-calf and come in the typical beige colourway, you're halfway to your Parisian wardrobe. PS, even better if they have the classic tortoiseshell buttons because every detail counts.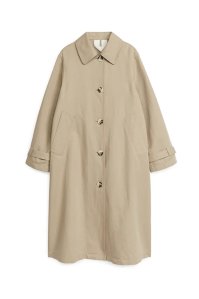 Baguette bags
The '90s style baguette bag is mighty popular here. French women often carry little to nothing in a streamlined underarm bag that's just roomy enough for the essentials. A lippy, compact, cardholder, etc. Et voila! I've trailed carrying less by easing myself into smaller bags for evening wear and that seems to be working just fine for now.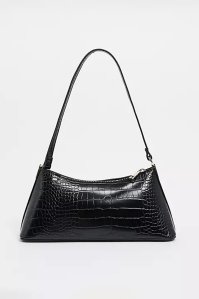 Cropped Knitwear
Boucle, stripes, monochromatic piping – you name it, the French coined it. There are so many variations of this type of knitted jacket this autumn, like Totême's gorgeous but eye-watering embroidered scarf jacket doing the rounds on Instagram (my goodness, have you seen the whipstick stitching!?). These styles belong on the streets of Paris. I see women sporting cropped knitted cardis, round neck jackets, throw-over cardigans and boucle jackets almost every day.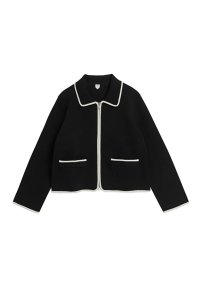 Blazers
I've never worn blazers as much as I have in Paris. From work meetings to dinners, it's the perfect way of adding an androgynous and interesting edge to a girly outfit.
When it comes to shaping, Parisian women tend to wear their blazers with a touch more 'Je ne sais quoi', in a typical '80s style fashion – with oversized shoulders and boxy shaping. Let me tell you, every vintage shop is swarming with men's style blazers, so you don't have to spend a fortune, either. Throw it over tailored trousers, a midi or mini dress or trousers and a top ensemble for that French vibe! *Chefs kiss*